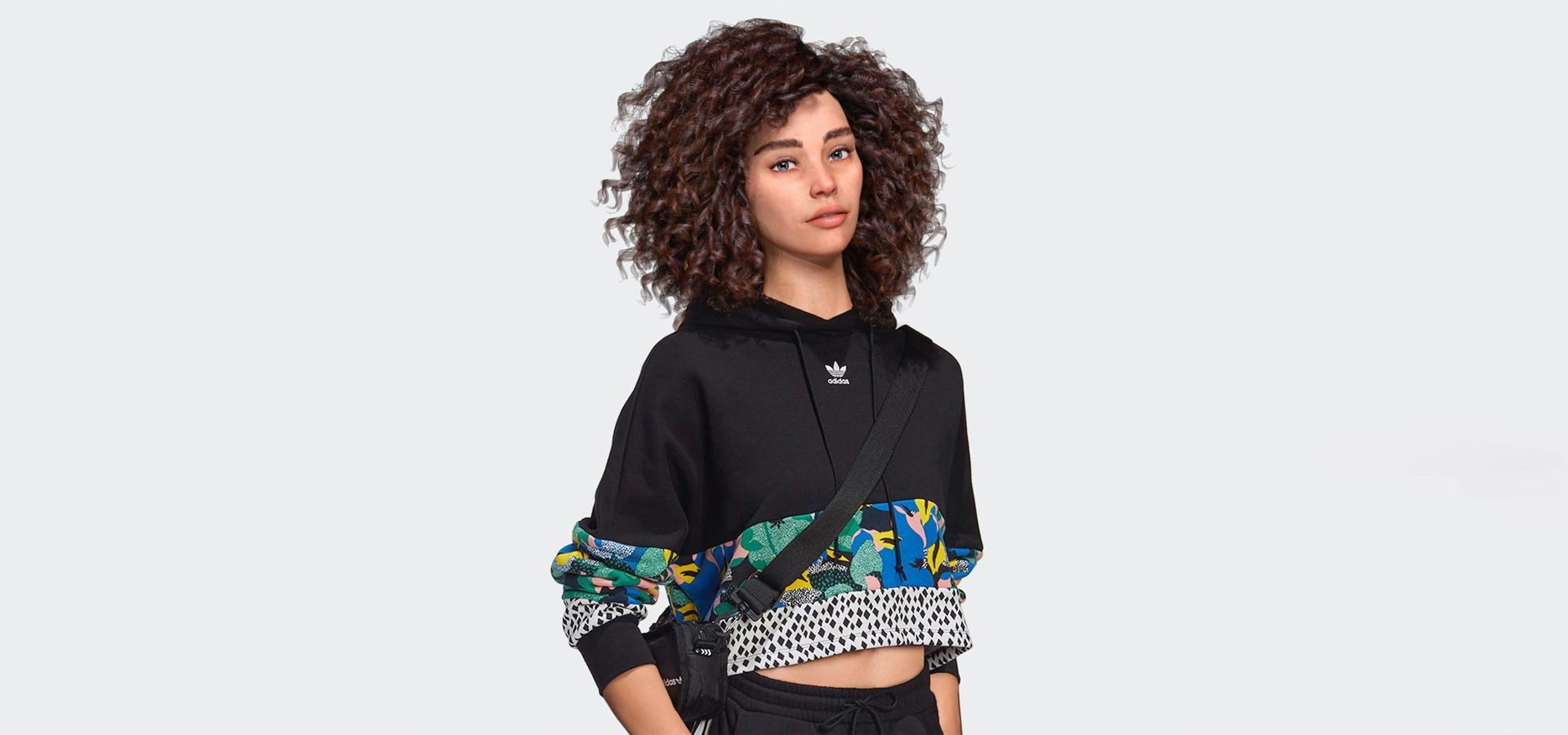 Zoe Dvir: From bartender to catwalk model
Zoe Dvir is not alone on the avatar stage. The first virtual infleuncer was created in 2016 by Trevor McFredries and Sara Decou. LilMiquela is one of the most famous digital models. A true revolution in the fashion world. Kendall Jenner, Bella or Gigi Hadid were yesterday's news. The virtual models are slowly working their way up into the fashion world. Zoe Dvir has only been around for a short time and has already walked a fashion show and been on the cover of a magazine. With her perfect look, Zoe can be multi-faceted and is a real role model for younger people. She campaigns for animal welfare and manages to start a modelling career while studying. And all this despite the fact that she is not real. You can read about her success here:
Who is Zoe?
Zoe Dvir is 22 years old comes from Tel Aviv and is quickly working her way up to success. She has blue eyes and dark brown curls. She is vegan, fights for women's rights and influences social media with it. She is not only a model but also works as a bartender and studies art and design. In her free time, she loves to paint and walk with her dog. She is a real role model for many young women.
Activist Zoe a real role model
More and more restaurants are opening with vegan dishes and more vegan food is also available in supermarkets. In Zoe's home country of Israel, 5% of the population eats a vegan diet. That is more than in any other country in the world. How fitting, then, that Zoe also counts herself among the ranks of the veggie front.
It's clear that veganism can be a perfectly healthy diet, and it also explains the 22-year-old's great body, but Zoe is about much more than her own health and body. Her goal is to draw her followers' attention to abuses in the area of animal husbandry, but also sustainability. Zoe stands for reduced, conscious consumption, against fur and has the goal to make the masses aware of grievances and the effects of our impact on the earth.
Experts and stylists: Zoe01 to success
It's impressive how Zoe Dvir manages to find time for modelling alongside her studies and job as a bartender. That's one of the advantages of being a 3D animator: Time doesn't matter. Zoe was created by an Israeli company that has been active in the tech scene for several years. The company, Zoe01, has a team of art, styling and social media experts as well as computer engineers to create Zoe Dvir and Ella Stoller. Zoe is not based on a specific person but was created by experts to create success. The only feature that has been adopted is Zoe's curls. Her curls come from the fact that the creator's daughter has curly hair. Zoe is one of a trio of avatars created in Tel Aviv that have recently become popular in the United Arab Emirates. Zoe was taken on directly by the modelling agency MMG and has been signed to a contract there. You can find information about the other virtual avatars here:
First jobs for artificial avatars: CHAIN, Bird and more
Her first job was for a November issue of Nationals Luxury magazine. In this, Zoe was made up with beautiful bold shades. The stylists created 5 different make-up looks with her from more natural looks to striking make-up looks with a bright red tone with red lips. So Zoe is changeable and fully multi-faceted.
Zoe for CHAIN: first fashion show
Zoe will celebrate her catwalk model bounty at the fashion show of the label CHAIN. She will then be seen virtually at Russian Fashion Week. The plant-based clothing is handmade in Buenos Aires in a small local. The brand reflects timeless, minimalist as well as extraordinary design. Just one year after its launch, Vogue Italy named CHAIN the "Next Green Talent".
Bird Scooter: virtual models go fast
The e-scooter present in big cities is also present in Zoe's hometown Tel Aviv. So the provider Bird have teamed up with Zoe to showcase the product. Zoe takes the e-scooter around the streets of Tel Aviv and visits the best places!
First magazine article in Germany
Zoe and Ella with the big Insta stars, in a magazine! Now in the new issue, among others interviews with Sarina Nowak (Curvy Model), Kasia Lenhardt and cover story with Louisa Mazzurana. FIV Magazine (Issue #6), the first German-language report about our digital avatars Zoe & Ella. You can read the e-magazine online for free:
https://cmmodels.com/wp-content/uploads/2020/12/virtual-avatar-zoe-divr-agency-model-influencer-instagram-new-vogue-interview-2021-fashion-revolution-media-advertisiong.jpg
900
1920
Laura
/wp-content/uploads/2023/01/cm-models-logo-web-agency-modelagentur-influencer-management.svg
Laura
2020-12-16 16:42:42
2022-04-18 22:09:11
Zoe Dvir: From bartender to catwalk model