Virtual Influencer / Models / Avatar: Social Media Marketing Strategy – Trends
Virtual / Digital Influencers – CM Models is the first model agency in Europe with virtual influencers. Exclusive and new! For many, virtual or digital influencers are something completely new. Especially for marketing strategies. International examples like Lil Miquela show that it makes little difference to people if the star on Instagram is "real". What is "real" on Instagram? The virtual and the real world are getting more and more mixed up. Instead of classical marketing methods (TV, poster) more and more brands are changing to modern marketing methods like social marketing and even more special influencer marketing.
What is Influencer Marketing?
Influencer marketing is an approach that attempts to maximize the effectiveness of a company's marketing activities. Therefore, agencies design concepts and strategies around people who have a large community (many followers) and whose opinions carry weight within the community. In this way the followers carry the messages further, into their micro-communities. Influencer Marketing is a subordinate part of Social Media Marketing.
Influencer marketing is a social marketing strategy that focuses on conveying brand messages. Instead of marketing directly to a large group of consumers, such as on TV or with poster advertising, influencer campaigns usually focus on a specific target group, or followers of the influencer. Influencer marketing usually comes in combination (cross-media) with social marketing (like ads) and content marketing. Tip! Read here (external) more about Influencer Marketing, Social Marketing (like Ads) and Content Marketing.
The focus of the activities is however on the purposeful information spreading of the Influencer to their or its personal target group.
Virality is not equal to influencer marketing
Although some in marketing consider virality (word-of-mouth marketing) and influencer marketing to be the same, there is a big difference between the two disciplines in social media marketing. Influencer marketing is about getting key people (relevant people with access to the desired target group) to make their influence felt in their own community.
Word-of-mouth marketing is the actual way in which this communication takes place between influencers, community and other people. Therefore almost every influencer marketing by nature includes word-of-mouth marketing activities. Especially the scattering effects (friends) make influencer campaigns so interesting and effective, if they are strategically prepared and planned correctly.
Digital influencers: hype vs. classic marketing
Traditional, digital marketing works less and less, just think of "pop-ups" and "ad blockers". Similar to TV advertising, every form of marketing loses its appeal over the years. People are simply used to it. Accordingly, marketing strategies must change. Social media marketing is no longer new. Facebook, for example, was founded in 2004, it will soon be 20 years old and the first generation will take Facebook for granted. Nothing new, everything has been there before.
One of the newest and most effective forms of marketing is Influencer Marketing. Because, the connection between sender (influencer) and receiver (community) has never been so personal. Thousands of examples and best practices show how successful such campaigns can be when brand and influencer match.
So instead of reducing revenues from digital advertising and content marketing, smart companies are investing in this new form of marketing. Influencer marketing is not "just" reach, for your own brand name. Because of the close connection, a large, personal factor also plays a role. This makes influencer marketing activities so much more emotional than classical marketing strategies.
Some news in the Blog
Buffalo: "Bolder than Ever" campaign with Ella
Zoe @ Fashion Week Berlin for Marc Cain
First magazine article in Germany
Zoe: First Fashion Show @ Fashion Week Moscow
Ella: Food commercial now on TV & YouTube
Buffalo: "Bolder than Ever" campaign with Ella
Buffalo Campaign – The "Bolder than Ever" collection is out, with great campaign video and our Ella (VR). In the video you see the world as it is: Divers! 6 models represent the different facets of society in the campaign and our Ella is there. 6 models, 6 different locations and one message. Dancing in front of the skyscraper, happy in the supermarket and brand new: virtual with our Ella in the museum. Find out here everything about the new collection and the story behind it.
Zoe @ Fashion Week Berlin for Marc Cain
On January 19, 2021 it's time: world premiere @ Fashion Week Berlin! After the great closing show of CM of the last #MBFW, this year comes a fashion show the world has not seen before. The show of MarcCain will be the highlight of 2021. We can't reveal any details yet, but after long preparation and production, we present you something, never seen before at Berlin Fashion Week. With livestream of Vogue. With this we start the new 20s so really: How Wonderful!
After Moscow, Zoe was coming to Berlin Fashion Week, virtual runway for Marc Cain:
First magazine article in Germany
Zoe and Ella with the big Insta-Stars, in one magazine! Now in the new issue, including interviews with Sarina Nowak (Curvy Model), Kasia Lenhardt and cover story with Louisa Mazzurana. FIV Magazine (Issue #6), the first German-language report about our digital avatars Zoe & Ella. You can read the e-Magazine for free, online:
First article about Ella in Germany ever!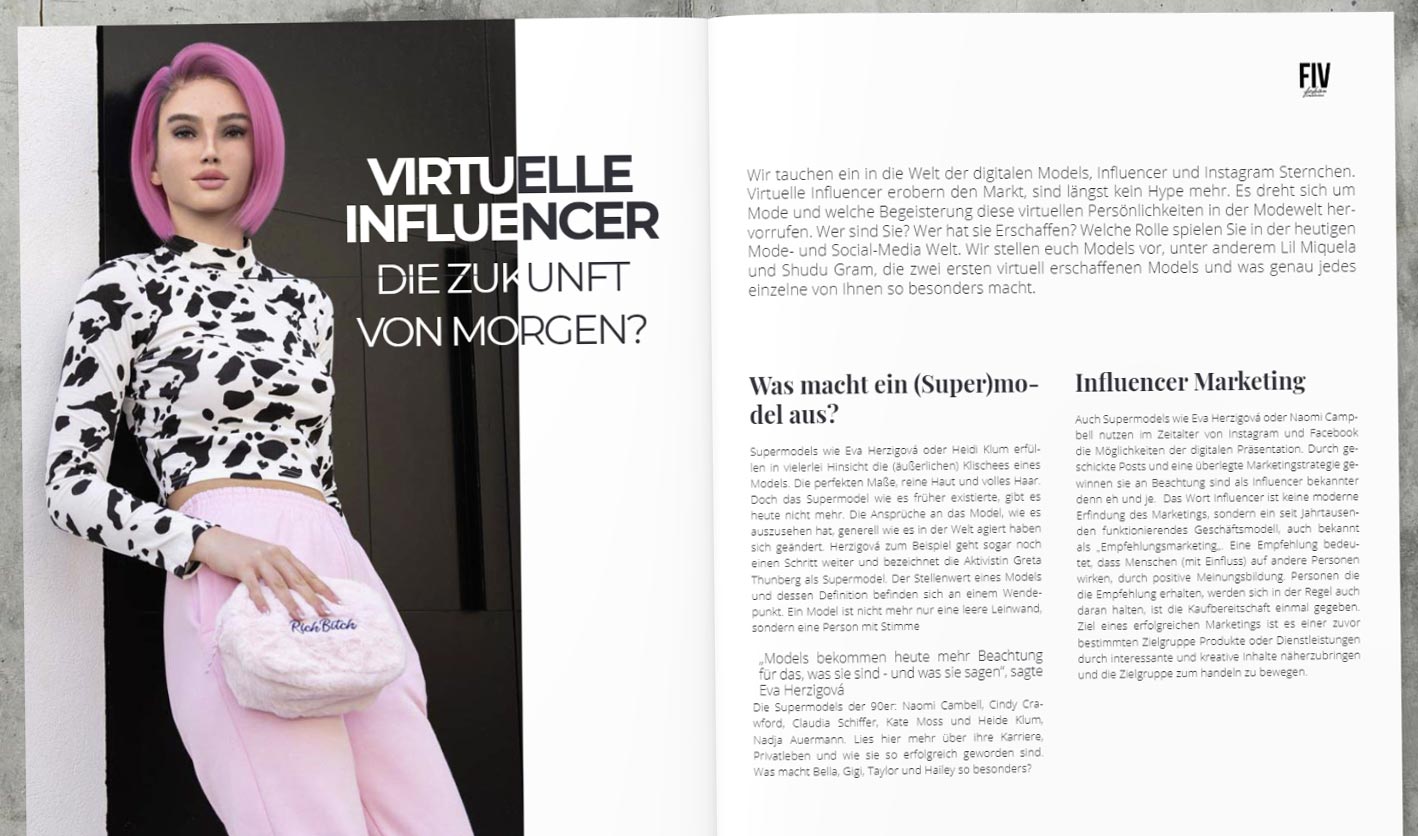 Zoe: First Fashion Show @ Fashion Week Moscow
"Today three more virtual influencers come to life", the headline in LOUT Magazine. Yesterday the first commercial with Ella was released! As a virtual influencer she sets new standards. She is not designed with programs, but generated by program code. Lil Miquela now has almost 3 million followers. At the same time, the new trilogy of the Hollywood blockbuster "Matrix" is being shot, virtual avatars have long been present in the media. Today the first article was published in Germany, because on Saturday the time has come: Ella runs on her first runway, the first Fashion Week!
Zoe for CHAIN @ Fashion Week Moscow:
Ella: Food commercial now on TV & YouTube
Yesterday you already met our new virtual model Zoe, today we introduce you to Ella! Zoe and Ella are state of the art. There is nothing comparable! Digital influencers from the United States are brought to life through CGI (design). Maybe you have heard of Lil Miquela. Ella & Zoe are 100% digital. Ella has now produced her first commercial. We are excited about all her steps that will come now! Here you can see her first official commercial, released today on our YouTube channel.
Digital Influencer?! The Hype
Virtual models now appear on the front pages of major magazines such as Vogue, Harpers Bazaar, Elle and Vanityfair. They are the new faces of marketing campaigns and receive a lot of attention and prestige in the social media. The generated models are not only incredibly hyper-realistic, but also capable of seamlessly transforming and revealing completely new outfits, poses and faces. Because each model's look is completely unique and is generated from scratch, the models can be tailored to meet the needs of each client. This technology has the potential to be used by fashion brands as a time- and money-saving measure. The possibilities for what can be created are virtually endless.
The planning of an Influencer campaign by agencies varies greatly depending on the challenge of the individual project. But in general, it is all about identifying the perfect target group or the desired reach. Because, unlike many people think in daily online marketing, it is not about working with a specific influencer, but in 90% of the cases, the reach is first determined by the agency. In other words, which target group is to be addressed, what distinguishes it, demographic characteristics but also emotional ones.
Only when the basic goals have been defined and the persons (target group) we want to address with our campaign, the actual search for the influencer begins. The influencer is then evaluated analytically and in a structured manner using various social media tools, and prepared for presentation. The next step is to decide which person the company wants to work with.
Before that, the basic strategy of the Influencer Marketing Campaign is discussed.
Target group, goals and call-to-action
The definition of the topics is just as relevant as that of the target group. After the target group, we look at which topics are best suited to address the respective target group. This involves various characteristics that a campaign can have, not only the graphic and visual content but also the texts and the information they contain.
If we take a look at the information carrier alone, we have numerous possibilities here. Depending on the social network, the placement of links is possible so that a customer can directly use the option of a purchase. This is called Call-To-Action and is the direct forwarding of a customer, through an online marketing campaign, to a product or service. This works excellently with influencers on almost all platforms, from Instagram and TikTok to YouTube and Facebook.
With the currently very popular Instagram network, which appeals especially to a young target group (up to 40 years of age), it is again not possible to place links away from the stories. Here many agencies work mainly with coupon codes or hashtag campaigns. In the end, the goals of a campaign can be evaluated by monitoring and other social media software. The text is not only about links, but also emoticons are very popular to express complex feelings or even emotions with a sign.
Text, links, emojis… Social Marketing in every detail
Compared to the normal language we use, emoticons contain extremely many characters. Everyone knows the saying:
Picctures say more than 1,000 words
As mentioned above, campaign planning goes deep until the final strategy is found.
In the end it goes from the global schedule to details like "posting texts" and emojis in the posting. Emojis stand for a single piece of information, which in turn expresses complex issues. In short, you can talk a lot about the discount code or just post a happy smiley. The happy smiley will get more reactions than the simple text. The question is how long is the text? You see, Influencer Marketing is a very complex field and just the topics of planning and defining the target group is a chapter in itself, depending on the complexity of the individual project.
Agency for real / digital influencers: booking
In cooperation with Social Media One – We help you find the perfect blogger for your campaign! With expertise and up-to-date listings in the top agencies in Germany, according to Internet World Business Magazine, we help clients with small social media postings but also with larger marketing campaigns. We also help you develop media concepts and produce content for YouTube, Instagram and other social networks. If you have any questions please contact our Influencer Marketing Agency.
Increase reach: Marketing strategy "Community"
The more people 'talk' about you or your brand, the more successful you are! The principle is well-tried and also works in Social Media Management. To gain reach in social networks like Instagram and TikTok, it is especially important to work with the right people – the perfect influencers. For lifestyle, beauty, fashion and travel, models are the perfect multipliers! They set trends, meet famous people and wear the latest collections. Thus they offer one of the most authentic product placement for your own brand.
Opinion guide: Set trends instead of following them
Just like editors in magazines, influencers in social networks are the opinion leaders. They are interesting for people because they report live and directly from their private lives. By this absolutely authentic presentation their photos, stories and videos in social networks and with their Followern are hot desired. Products and brands they use are bought, used and in the best case further-recommended. As a result, the influence of social media as a marketing tool and advertising medium has become particularly strong.
Especially in the younger target groups, influencers on Instagram, TikTok & Co. are the stars of the new age. Everyone who wants to follow these trends follows them, not the classic TV commercials. Even young bloggers reach thousands, tens of thousands of people with their channels. This offers brands, fashion labels, businesses and companies unbeatable advantages of direct customer contact and sales promotion.
Efficient marketing and first-class results
Multipliers, influencers, testimonials, brand ambassadors – there are so many names for this one popular concept in Referral Marketing. Our model agency is one of the first movers for social media & Models. Fashion companies profit especially from models as brand ambassadors. The organic reach is almost free of wastage. Totally different from classic media like TV, magazine & Co. Your products go directly to young and trend-conscious people. Ideal for all promotional activities like travel, hotels, fashion, new products, beauty products and much more. We as a model agency set a high value on authentic people and constant camera presence for social media marketing. We want to integrate brands into the everyday life of the user and increase branding for you through a constant flow of information. If you establish your brand in young target groups, you will be able to profit from the reach for many years to come. Take the unique opportunity to become active in this new area of marketing. Book strong multipliers for your next social media campaign – with CM!
Classics like YouTube, Facebook and youngsters like Instagram, TikTok
Modern market leaders – Instagram often still a secret tip in online marketing of companies and businesses for their products and services, which are to be advertised or promoted in social networks. For few weeks it is in addition, possible to switch to Instagram advertisement. What distinguishes Instagram, especially from the other major social networks, is the very precise targeting of target groups. Facebook has since taken first place with over 1.5 billion users, Instagram already has over 1 billion. Due to the previously very specialized user group, the image network is inherently low scatter loss in promotion. Crossmedia, network-spreading work is the success prescription for range and Coverversion in social networks such as Instagram, YouTube, Facebook, TikTok & Co.
Here are the big players for Germany:
Instagram – The app for photos & small videos
YouTube – The biggest video platform
Facebook – The network for everyone
TikTok – Kids and teenager
Monitoring and Reporting: Measuring success
If a company or enterprise wants to successfully advertise products in social media, two factors must be taken into account. This is the choice of media (mix, style, channel, etc.) for the clever placement but also the verification (monitoring) of the success after the advertising campaigns. Social Media Monitoring is therefore concerned with the particular challenge of checking results – successes and goals that a company has set itself in the run-up to the respective campaign. Various methods of analysis, most of which have already been made available by the individual social networks, can help here. Here you can read out different information and see if your campaign was successful on the web. The key figures in Social Media Management are among others:
Target group (demographic characteristics, interests, geography, behavior)
Technology and user data (stationary, mobile)
Acquisition and origin (search engines and social media)
User behavior and conversion
Social Media Ads & Retargeting: Push Effect
Especially for the technological components, social media managers can create outstanding complex campaign plans for companies and enterprises. For example, we can show different ads to users who receive our ad but use a new iPhone than to users with older devices.
This scattering effect is excellent for companies with products in high and low price segments. Different messages can be sent to different target groups. Another component of sales promotion through social networks is retargeting, the intelligent re-targeting of visitors. By retargeting we intercept users who have already been interested in your offer. This increases the users' willingness to interact and the success in the online media.
Example: Instagram, Facebook and Youtube Ads
Step one: Create a campaign with digital models. Step two: Gain reach with paid ads, remarketing and retargeting. Here is an easy visualization, for example, if you are fashion store with local flag ship stores. Ads will be shown to visitors only, with selected range of age and range to the local stores.
Screen: Socialmediaagency.one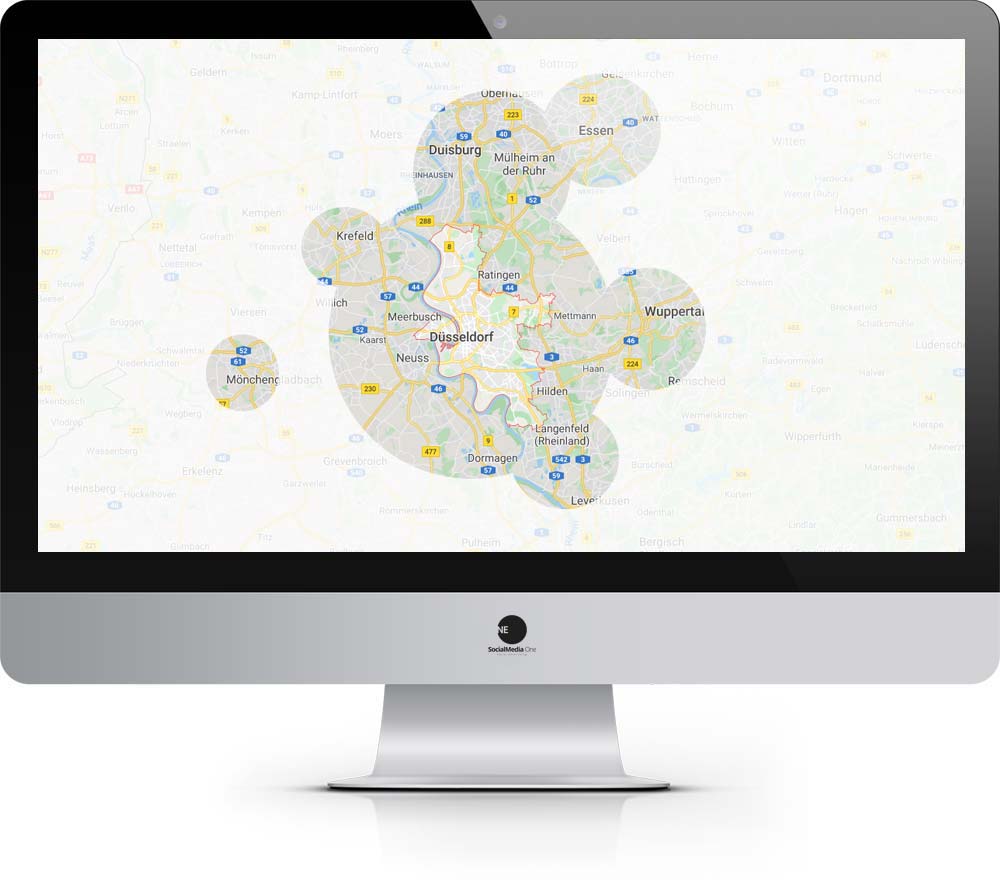 Find influencers: Complexity search to contract
Influencer marketing can be divided into 3 levels. Every single step requires time and patience. Especially because as a marketing manager, CEO, etc. you are not talking to an entrepreneur, often influencers are even minors. In this case, parents or legal guardians have to be involved as well.
Search and find authentic trademark advocates – step 1
The first step is the identification of suitable influencers, because authenticity plays an important role here. To start an effective campaign, the influencer should ideally already have interest in the brand or, even better, the direct product. For example, a model would be a good influencer for hotel chains, and a photographer would be a good influencer for camera manufacturers.
Evaluation and analysis of followers – step 2
The next step is the evaluation or analysis of the influencer in relation to the existing range. Caution, especially bought Likes make a quick evaluation difficult. Therefore, we also recommend working with a good influencer agency.
Contact and negotiations – step 3
The final step is to target the people who are likely to have the greatest impact on your brand or marketing message. Insofar as brand and influencer are "on the same wave", the final step is to negotiate the terms. These include budgets, the number of postings on the individual networks, but also photo shoots, for example for additional media, keyword: content marketing.
Important: If an influencer thinks that your product or service is bad, he or she will most likely share the experience. So the "chemistry" between brand, products and influencer should be right. If not, distance yourself from a collaboration.
https://cmmodels.com/wp-content/uploads/2020/09/digitale-virutelle-influener-strategie-marketing-frauen-outfit-modenschau-taschen-werbekampagne-kampagne-werbung.jpg
650
1300
Laura
/wp-content/uploads/2023/01/cm-models-logo-web-agency-modelagentur-influencer-management.svg
Laura
2021-03-12 11:04:43
2022-04-18 22:05:40
Virtual Influencer / Models / Avatar: Social Media Marketing Strategy – Trends