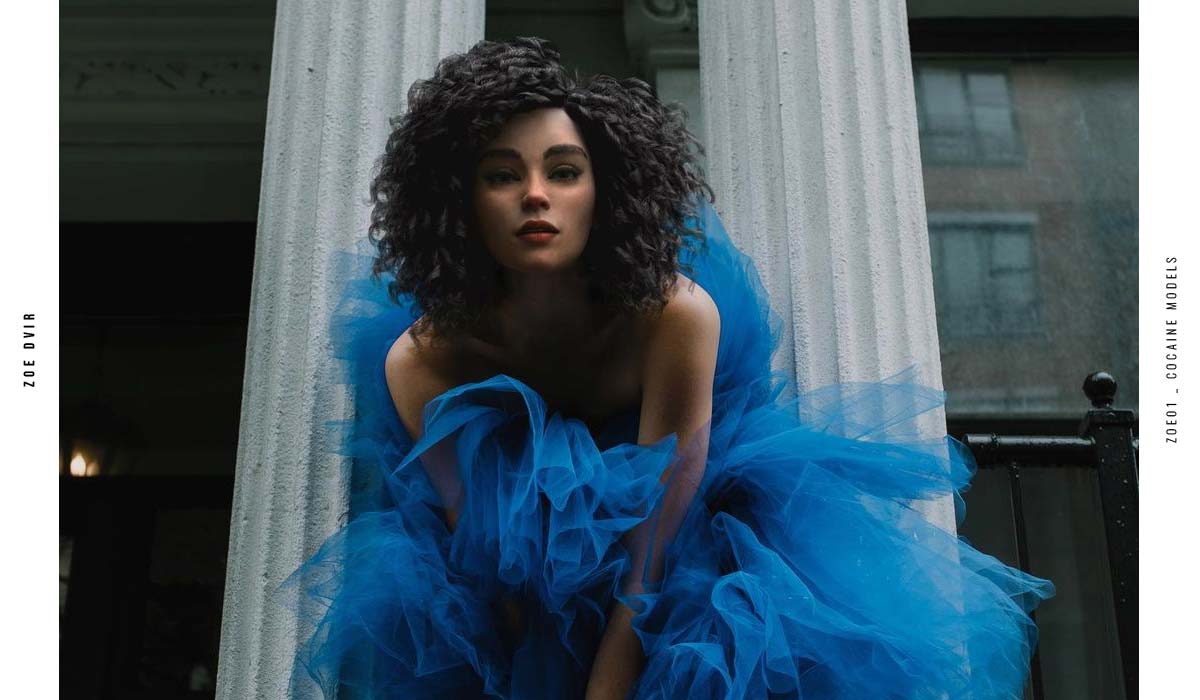 Virtual Avatars Interview! 6 Questions about VR Models: First Jobs & Campaigns
Virtual Avatars – Over a year of development, investment, hard work, phone calls and of course creative concepts, that's how long it took until the idea of Virtual Reality became reality. In spring it finally happened, the first virtual fashion show of MarcCain at the Berlin Fashion Week, with our Zoe and three other digital avatars, developed especially for the brand. After that, "diversity" was extended to another area, digital people, in Buffalo's new commercial and online campaign respectively. After the first jobs, commercials and the first virtual fashion show, we met our Head of Creative and owner for an interview. How is virtual reality, how are the virtual avatars received in the first weeks?
VR in advertising: It's all about entertainment!
Virtual Reality has never been as big in advertising as it is today. At the latest since the movie Matrix, by the way, 3 new parts are being produced, the real and the virtual world are mixing more and more! Today we spend many hours in front of the smartphone and just like Hollywood, it is almost always about entertainment. If you have a good story to tell, you want to hear more about it! Even with virtual avatars, it is ultimately the story that makes people interested little by little and makes, even to followers.
For marketing agencies, advertising agencies, a completely new way to implement ideas. No matter if light, gravity, locations, with virtual models there are no limits anymore. We in Europe go one step further, we not only develop our own digital avatars, we also develop digital avatars for brands, as mentioned at the beginning. How will the world change by 2030? VR will be a part of it.
It's all about entertainment!
Now we learn more about the first VR jobs and projects with Zoe & Ella, our virtual models, from Stephan Czaja (CM, owner):
Why Virtual Reality?
How did the work with virtual models come about?
Technologies have always been interesting for us, besides our model agency we also have several software tools. Accordingly, we are always looking for new solutions when it comes to fashion, advertising and marketing. Everyone knows how much Instagram and influencers have changed the world. Although no one knows exactly where the person lives, what they are doing, whether the picture is current, there are accounts with millions of fans. At the same time, digitalization is increasing more and more, processes can be automated, possibilities for artificial intelligence play an ever greater role. Why not use these mechanisms in the fashion industry, in marketing and advertising?
Until now, there was only one Creator, from Los Angeles. Almost as new as us, but which started about a year earlier. Of course, with sufficient capital from Silicon Valley. Unfortunately, we didn't have that and accordingly it took us a little longer.
At the beginning of the year it was finally time for the first virtual fashion show with four virtual and eight real models, all in a fashion movie. After that, we continued with a diversity campaign. Four absolutely unique models and influencers, plus one of our digital avatars. Right now we are talking about new ideas, e.g. also trade show concepts and presentations. But our next concrete project will be the first publication in a fashion magazine. We have just set up the team for this, in the classic way with photographer, stylist, make-up artist and social media representative. Everything that goes with it.
Read more about the campaignhere : Buffalo 'Bolder than Ever'.
What do customers say about VR ideas?
We are the first VR agency in Europe, so every job is the very first of its kind. Individual challenges, teams, ideas and deadlines. How did clients react to VR in the beginning?
Not only in Germany, we are the first in the whole of Europe! Interestingly, also with cross-border cooperation, between Israel and Germany. So also quite fitting to the concept of Europe!
Honestly, the customers are still very, very reserved! In Los Angeles, of course, you have your finger on the pulse of time; here, new ideas are taken up and implemented immediately. In Germany, it takes a little longer. Customers are sceptical whether you really need something like that. But skepticism always prevails at the beginning. While in the USA campaigns are made at the same time with high fashion brands from the haute couture, here you need a lot of time and explanations. Do we really need it? Does anyone want it?
It's always the same with new technologies. But that doesn't stop us from bringing new ideas to the world! As you can see in the US, it can work. What we need now are simply first movers, trendsetters.
Avatars, avatars for brands and e-commerce
What are the advantages of working with virtual campaigns and models?
I wouldn't say advantages directly, rather a different type of production, which in turn brings with it completely different prerequisites.
Let's start with the classic customer in online retail, for example. Every new season, garments are produced, shipped for weeks in containers, then distributed from the central warehouses to the individual boutiques. In between, the photos have to be produced, which is usually in a very tight time window. If the photos are late, the garments cannot be advertised and sold online. Not just online, of course, but throughout the offline world as well.
Our technology goes even further. On the one hand we have the virtual models, on the other hand we can completely digitize garments but also all other products, usually with only three photos. Even the fabrics, patterns and colors are absolutely authentic. Even the gravity of the clothes is calculated by us. The big advantage is all too that customers can produce their media quasi already directly with photos from the production. So while the garments are still on their way to Europe, the media for marketing and advertising are already finished.
Let's stay with the classic online shop customers, 20 garments are still relatively easy to produce, 2,000 already more difficult. If you assume that with high quality maybe twenty are produced per day, it takes 100 shooting dates until everything is ready. We calculate everything via server and accordingly 2,000 garments would be done quickly, with different posing, light settings and more. Of course, it can also be done less elaborately, such as simply with a white, plain studio background. Likewise, different perspectives can be changed.
Then another advantage, because at photo shoots can always drop out a person. With assistants perhaps still manageable, as soon as it comes to photographer, make-up artist, stylist, model it becomes more difficult. After all, the entire production often depends on the work of a single person. Productions with virtual models or digital avatars, on the other hand, are completely free of time and place, which makes such photo shoots extremely flexible and minimizes the risk of something going wrong.
Here directly the next advantage, production and photos can be post-processed. In regular photo shoots, the results are there and must be accepted as they are. New perspectives, angles are not after producible without that the entire team must be booked again.
Produce virtual campaigns
What is the process like, from the initial idea to the concept to the finished campaign, how does a photo shoot with virtual models work?
In principle, the rough process is the same. We create a concept, this is implemented and used in the end in media and advertising.
But what is very different is the complete freedom that you enjoy here. You are not directly dependent on locations, even a desert shoot is feasible in the depths of winter. We can travel to all kinds of places, like a museum recently in our diversity campaign. Without ever really having been there!
This of course makes creative processes much more intense, freer
However, the other mechanism around production is the same. Targets are set, then work is done to meet them.
First virtual fashion show in Berlin @ FW
You had the first virtual fashion show with the German fashion giant MarcCain. How is such a fashion show with virtual models organized?
We had several special features right away. Perhaps briefly this aspect: for the fashion show our Zoe was booked, so a digital model, a virtual avatar, whatever you want to call it. In addition, three new avatars were created, especially for the client and for this fashion show. A special challenge besides all the work, but a real fun! After all, everything that was thought, said or philosophized can be implemented here. In cooperation with a Berlin production company, we were actually in four different virtual locations.
Similar to a photo shoot, the digital fashion show is not very different from the previous one in terms of organization. We have to think about the location, or the setting in the background. Suitable faces have to be found, the new parts of the collection have to be ready, as well as accessories, even if it is only in digital form. Then there is the planning of the music, the sequences, choreographies, length, everything that belongs to a fashion show.
As a fashion show agency, we have of course already some experience here, among other things, we organized the last final show of the Berlin Fashion Week. A big event with a 20 meter long swimming pool catwalk. Of course, we let all this experience flow into new, digital and virtual projects.
Read more about Chain @ Moscow FW fashion film and MarcCain @ Berlin FW fashion show here.
Future VR in media?
Forecast: How do you think virtual models will change the fashion world in the coming years?
Let's just say, by 2030, 20% of social media accounts will be virtual. It's not just about "influencers" and "models." Digital avatars will also take on the role of presenters, introducing new products, perhaps doing the next briefing on long-haul airline flights. There will be more creators and more brands using virtual avatars for their marketing purposes.
https://cmmodels.com/wp-content/uploads/2021/05/virtuelle-influener-interview-produzent-modenschau-kampagne-stephan-czaja-digitales-model-zoe-dvir-haute-couture-kleid.jpg
700
1200
C_kinski
/wp-content/uploads/2023/01/cm-models-logo-web-agency-modelagentur-influencer-management.svg
C_kinski
2021-05-21 15:58:43
2022-04-18 23:09:50
Virtual Avatars Interview! 6 Questions about VR Models: First Jobs & Campaigns