The Model Book: Become a Model with Tips & Insights!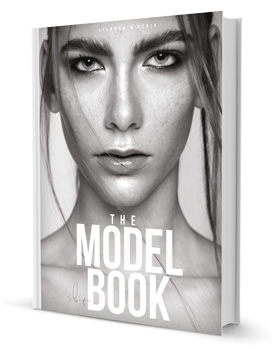 The Model Book: Become a Model – Handwritten over many months, with detailed research, simple steps and many insider tips for models! Everything about "modeling" and "becoming a model". Maybe the new standard work. In THE MODEL BOOK you will learn in different chapters, step by step, one after the other, the entire advertising industry and its special features. As a model, especially as a young model, you have to pay attention to many details at the beginning of your career. What do you mean, you don't know? Who accepts the wrong jobs, does not find the right agency or builds up his buck in the wrong direction, can quickly build up a bigger career. Models also have only a few years to reach the important steps. The better prepared you are as New Face for this time, the easier it will be for you to gain a foothold in the industry and earn money as a model. In the Model Book you will therefore learn chapter by chapter and step by step how to prepare yourself for the start of your modeling career.
The Model Book: Overview of models
In the first chapter you will learn all about the indispensable mental strengths of a model. What requirements do you have to meet, quite apart from the often perfect measurements, in order to convince as a model at photo shootings and advertising video shootings?
Self-confidence and organization: The A&O for models
For you, the most important thing here is your own self-confidence, four personal initiatives and self-organisation. As a model, you will be sent on journeys at an early age. Sei is at the age of 15 years in the next big city, by plane from Frankfurt to Hamburg or just a few months and years later across Europe and the world. As a model, especially in the high fashion world and in skin couture, the international path is always open. If you take your chances early enough and I prepare perfectly for them myself, you can go far. Quite different from television, real top models are less about the story, drama and self-production. For models it's about absolute willpower and belief in yourself (yourself!). As you will learn in the next chapters of the book, as a model you will have to face many exams! Absolute trust is an absolute priority for your modeling agent and your modeling agency.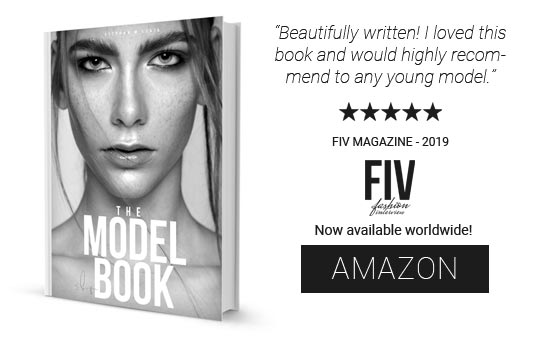 The perfect model agency for New Faces
Mother agencies, model agencies, fashion agents, boutique agencies and bookers – What?!
Before it goes to the big topic of model castings, the first showrooms and jobs, the book deals with the search for the perfect agency. Each model agency has its own portfolio and clientele. Often model agencies are very specialized in a certain area (advertising, high fashion, etc.). Also the size of agencies is different. There are some Modelbookers who hardly know anybody, but who have the best contacts and only work with 5-15 models. There are small agencies, large agencies with hundreds of employees and huge international model agencies such as IMG or ELITE.
In general, you can distinguish model agencies like this: There are international agencies, national agencies and regional model agencies. The more international a model agency is, the stricter are the requirements for your measurements, but also the higher are the requirements to be accepted as a model by this model agency (experience, pictures, etc.). With national agencies, advertising (supermarkets, insurance companies, etc.) is very often the issue, here it is not too important to have a perfect figure, with perfect proportions and exact body size. The measures in national markets therefore differ from those of the international standard. For models who work in regional areas, the dimensions count even less. This is often about smaller jobs and smaller fairs (hostess). As an international high fashion model, you naturally want to join the big brands, but of course you have to prepare yourself perfectly!
Serious model agencies: agency search and model application
In order to find the best agency for you and your requirements, you will learn in the book what a perfect model agency application looks like and how to find the best model agency for you! Many questions are also answered here, for example, whether you need a lot of photo material for your application The simple answer is: No, you just need Polaroids. The Model Scouts in agencies have a very trained view and can recognize by their experience of many years, already by simple Polaroids whether you have potential for the agency or not. Polaroids are super simple photos with the smartphone, in daylight. That's it. If you want to know how to make perfect Polaroids for your application, read more here: Become a model. For your application you don't need a long cover letter or to describe how motivated you are! There's just a little bit of key information. These are usually your name, your place of residence, your contact details and three to four photos. You also write down your measurements: your body size, hips, waist, bottom and shoe size.
Your model folder: The best photos for castings & jobs
Once you have found the perfect model agency for you, you can start with the first test shootings with photographers! Of course your model agency will help you a lot to get only the best photographers. Your agency will also see to it that you get a wide range of material for your model portfolio. Many make the mistake of focusing purely on "fashion photos". Especially when there's no agency in the background to advise you as a model. My tip: As a model you should always make sure that your model portfolio is as multi-faceted as possible. Not every customer can directly imagine what one can make of you as a guy. The photos help the customer to make his decision. The more extensive your photo portfolio is in the model folder, the more likely it is that customers will be able to make bookings.
Someday your book will be so full, you'll be spoilt for choice. Which photo do I put in the folder, which one not? With professional models, the folder is so strong at some point that they are booked more and more often directly. Direct bookings are very good because you don't have to attend a casting and are not in a pre-selection. You don't have to keep days off ("Option"), you will be booked directly by the customer for an appointment!
Test shootings with photographers: build up model portfolio and win jobs
So that you can build up your model portfolio perfectly, you'll also learn in the book how to get your own test shoots (also called TFP shoots in Germany) from photographers. As a modeling agent, I have to deal with test shootings for our models on a daily basis, so here are a few valuable tips on how you should ideally write to photographers. What's the matter with you? With the right cover letter, your chances of getting good test shoots will increase. There are some little tricks I'll tell you in the book. In principle, it can be said that you should briefly deal with the photographer instead of "just" writing to him or her. You should also create a suitable moodboard. The more interesting the shooting is for the photographer of your choice, the more time-saving the shooting is, the higher is your chance for the test shooting! So take a good look at what the photographer has already done and what not.
You shouldn't do too much with the test shoot, though. If I post a new photographer on Facebook and Instagram every day, your market value may drop quickly. Why should a big customer still pay a lot of money if "every" photographer is allowed to photograph you for free? With a professional modeling agency behind you, you will of course get direct tips and the best contacts so that you are as exclusive as possible!
If you take care of yourself and his portfolio, you should make sure that you want the photographer to expand your portfolio. If you already have five photo series with "Fashion", maybe you should try something new! To help you do this, you'll get all the tips you need to write the perfect letter to photographers.

Jobs, Jobs, Jobs: Welcome to the Model World
Daily business. We did it! You have prepared yourself well for being a model, written a good application, found a serious agency, built up and expanded your model portfolio, you get the first castings and voila: The first jobs! The tasks are then very extensive and varied. Unlike normal office life, you don't have to deal with the same tasks every day. You won't be working every day either. Sometimes you have free time, sometimes you will travel, sometimes you are already one day earlier on site for the fitting. In between, many young models study, so you'll soon have a full-time job! Especially when you go abroad.
First you will start your career with small jobs for online shootings, you will work on showrooms, maybe do some online shops and get your first commercials. When you're ready, you'll earn enough money to get to professional photographers and to bring your model portfolio to an even higher level with new photo series from top photographers! With new photos you will get better jobs again. At some point it will be time and if your model portfolio is full enough, your agency can also suggest you for abroad in its partner agencies. So even as a young model you can quickly get to the international metropolises, Milan, Paris and New York. Many models now also go to Asia, Shanghai and Hong Kong. But some also go to large production facilities such as Istanbul. But the Big Four remain the dream of all models: London, Paris, Milan and New York.
After the job: healthy life and beauty
A model's job is really exhausting! So there is another chapter that deals only with how you eat healthily and how you live healthily. You will also get great beauty tips on how to take care of yourself, your skin and your hair even during strenuous jobs and many days of travel. You have many shootings, many appointments and often don't find the time to cook something fresh for yourself. Then you have to go on to the next shooting and maybe you still have overtime. After eleven hours of shooting and "smiling", you are absolutely knocked out back to the hotel. You'll find the best tips on how to keep fit anyway in the book! The book not only shows you how to become a model and what you will experience as a model, you also get practical tips for the time after the jobs.
Smalltalk: Trends, Fashion, Haute Couture and Pret-a-Porter
After you can keep yourself fit in the hard everyday life of a model and eat a healthy diet, we go one step further: Networking! When you're out and about at fashion shows or photo shoots, there are often people with a taste for fashion. Therefore it is good and important if you know a little about the absolute basics. Small talk is always important! Whether at the Fashion Week or in your model agency. Therefore, an entire chapter is devoted to the theme of fashion. Where does fashion come from, why does it actually exist? Is fashion just clothes or is fashion more? How do trends influence us? Who sets trends? It also deals with the two important parts of fashion: haute couture and pret-a-porter. Both fashion styles are very important for designers, as well as for models and the entire advertising industry and production behind fashion.
Fashion changes at any time. That's why the Fashion Week in the fashion metropolises doesn't just take place once a year. In Paris, Milan and New York there are more often big fashion events! "Spring/Summer", "Autumn/Winter", "Prefall", "Fashion Week Mens", and so on. New collections of fashion designers are constantly being presented. Meanwhile, backstage before, during and after the shows, you'll be coming back to fashion again and again. So you know what it's like to be a model in haute couture and pret-a-porter.
show the book in the chapter about trends and fashions!
Modeling abroad: Perfect dimensions, hard work and diligence
Now you have learned everything to make it in Germany as a model! For the best of the best it goes on now, abroad! Here you will get to know the big model world. At first quite small, with other models in a large model WG. Later, when you have convinced the first agencies of yourself and are booked again for the following season, also get to know new agencies and your schedule gets fuller and fuller, you have done it. Now you can get to know the world, travel and meet interesting people on jobs every day. This is the dream of all young models. Everybody wants to go to the big media circus when they say "I want to be a top model!"
The way there is long and as described in chapter 1, success is mainly connected with the mental power of a model. You have to be true to yourself, you have to believe in yourself! Not just for a few weeks, but for years. Even the biggest top models in the world and supermodels of Victoria's Secret shows have taken a few years to really succeed and become famous. They started very early, were partly discovered very early by scouts and worked their way up for years, first beside school, then full time, to the "superstars" they are today for many.
The Model Book for everyone: The Model Book
Not every model will follow the path of high fashion and international advertising. The book also gives models on national markets a very informative insight, so that you as a "commercial" model can also take a lot of important things with you. You will learn a lot about the agency search, how to set up and expand your modelbook, how to find the perfect photographers, what jobs to expect and what opportunities you have to make a career as a model! I wrote the book for several months and met interesting people for it, as well as fashion photographer Oliver Rudolph. Part of the work was also created in collaboration with Michelle Hamacher. I thank you very much and look forward to further cooperation! With this book we give young, new models a realistic insight into the fashion industry and wish each one of you much success and the very best for your individual way!
Book Recommendations from Models
Agency recommendations
In the new edition you will not only find all topics but also more than fifty recommendations for model agencies in Hamburg, Berlin, Cologne/Düsseldorf and Munich.
Author: Stephan M. Czaja, owner and model agent at CM
After many publications about media, THE MODEL BOOK is my first work for models. It's about being a model, but it's also about your media coverage. Self-marketing takes up a large part, including the correct, first handling of media. In the model agency many questions reach us daily. The book is intended to give young models and new faces a good and optimal start, with good agencies and good jobs.
https://cmmodels.com/wp-content/uploads/2019/02/the-model-book-english-models-become-a-model-fashion-supermodel-shows-castings-jobs.jpg
600
1200
Laura
/wp-content/uploads/2023/01/cm-models-logo-web-agency-modelagentur-influencer-management.svg
Laura
2019-02-14 14:27:18
2022-04-18 21:26:39
The Model Book: Become a Model with Tips & Insights!