Training for men – workouts for arms, back & abdomen
Workout for men – The best workouts for arms, back and abdomen. Through the Christmas season and New Year's Eve have accumulated a few pounds. In addition to body care, the figure is also of great importance when it comes to modeling. Become a model Many have resolved for the new year to train off the new pounds until the summer. Each person has his own problem areas on the body, which he would like to train. Whether targeted body parts such as the abdomen, the arms or the entire body in the form of endurance training. There are the most different methods to reach his desired goals. From workouts to various sports, everything can help you get your dream body.
Back – Strong Back & Upright Posture
You should never neglect your back training during a home workout. On the one hand, to avoid muscular imbalances. Plus, a well-trained back improves your posture, protects you from injuries and relieves the pressure on sensitive intervertebral discs. In this article we have three videos for you that will help you get a strong back and an upright posture. Furthermore, we have listed the most common back training mistakes for you.
Strengthen now your:
Arms – Biceps & Triceps Exercises
Especially as a man, trained arms make a powerful impression, because muscular arms symbolize strength and security. Arm training also brings other benefits besides good looks, because the workout also makes you stronger and able to lift heavy things. In this article we present you three useful workouts for beautiful arms.
Exercises for home: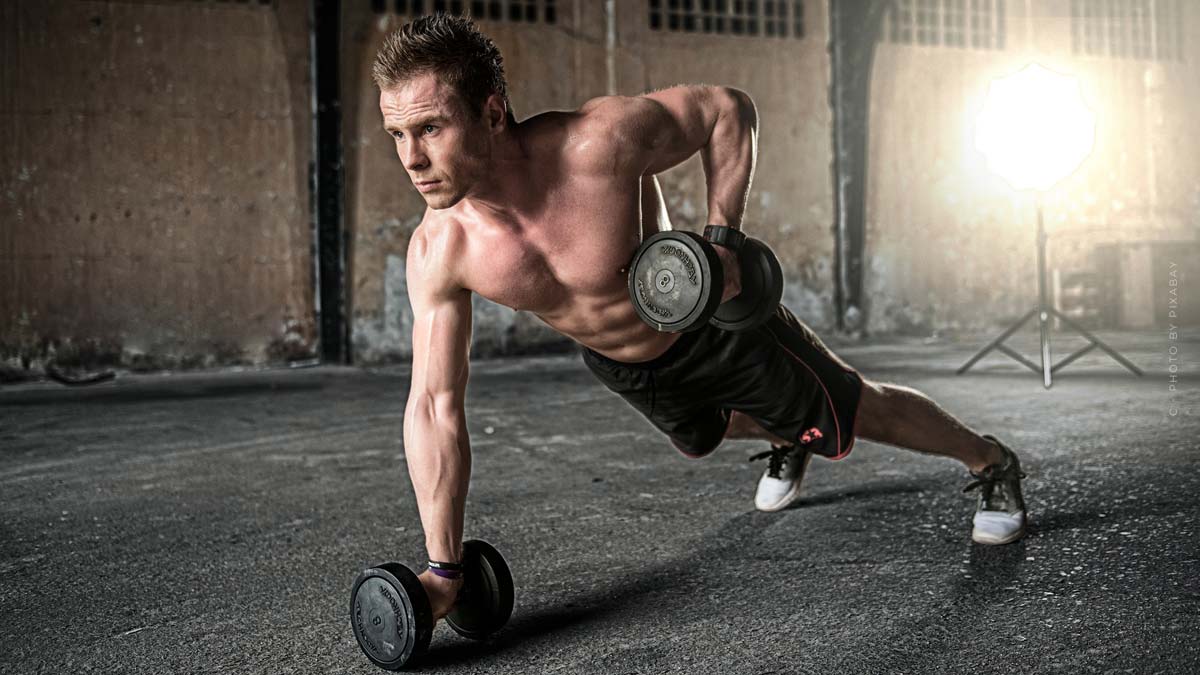 Belly – common mistakes & 10 exercises
Almost every man dreams of a six-pack. To achieve this, it is important that you build up the abdominal muscle with continuous workouts and pay attention to your diet. Only sit-ups or crunches alone are unfortunately not enough, it is important that a constant stimulus is there, this you achieve for example with dumbbells, or alternatively water bottles. With this you create the muscular foundation for your further training. In this article we have picked out some videos for training the abdomen for you.
A six pack with:
Legs – success & summer figure
Leg training is an important part of training success for men. It always depends on what personal goal you are pursuing, whether you want to have particularly muscular or rather slim, defined legs. One thing is for sure with regular leg training you are guaranteed to get a firmer stance, improved balance and generally have more strength for everyday movements such as jogging, climbing stairs or jumping. If you count your butt, thighs and lower legs together, your legs are the largest muscle group in your body. You work them together in many leg exercises, which means that you burn a lot of calories and effectively lose fat.
Muscular legs with a:
Full body – 10 minutes & calorie consumption
Healthy and fit through everyday life. Exercising with your own body weight will immediately help you achieve a healthier and stronger body. A full body workout at home brings many advantages. You can start anytime and anywhere, you don't need a subscription, no excuses and no travel costs. If the home workout is too little and too boring for you in the long run, you can take weights in the form of water bottles or a filled backpack as additional weight, so you build up muscles even more intensively.
Fit through everyday life:
Endurance – Cardio & 70 Exercises
There are many different types and forms of endurance training. Endurance training refers to sports that primarily challenge the cardiovascular system. Classic endurance workouts include running, swimming and cycling. However, there are also numerous workouts for training endurance at home. Regular workouts can quickly show improvements and provide an extra motivational boost. Are you ready to improve your endurance? Then get started with the many exercises and workouts!
Improve endurance with:
Sports – Boxing & Football
Your body can be trained not only in the gym or with the help of workouts, because there are a variety of sports that are not only fun, but they also keep you fit and promote your endurance. There are many different types of sports, so there is a sport for everyone to enjoy. In this article you will be introduced to some sports and you will learn all the benefits of each sport.
Fun sports with:
More tips? Follow pros on YouTube
Want more inspiration for your workouts? Then get tips from the pros like Chris Heria and Bully Juice.