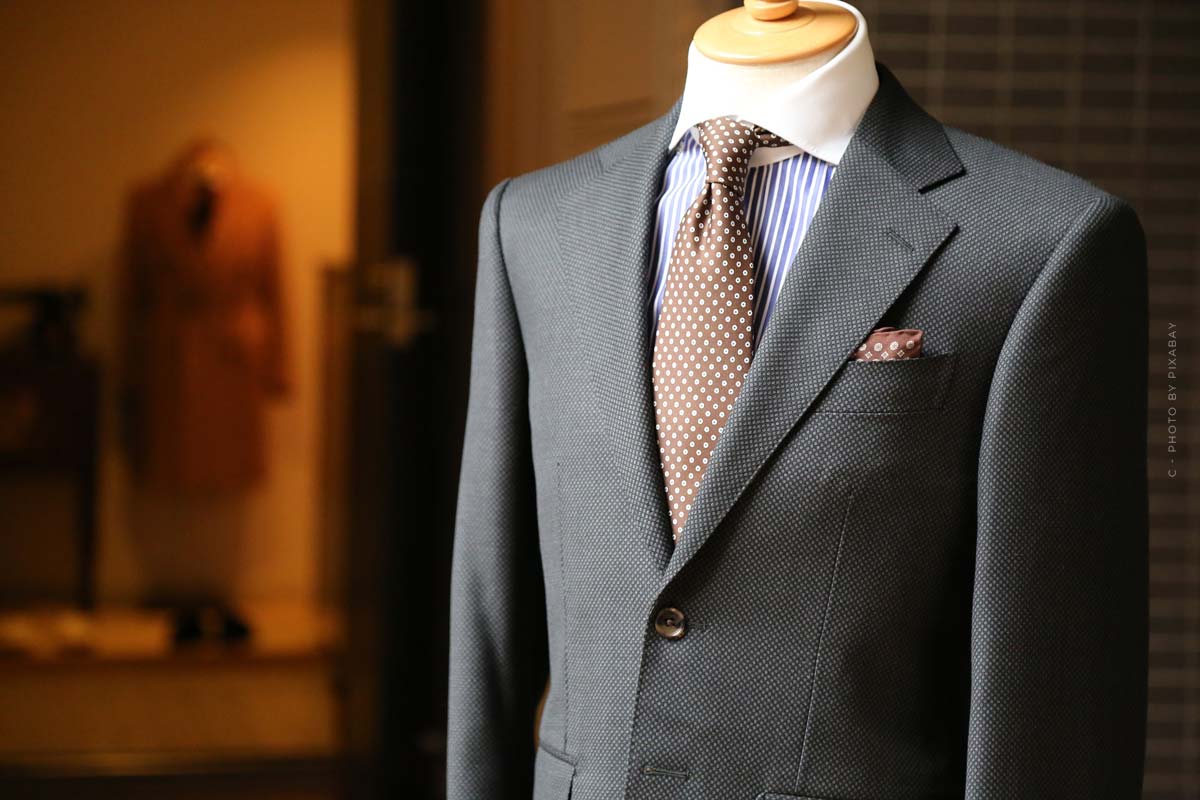 Thom Browne – Brand, Fashion Designer, Luxury Suits & Stars
Thom Browne – Like Chanel or Fendi, Thom Browne is a luxury business fashion brand. The luxury menswear and womenswear label Thom Browne, which has been providing us with its signature tailoring since 2004, is a staple on the fashion month runways. Famous for its signature four stripes and eccentric fashion week shows, Thom Browne is another designer who excels at collaborating with other creatives, working with Moncler, Brooks Brothers, Barcelona FC and Supreme, among others. From the people who wear the brand to the magical runway shows, find out everything about designer Thom Browne and his brand in the following post. Learn more about other luxury brands in our brand guide.
The designer Thom Browne: designer in Hollywood
Thom Browne's special masculine silhouette and otherworldly creations for women have brought him to the forefront of the New York fashion scene. His aesthetic and theatrical presentations have earned Browne worldwide recognition and led to highly successful collaborations with Brooks Brothers and Moncler Gamme Bleu.
From actor to designer
Browne studied business at the University of Notre Dame, where he was also a competitive swimmer. After graduating in 1988, he moved to Hollywood to become an actor and had some success with commercials. While casting and working in commercials, Browne discovered his passion for altering old men's tailoring with Johnson Hartig. After coming to terms with the fact that acting was not the right path, Browne sold his car and moved to New York in 1997, where he took a job as a salesman at Giorgio Armani. He was then hired by Club Monaco, which was then part of Polo Ralph Lauren. Lauren recognized Browne's potential and hired the designer to become part of Club Monaco's design and merchandising team.
The beginnings of the brand
In 2001, Browne started his own label because he felt that ubiquitous casual wear had created a gap in the market. Browne told New York Magazine, "I feel like jeans and T-shirts have become the establishment. Everyone is dressed casually. So putting on a jacket is the anti-establishment attitude."
Here you can see the designer Thom Browne:
Unable to finance a full collection, Browne made five suits for himself, which he wore around town in a kind of guerrilla advertising, imploring friends and acquaintances to buy from him. In 2003, he opened his custom clothing store in New York, which was followed by a presentation at New York Fashion Week in 2004. In 2007 he began his collaboration with Brooks Brothers and the following year was named Designer of the Year by GQ.
The Great Breakthrough
In 2011, Browne took a bold step and presented a women's collection at New York Fashion Week. The aesthetic of his womenswear is as novel as that of his menswear. Despite the avant-garde sensibility of his collection, Michelle Obama asked the designer to make a coat dress. Browne remained largely unknown to most Americans until the first lady wore a tailored coat-dress combination by Thom Browne in a menswear-inspired, subtly plaid navy silk foulard at her husband's inauguration in 2013. Browne was named Menswear Designer of the Year by the CFDA in 2013 and again in 2016.
Thom Browne Today
In August 2018, Ermenegildo Zegna acquired an 85 percent stake in the company, valuing the business at about $500 million. With Browne as the only other shareholder, he continued to serve as chief creative officer. "Thom's suit is the new expression of the suit," Tommy Fazio, director of menswear at Bergdorf Goodman, told New York Magazine at the time. "He's really influencing everyone. I see his shape echoed everywhere in the market. But no one is doing it like Thom. And it's gotten to the point in the store where people just come in and say, 'Where can I find Thom Browne?' You hear that as often as 'Where's the ladies' room' these days."
A look from the spring/summer 2020 collection:
Thom Brown's trademark
Unlike other designers, Thom Browne doesn't have an official logo. Instead, the label can be recognized by its signature silhouettes and the four white horizontal stripes that can be found in every collection, be it on a Thom Browne cardigan or shirt. Originally, however, it was 3 stripes, but which increased to four after being sued by Adidas, which also has three stripes as its trademark.
Here you can see your cardigan with the said three stripes:
The Thom Browne "3-Piece Tailored Suit"
Also a very popular piece and one of the brand essence of Thom Browne is the famous three-piece tailored suit in the brand color gray. Responsible for the great success in the menswear sector but also in influence on the whole business fashion track, the suit is highly credited.
The 3-piece suit by Thom Browne worn by LeBron James:
The leather Hector bag
Thom Browne is a big fan of his dog. Hector, the cute dachshund, has his own Instagram account and is probably the second most famous pet in the fashion industry, after Karl Lagerfeld's cat Choupette. Hector has often been featured in Thom Browne's collections, in the form of dog-sized bags, prints and knitwear.
Now Hector has been honored in the most lavish way yet: with a crocodile leather bag modeled after him. Thom Browne's regular pieces are expensive, but this particular version of Hector has an astronomical price tag of over 30,000 euros.
Here you can see the dachshund bag from Thom Browne:
Love for Thom Browne
Granted, Thom Browne doesn't have the same cultural cachet as a streetwear brand like Supreme, but his garments have become part of the mainstream zeitgeist thanks to many celebrity co-signs and eye-catching collaborations. He's released two collaborations with Samsung centered around the Galaxy Z Flip and Galaxy Z Fold, two smartphones that Browne admires for folding up like phones of the past. Yes, those Thom Browne Samsung phones even had four-stripe branding and a keyboard that made old typewriter sounds when typing.
The Galaxy Z Flip in the Thom Browne Edition:
Stars and Thom Browne
Browne's shrunken suits have even made their way into the world of sports. In 2018, Browne dressed LeBron James and the entire Cleveland Cavaliers team in his suits for the 2018 NBA playoff away games. That same year, Browne signed a three-year contract with Spanish soccer club FC Barcelona to become the team's official supplier of custom suits and off-the-field formal wear through the 2021-2022 season. From Odell Beckham Jr. to Cardi B, Browne has strategically styled celebrities from all walks of life to promote his unique vision of tailoring. At the Met Gala, for example, he dressed celebrities like Erykah Badu, Lil Uzi Vert and comedian Pete Davidson, as well as actresses like Sharon Stone and Amandla Stenberg.
Here you see Erykah Badu and Lil Uzi Vert in the background dressed in and by Thom Browne:
Thom Browne Collaborations: Runway and collaborations
Collaborating with like-minded talent and brands is integral to Thom Browne's success. He began his career in 2006 with a partnership with America's oldest retailer, Brooks Brothers, for a 50-piece men's and women's collection called Black Fleece. Following the success of that collaboration, luxury skiwear maker Moncler commissioned Thom Browne to design its men's Moncler Gamme Bleu collection.
A look from the Thom Browne x Moncler collection:
Thom Browne for Supreme and Barneys
In 2010, Thom High Fashion combined tailoring with streetwear when it collaborated on a collection of three shirts with Supreme. Later in 2012, the brand collaborated with luxury department store Barneys New York on a diffusion line called Thom Grey, which offered tailored suits with free personalization on select pieces.
The Supreme collection from 2010:
Thom Browne for FC Barcelona
In 2018, Thom Browne's lifelong love of the sport was evident when he announced his official partnership with FC Barcelona – arguably one of the biggest partnerships to date. As the team's official matchwear tailor, players wear complete Thom Browne custom suits featuring a wool shirt, button-down cardigan, white oxford shirt, tie scarf and more, all emblazoned with the FC Barcelona crest. All proceeds from the collection will benefit the FC Barcelona Barca Foundation.
World footballer Lionel Messi in a suit by Thom Browne:
Thom Brownes' catwalk shows
In addition to his unforgettable designs, Thom Browne's fashion shows at Fashion Week are always impactful. The designs are inspired by themes from Thom's life, whether it's his sports influence or his family traditions, and his shows are an opportunity for his creativity to flourish.
At Thom Browne's Fall/Winter 20 show, the runway was transformed into a winter wonderland covered in snow. Models walked the runway in pairs wearing animal heads to represent the Noah's Ark theme and the climate change movement.
Take a look at your look from the 2020 fashion show:
Frequently asked questions about Thom Browne
Here you can find the most frequently asked questions about Thom Browne on the Internet:
Is Thom Browne a luxury brand?
Thom Browne, born in 1965, is an American fashion designer. He is the founder and chief designer of Thom Browne, a New York City-based luxury menswear and womenswear brand.
What is Thom Browne known for?
The brand is known for its reimagining of the classic men's suit. He became known for his womenswear after the First Lady of the United States, Michelle Obama, wore one of his designs at the 2013 presidential inauguration.
Is Thom Browne produced in Italy?
The lavishly designed store combines Browne's love of mid-century American and French furniture with his brand's long history in Milan – much of the Thom Browne collection is produced in Italy, making Milan's Via Gesù one of the designer's most frequented locations.
Brands similar to Thom Browne
Below you will find posts about brands that have some similarities with Thom Brownes' work. From suits to stars, there are also other brands that operate in these segments.
Thom Browne Videos
Check out the interesting collections and campaigns in our Thom Browne video post.
Raf Simons / Raf Simons Videos
Raf Simons has also done a stint in classic business fashion with a twist of luxury in his career. Likewise, the designer came from a non-fashion background, much like Thom Browne. Take a closer look at the career of the designer and his brand in our Raf Simons post or get inspired by his collections and fashion shows in our Raf Simons videos post.
Yves Saint Laurent / Videos
Also a very famous brand for classic luxury fashion for him and her is Yves Saint Laurent. From beautiful evening wear to staged haute couture, you can find everything your fashion heart desires at Yves Saint Laurent. In our articles on Yves Saint Laurent you can get to know the brand better and take a closer look at the collections and campaigns.
Fashion brands: list
Are you excited about Thom Browne and want to get to know more brands? Then check out our fashion guide here and get to know the top fashion brands in the world. Extravagant haute couture. Sophisticated prêt-à-porter. Fine sportswear and innovative accessories. The world's most luxurious fashion brands delight millions of people and fashion lovers every year with their exquisite collections. They camp out in front of stores to snag limited edition specials, stand on the streets of Paris during the highly coveted Fashion Week, and sit wide-eyed in front of TVs to watch the latest and hippest runway shows. Here's the ultimate fashion brand guide.
https://cmmodels.com/wp-content/uploads/2021/11/Thom-Browne-Designer-Mode-Luxusmarke-Anzug-Business-Herrenmode-Laden.jpg
800
1200
Stephan
/wp-content/uploads/2023/01/cm-models-logo-web-agency-modelagentur-influencer-management.svg
Stephan
2021-11-18 17:40:53
2022-04-19 01:10:52
Thom Browne – Brand, Fashion Designer, Luxury Suits & Stars