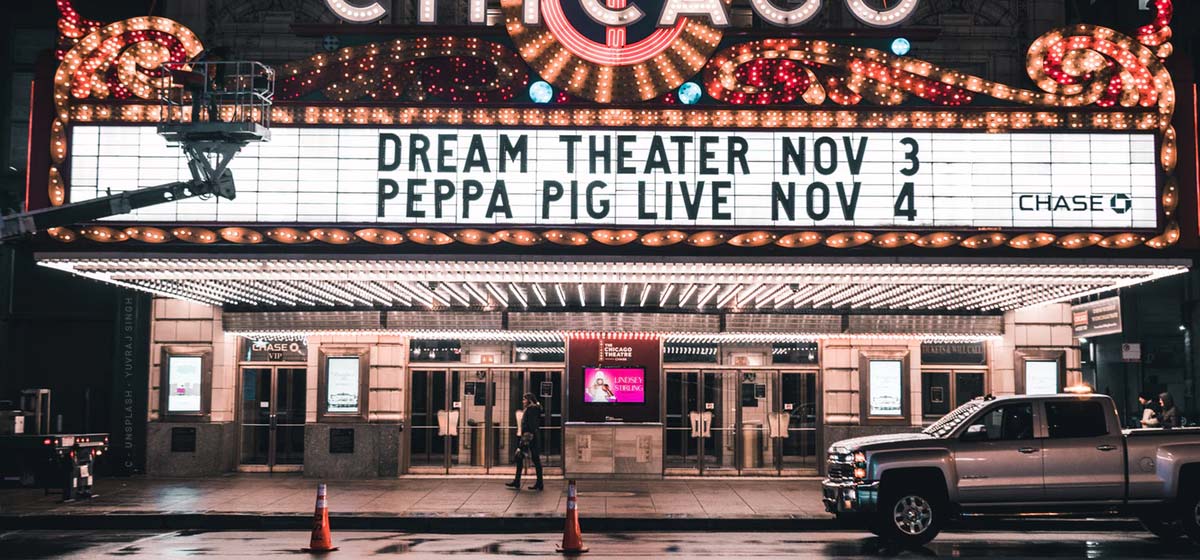 Mathäser Filmpalast and Gloria Palas: Cinemas in Munich – Recommendation
Cinema in Munich – The first date? A school trip? A relaxed evening among friends or just a leisurely outing with the family? Then how about a visit to the cinema? Watching a good movie in a relaxed atmosphere, preferably with delicious popcorn or fiery nachos? Sounds great! If you've decided to go to the cinema but don't know where to go yet, you can find the best and most popular cinemas in Munich here.
Cinemas & further recommendations: Tips
Before we get to the top cinemas, here's our quickview for Munich: All tips & recommendations.
Short trip to Munich – For the model job and a few hours in the city to a longer vacation in the state capital: Munich is worth a trip. To make your next trip to Munich even better, we have collected some good addresses and recommendations for you. So you can quickly and easily find a delicious breakfast, the best latte macchiato in town and of course shopping tips!
Mathäser Filmpalast – cinema in a central location in Munich
Not only the location and the central position in Munich convince many visitors of the cinema, but also the unique picture quality and the breathtaking sound.
Ratings 4.3 (6,768 ratings in Google)
Bayerstrasse 3-5, 80336 Munich
Tel.: 089 515651
https://www.instagram.com/p/Bt88iHmnbV1/
CINEMA Filmtheater – Films in the original version
The cinema "Cinema Filmtheater" specializes not only in the presentation of films in the original version, but also live broadcasts .
Ratings 4.6 (2,062 ratings in Google)
Nymphenburger Str. 31, 80335 Munich
Tel.: 089 555255
https://www.instagram.com/p/BnpEY6XFxZy/
Gloria Palast – Cinema times noble
You want to feel like a real star for once? In this cinema you can. After the greeting with a welcome drink, a wide range of food and drinks is available, which will be brought to your seat until the start of the film. With the generous armchairs and the own footstool, this cinema offers you not only good food, but also relaxed movie watching.
Ratings 4.6 (772 ratings in Google)
Karlspl. 5, 80335 Munich
Tel.: 089 120220120
https://www.instagram.com/p/BjILcq4gkUO/
Monopol Kino – cosy cinema to feel good in
Rating 4.5 (467 ratings in Google)
Schleißheimer Str. 127, 80797 Munich
Tel.: 089 38888493
https://www.instagram.com/p/BfOhrJInj1K/
Cadillac & Veranda Cinema – US style cinema
With the American style and the car in the foyer, the "Cadillac & Veranda Kino" stands out extremely from the other cinemas with its unusual look and thus attracts many visitors.
Rating 4.6 (382 ratings in Google)
Rosenkavalierpl. 12, 81925 Munich
Tel.: 089 912000
https://www.instagram.com/p/BSyGBtmg7I2/
Rio Filmpalast – Cinema with Mainstream & Indie Movies
Ratings 4.3 (314 ratings in Google)
Rosenheimer Str. 46, 81669 Munich
Tel.: 089 486979
https://www.instagram.com/p/BrfYQcwn2Cf/
Filmtheater Sendlinger Tor – A cinema with style and feel-good factor
4.6 (362 ratings on Google)
Sendlinger-Tor-Platz 11, 80336 Munich
Tel.: 089 554636
https://www.instagram.com/p/Be8fc_VB4po/
Royal Filmpalast – Cinema visit at Goetheplatz
Rating 4.4 (1,440 ratings in Google)
Goethepl. 2, 80337 Munich
Tel.: 089 533956
https://www.instagram.com/p/Bb-YqvqFJLy/
Movie night at home: Netflix with family
An alternative to the cinema – Netflix! Blockbusters can also be experienced on the home screen. Of course, it's always nice to put a DVD in the DVD player like in the old days. We have compiled a best of list for you below. A colorful mix of exciting action to funny moments for your movie night:
I am not your Negro
V for Vendetta
The Womanizer
Sex and the City 1 & 2
My friend the water dragon
Zombieland
In love with the bride
Jack and Jill
Seven years in Tibet
Last Action Hero
No good deed
The girl Rosemarie
Very suspicious
God's own Country
Wonder Woman
Naughty Girls 2
A Case for TKKG – Dragon's Eye
In the heart of the sea
Annabelle 2
Pitch Black – Planet of Darkness
Spartacus
Blues Brothers
Jaws 3
The Flintstones: The Flintstones Family
Catching Feelings
Tron: Legacy
https://cmmodels.com/wp-content/uploads/2019/04/cinema-movie-theatre-tips-guide-usa-new-york-chicago-miaimi-los-angeles-travel-tourist-guide.jpg
560
1200
Stephan
/wp-content/uploads/2023/01/cm-models-logo-web-agency-modelagentur-influencer-management.svg
Stephan
2019-05-20 16:59:12
2022-04-18 22:38:46
Mathäser Filmpalast and Gloria Palas: Cinemas in Munich – Recommendation