Media Agency: Advertising, Shooting and Social Media Marketing
Media agencies do not just design concepts, they implement all ideas, plans and strategies profitably. Media planning and production then covers all key audiences, channels and KPIs. This saves customers valuable time. Because many time-consuming agreements between the individual agencies fall through the comprehensive services of a full service media agency. They provide a complete media portfolio of their clients, with whom marketing can be well and efficiently operated by their own team or agency. It's not just about the ideas, but also about the performance-oriented implementation of each campaign! The individual advertising concepts of the agencies are extremely individual. Understandable, since most products and brands are very individual. As well as their target groups, their needs and wishes. As a media agency you are always looking for a balancing act to gain the greatest possible success for your clients in the various areas. If you put all the individual strategies together, you have a comprehensive media concept for your own brand. A guideline that helps to grow steadily with traditional and new media.
Media agency – Know how & experts
It is not just about traditional media, but also about new media and new marketing strategies, such as online marketing and social media marketing. Here are extremely large open and hidden sales potential for companies and companies. Why? To date, new media are not used by all companies and brands. There is still "first mover" in social media marketing.
Already knew? We produce small clips for us as well as social media content for our customers, for example Youtube Unboxings for one of the largest shoe retailers in Europe. Here are a few examples from our own portfolio. Later, we also show a best practice of our customers.
Target group knowledge and authentic brands in the new marketing
Authentic, honest! Anyone who shows authentic content, including social content, will win new customers for their brand and their product range. For every company a great opportunity for sustainable, digital success. Media agencies therefore take a focused look at the target groups in new media, where we are currently bringing out the greatest potential. Good planning pays off in the sale and promotion of new products, collections and services.
Social Media Marketing: Advertising on Instagram, Youtube & Co.
In social networks, people today receive much of their daily information. In particular, social networks have always gained in their presence and in their relevance in society. Facebook, Youtube and Instagram have become indispensable today. In all countries, whether it is the western world, the Far East or even individual regions and countries in Europe. People all over the world are logged into social networks. Anyone who is present as a brand or company in social networks, can spread his messages with a long reach. Also, the possibility of viral information dissemination is much higher on social networks than a traditional marketing campaign. In social networks, trends and new fashions spread over a few hours worldwide. Especially bloggers and influencers are here very active market participants, which is convincing for companies. Here we also work very closely with our in-house social media agency.
Advertising does not need a big set anymore, how to easily produce small social content, Deichmann shows.
The example also shows you how small social content can be linked to the big campaign.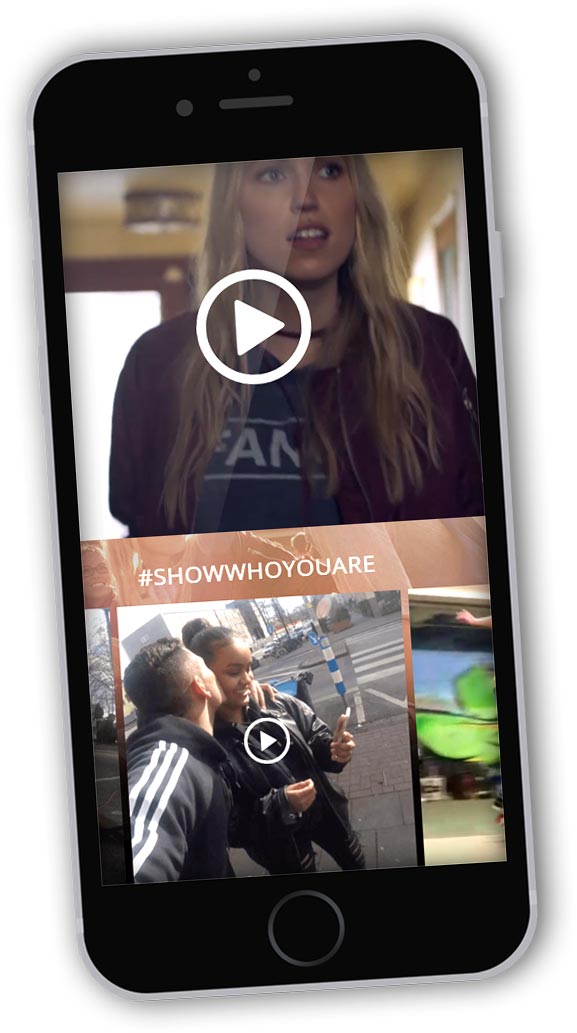 Now in the trend at advertising agencies: Blogger and Influencer Marketing
Currently very popular are the two trend themes: Blogger and Influencer Marketing. Both areas are very new and there are few expert agencies. Now the first ones are looking for a comprehensive portfolio together. There are already some big players in the industry who specialize in Youtuber and Blogger. The particularly authentic form of presentation of the young loose on social networks attracts many other young people almost automatically. They become trendsetters and everything they do is copied 1 to 1 by the young people. So who placed his brand so sent social networks Instagram, saving a lot of budget for advertising.
As a full service media agency, of course, we are on the pulse of the times. In addition to models, we already represent a large portfolio of influencers and bloggers. With them, customers can play their advertising so targeted, as it would not be possible in the traditional channels for advertising. Added to this is the positive effect of the emotional connection to the influencer. Our media managers are on the go every day on social networks to find the new Instagram stars and Youtubers! The rise of bloggers is often very fast, as they are very young and relatively quickly regarded by many as idols. If a critical mass of fans or followers is exceeded, the range automatically builds up. In general, influencer marketing and social media marketing are about authenticity. Wherever you convince and your product advertises honestly, that is honestly perceived by the users, can educate high heels.
Best Practice Newsjacking: Influencer at the beginning of the career
6,000 views with the first video! Blogger Soraya Wanya's first Youtube video with fashion agent Iva reached tens of thousands in just a short time! Who would be able to make it from a standstill at the age of 18? That is why advertising agencies in Germany pay much attention to young bloggers and influencers. She has made a special for the TV show "Germany's Next Top Model" and so together with Iva quickly thousands and tens of thousands. News jacking or content marketing is a principle that takes up content that will happen in the future. The strategy reaches many, as it is often the first source of information on the new topic. Even social networks are happy about such content from bloggers.
Picture: Lukinski Werbeagentur / Aritcle: News Jacking und Content Marketing durch Influencer
Advertising costs and budgets for digital advertising campaigns
Calculating advertising costs for social media marketing is expensive in classic advertising campaigns. A specific advertising budget is spent by a company on a product, the analyzes then try to measure the successes. However, it is hard to come to a conclusion about how high the advertising investment was and how expensive each new or reactivated customer was. In social media advertising, measuring success is much easier and, above all, faster. In the media agency, everything is calculated exactly and at the end the measures are measured, for example, by means of the CPC (Costs Per Click). If the click cost is higher, more budget will be invested in the ad.
A / B testing for conversion and click optimization of advertisements
A / B Testinghelp the click optimization of advertisements. In order to have a good overview of the successes, the chances and of course the risks, A / B tests are conducted in good agencies. Here are different ads types, graphics and texts played in the advertisements against each other. Users will click more frequently and less frequently. The results of the test will help you tailor your ads to the buyers for a high CTR (conversion). In the end, only the most efficient ads will be promoted, while the less efficient ads will be turned off by the media agency. The free slots are then filled by new campaigns. In this way, we sustainably optimize the online sales of our customers and keep the media efficient and up-to-date.
Project management increases economic success
Of course, the entire administration and design costs a lot of planning time in the project management of a brand. That is why we, as a media agency, take on the entire project management for brands. As a brand, you can fully concentrate on the distribution of your products, while your media is always modern and unique! As an agency, we are not just ideas and consultants, we also make sure that their media always works and provides optimal performance on the various devices that are used by users today. It's all about optimization, as well as design and usability. And yes, of course, search engine optimization plays a big role in our agency work. Our project managers and consultants are young and well educated. With it we guarantee always best and most modern results in the media work – for your marketing.
It is also important to many of our customers that we not only "think through" the media, but also handle all media production. As a full service media agency, we have excellent photographers in our portfolio, we also handle video productions but also the post production of shootings and spots. Small commercials but also the previously described social media content that can be produced quickly and easily, even in large quantities. The advantage: With daily content you are up-to-date every day! As a production company, we are your partner when it comes to calculating costs and effort. How to organize, as described in the project management, shooting sets and team planning, so that nothing can go wrong on the day of production! We produce the content specifically tailored to the target group and also adapt all designs to the specific challenges of your target group. Your media will be perfectly attuned to your shoppers and they will always have new, unique and individual content that will delight users in the long run and turn them into true brand fans.
Here's another example from our own portfolio to showcase the possibilities:
Conclusion on the topic of advertising agencies and media agencies
In relation to the traditional marketing methods of advertising agencies and media agencies, new media are a real paradise for brands and companies. You can still make big profits here because the competition is not as high as in the other industry. Just placing a billboard in the middle of Berlin is so costly that only big market players can afford it. Social media a really interesting field when it comes to their own advertising and marketing.
Contact
If you have any questions about possible strategies and concepts for your media development, please call us. We give you detailed advice and show you how you can advance your brand in the new media. We value ambition and punctuality. Together we achieve high quality results that convince your agency. The perfect choice of model – that's our job! Read more about our media agency services in Germany and Europe here:
PictureSkyline © science photo – fotolia.com
https://cmmodels.com/wp-content/uploads/2017/01/medienagentur-werbeagentur-social-media-werbung-video-marketing-beste.jpg
845
1750
Laura
/wp-content/uploads/2023/01/cm-models-logo-web-agency-modelagentur-influencer-management.svg
Laura
2017-03-19 16:55:12
2022-04-18 20:59:40
Media Agency: Advertising, Shooting and Social Media Marketing