Casting Agency: Advertising, Fashion & Co. in New York, Los Angeles, Berlin, Paris & Co. – castings for your fashion show- e-commerce shootings, commercials – but where do you start? We offer you the best contacts for Berlin, Hamburg, New York, Los Angels, London, Paris and Milan. Welcome to our casting agency! Here we introduce you to the tasks of our casting agency, the services and the whole process, which starts with the pre-selection, the negotiations of daily fees and rights of use, up to the final selection and the… this is our casting agency!
Casting Agency: Berlin, Paris, New York, Los Angeles
You want to organize a photo shoot, for social media, e-commerce or even a video shoot, for a commercial on TV? The bigger the production, the more important it is to have a good and experienced casting agency at your side. On this page we explain why and introduce you to the individual tasks and aspects of our casting agency!
What does a casting agency do?
The bigger and more elaborate the production becomes, whether for photo, video or other creative ideas, models have to have a lot of talent. Models are the center of attention in most photo and video productions, apart from digital avatars. A large part of the success depends on them, especially if the production day is limited to 8 hours. A lot of planning, little time: everything must fit together and function exactly.
Risk: Authentic media for target groups
A simple example – Just think of a shooting for an international sports fashion manufacturer with tennis specifications. The fashion brand will soon launch a new sports fashion collection for tennis players in the stores and online stores. At the upcoming campaign shooting the models should play tennis! If models are booked now who have never been in contact with tennis before, every amateur and professional would see that immediately. The fashion collection would then be sold significantly less.
Another example would be a photo shooting for an online store or e-commerce. Usually, at least 20 outfits per day are shot here, sometimes even 30. Models must be trained accordingly. Here it is all about time. Time spent on changing clothes, individual photos, styling and so on. This means that professionalism on the set counts when it comes to timing, posing and facial expressions.
Timing (reliability before / during the shooting)
Posing (movement, exercise and training)
Mimic (expressive, target group rousing emotions)
This is of course only a small, very selected example of tennis sport shootings and e-commerce shootings. But the principle is clear.
Just after, which task is to be settled, models must bring along very many talents
The same applies to Fashion Week, live events and influencer events. But let's stay with theme casting for photo and film productions for the time being.
When we talk about casting, we are not only talking about the execution and organization, but also about all the planning that goes into the run-up to a casting. Booking a casting agency is therefore indispensable, especially for international projects.
Showroom
Fashion show
Social Media Photo Shooting
E-commerce photo shooting
Campaigns photo shooting
Video shooting for e-commerce and advertisements
Advertisement for TV and Web
Casting in New York, Los Angeles, Miami & Co.
Our casting agency offers you a first-class network with personal contacts all over the world. We have specialized especially in the following core countries:
USA: New York to Los Angeles
Europa: Berlin to Paris
You are on model search for your campaign: Write us!
Model scouting example: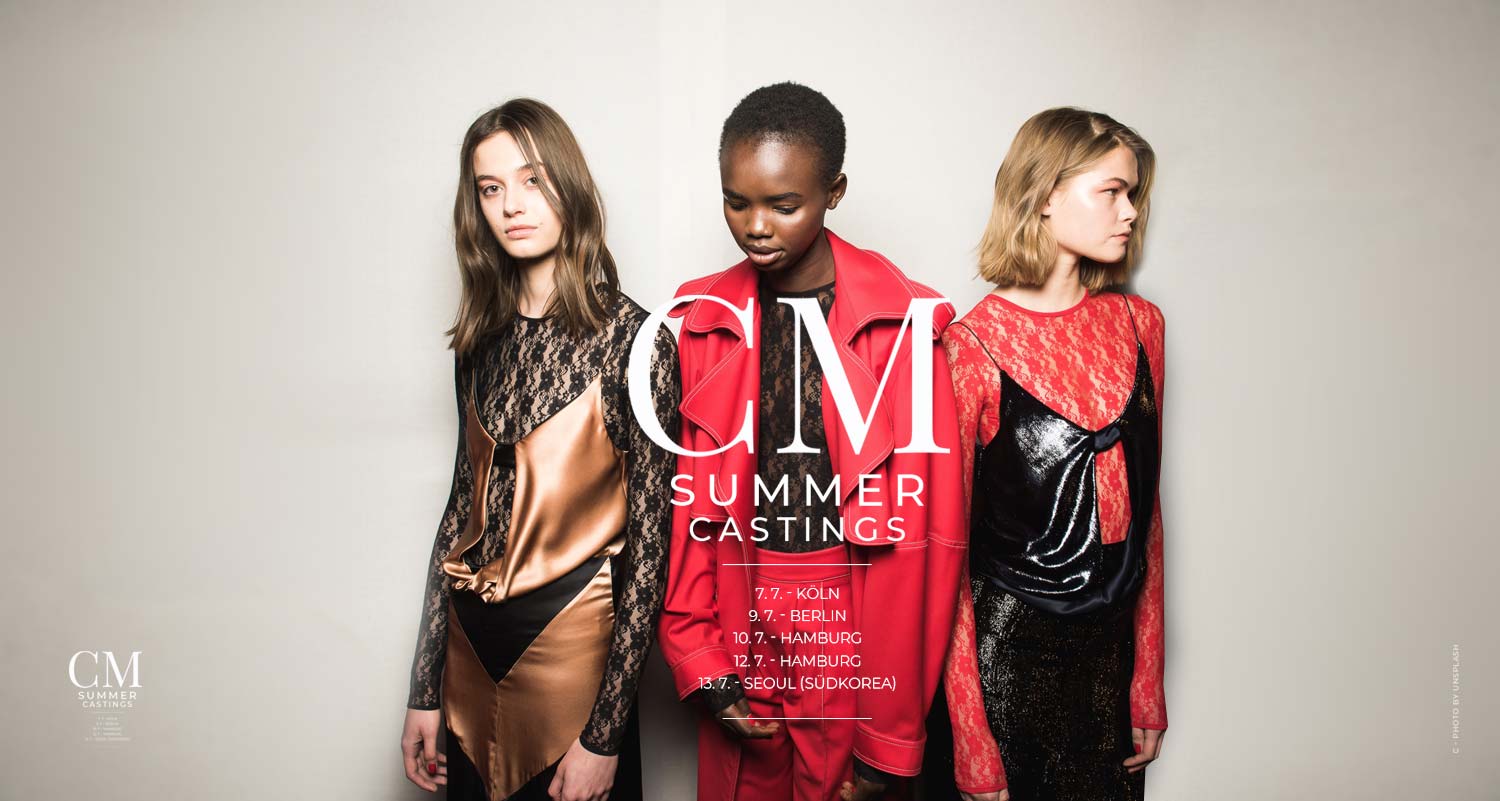 Casting appointment: How does a casting take place?
How does a casting run? Here is a small insight into e-castings and live-castings. Depending on the type, for example e-commerce or advertising film and fashion show, models are either cast using digital media or get to know them live on location. Here is a small insight:
E-Casting: Sedcards, video example and selection
The fastest and most effective way for a casting is the so-called E-Casting. In an E-Casting, models are selected, "simply" based on pictures and video material. Polaroids are usually used, these are very natural and make the model look as natural as possible. For you as a customer, for models but also for influencers the easiest way.
As a casting agency you don't just use the pre-produced material, depending on the complexity of the job to be done, we also create our own guidelines. Model agencies then send some made videos.
For example, a beauty manufacturer could request a video directly by watching the models in a played action in front of the mirror. This way you can get an impression how different characters can handle the required roles. Of course this helps a lot in the decision.
Focused Briefings
Quick assessment and availability
Uncomplicated processes
However, e-castings are not decided electronically, because in the end it makes a difference whether the person is actually on site or not. The bigger the job, the more important it becomes personal contacts between client, art director, casting director, model, influencer, etc.
Live Casting: Getting to know each other personally
Live castings are not only held for fashion shows, for campaign shootings, as social media, e-commerce, in all areas castings are also held live. This gives casting directors and clients a direct view of the candidates. Absolutely unaltered.
This is exactly where the special "magic" of live castings lies. They inspire the few people on site as much as the audience later. Often 100 live castings cannot provide the same intensive assessment as a live casting of 10 people.
Who really stands behind the brand?
The more top-class the job, the more the person has to match the brand, target group, operational and strategic concepts. That is why live castings are necessary for many jobs.
We organize, plan and carry them out.
Tasks of the casting agency
The agency's tasks in the casting process are extremely broad. Basically, however, it's all about the following: Before the casting there is a good briefing, which is prepared by the agency.
This briefing is then sent to the contact network, not to all contacts, but to suitable ones. So of course, the messages are not sent to everyone, but only to a selected number of agencies whose portfolio or models fit the request and their special challenges and requirements.
In the second step, the agency sends out material, which usually complies with the guidelines set by the casting agency. The casting agency then makes a pre-decision, depending on the client's wishes.
The final decision is made by you, the client
This is the simplest case of a casting. Of course, there are still many partial aspects that have to be considered. We will also address them in the next steps, from showrooms to larger fashion shows, from photo shoots for social media and e-commerce to video production for web and TV.
Less effort, more story: advantages
The entire complexity, organization, locations, scheduling, material production, age is handled by a casting agency. The effort for you is reduced to a minimum.
Besides the exclusive contact network and the selection phase, a casting agency offers many more advantages. On the one hand, the effort for the actor search is minimized so that the production company can fully concentrate on the storyboard, the preparations and the production itself.
In addition, there is the submission phase, depending on whether it is an e-casting or a live casting, which is also combined with personal meetings.
This includes:
Casting Letter
Exclusive contact network
Organization, appointments to locations
E-casting / live casting
Pre-selection
Focus on your production, instead of searching
Risk minimization through failures
Negotiation (daily garage, rights of use)
For many customers, however, the financial and legal aspects are also much more important. Thus the Casting agency takes over on customer's request also the negotiations, around daily fees and rights of use.
Fashion show and presentation
In the world of fashion and trends, many things start at one place: Fashion Weeks.
Whether in Milan, Paris, London, New York, Tokyo or the smaller ones in Berlin, Shanghai, Dubai. On the big shows and offside, at the fashion fairs, designers and creative people present their latest collections.
A great place for casting agencies. After all, weeks, sometimes months of preparation focus on a single hour of show. The biggest risk? The event fails because of one person. So preparation is the A&O when it comes to presenting fashion.
Showroom: New fashion collections of the season
The smallest variation of a presentation is the showroom. This is where usually only designers, people from the marketing team, potential customers and the models themselves meet. These showrooms are all about presenting fashion collections so that boutiques and the big fashion houses can buy the new collections for the new season.
The model therefore has a direct influence on the sales success. So for us as a casting agency, there are two aspects to this, the right height with the right proportions and the right experience, from other jobs, with clients, buyers and the right know-how when it comes to presenting fashion.
For such presentations and showrooms typically fashion models are cast, i.e. models with a height of 175 to 180 cm. For men models usually 184 to a maximum of 190 cm.
Fashion presentation / product presentation
Exhibitions and shows
Fashion show: presentation and PR
Fashion show castings are much more complex than those for showrooms. At a fashion show there are extremely many parameters that have to be considered by the organization. Here, not only 1, 2 or 3 models come together but up to 20, 25 models.
This means a lot of organization, already in the run-up to the fashion show. Often it is not only that the fashion show itself is carried out, but also that appointments are made in advance, e.g. for the so-called fitting or also for the rehearsal.
So the job of the casting agency starts relatively early and the tasks of the casting agency are much broader.
Typically one speaks with a larger number of model agencies, so that for the client, models with the perfect look, for the strategy of the presentation, are found. The appearance is not only defined by height, proportions and weight. Sometimes types are sought, sometimes dancers, sometimes "edgy", sometimes "commercial". For fashion shows you also need different types of models.
While one fashion show is very straight, so classic fashion, little movement, another fashion show contains many dance elements, movement. This has to be considered already in the casting, in the first briefing of the casting agency.
But it is even more important to be able to rely on reliable partners. If 2-3 models are missing on the day of the fashion show, the whole concept of the choreographer can fail. The right choice of model therefore also offers a high degree of security for the event organization.
Fashion shows have a high standard as a supporting element of public relations. Here not only a buyer comes together, as well as on showrooms. A fashion show also brings together representatives of the press, influencers from Instagram, YouTuber and other public figures. Pure public relations.
Large selection of models
Reinsurance and risk minimization
Dates in advance: Fitting, rehearsel & Co.
Location Scouting: casting and production – tip!
Not only is the casting process extremely important in finding the perfect model, but locations often have to be found for production.
Let's take a look at the Fashion Week in practice. Fashion designers from all over the world come together to sell their new collection at a unique opportunity. Not only fashion designers meet models, but also buyers from boutiques and fashion chains. In addition, editors of the major magazines, the influencers of Instagram and YouTube but also the… Casting agencies! Not only do they provide the perfect locations for live castings, but they also know top locations where fashion shows, showrooms and events are held.
You are looking for a showroom, duplex, villa or factory loft?
Designer loft
Modern industrial area
Luxury villa / estate
…
Partnership with Lukinski Real Estates.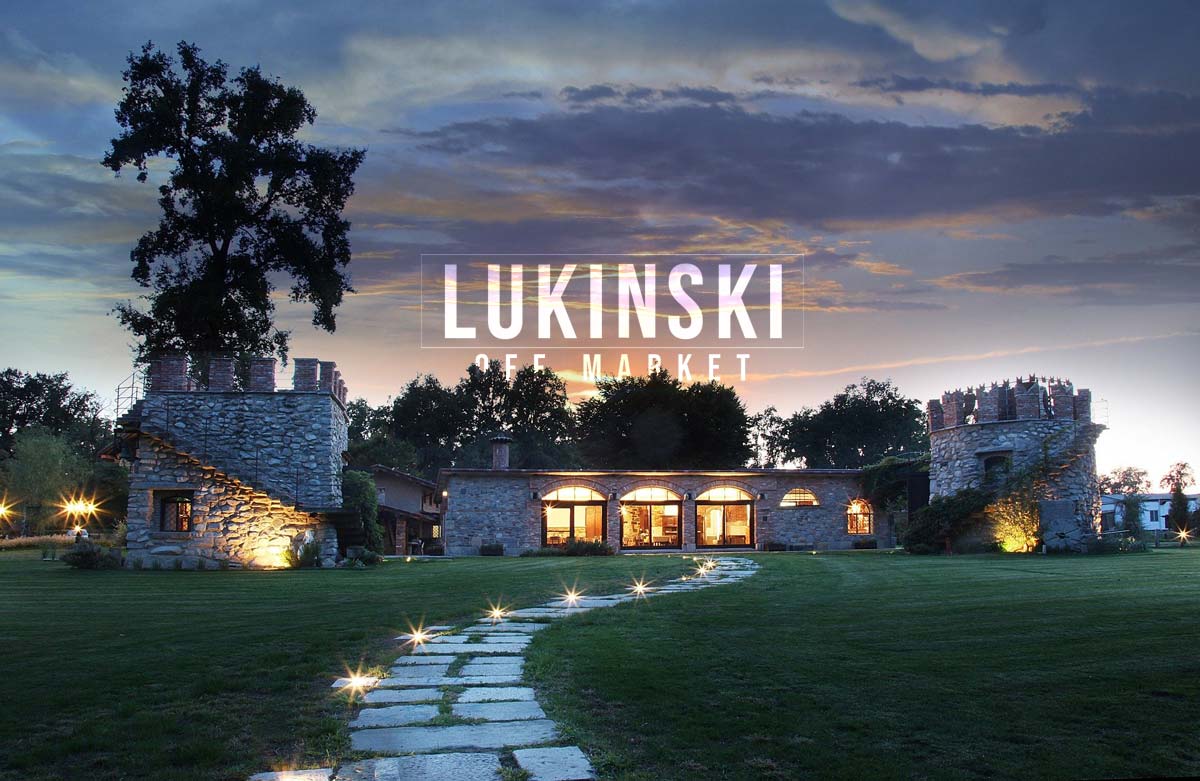 Photo shootings: advertising, e-commerce and campaign
In the field of photo shootings, there are many facets, which must be covered by professional, experienced models. The more complex the tasks, storyboards but also teams become, the more experience is required.
Finding the right model for a photo shoot is not so easy, after all, it is no longer only about measurements and proportions. In addition, aspects such as facial expressions, changeability, posing, security, all this is increasing.
That's why customers with increasingly large productions rely on casting agencies that no longer just have contact with a few hairs, but a strong, exclusive and equally extensive network.
Social Media Photo shooting: Instagram, Facebook & Co.
For many models, social media shootings are the entry into the world of photo productions today. Social media shootings are usually done for networks like Instagram, but also Pinterest or TikTok. Companies need new material all the time, preferably every day. The pictures should also be individual, creative and preferably viral.
This is a lot to ask and accordingly production companies expect professional models on set who can do everything in their sleep. Different facial expressions, expressions, poses, up to interaction with other models e.g. when a couple shooting is shown, friends or circle of friends interacting with each other.
For social media shootings customers also like to book influencers. On Instagram, YouTube or TikTok they bring their own reach. Of course, this is an unbeatable advantage for companies, after all, it's all about advertising.
That's why we as a casting agency also make sure that potential models and candidates for the respective production, that the casting candidates ideally also have their own reach.
The tasks of a casting agency expand here as so quickly also into the area of an influencer agency. The scouting of new talents is also part of it, through our partner agencies, model agencies, influencer agencies and independent scouts.
E-commerce photo shooting: ladies & men
In the next level we reach e-commerce shootings. Here, all the aspects we discussed before are combined with each other. But in addition, speed is also important!
Apart from the typical attributes that a casting agency is looking for, these include, as mentioned, for example
Body size
Proportions
Weight
Experience
Customer base
Look
Mimicry
Volatility
Posing
Tip for models! Read more about model requirements.
You can see from this list how demanding the job of a model is. In addition, there is now also time pressure in the e-commerce area. After all, it makes a big difference whether you can photograph 15 or 30 outfits in one day, with one model.
Trained procedures, experience from many different productions, that's what makes a good model in e-commerce. As a casting agency, the search for the right candidate is becoming more and more specialized and no longer deals only with the typical outward appearance.
But there is another stage that becomes very important in this area, campaign shootings. Here the budgets for the production are much higher, so the risk is also higher.
Campaigns photo shooting: billboard, citylight & Co.
When you plan a campaign shooting, it's no longer "just" about a photographer, a stylist, make-up artist and the model. In such a campaign shooting the work of a large team is focused on just one person, maybe two.
The performance of the model must therefore be available at the push of a button!
After all, there is only a certain time window available for the day's production and of course only a certain budget.
Thus also the selection process of a Casting agency extends. The address of contact persons becomes substantially higher, so that the own network is used still more efficiently, so that the perfect candidate for the campaign Shooting is found.
Here as an example of one of the first big spots we were allowed to support as an agency:
Video and advertising film: online, TV & cinema
The most complex job, even in the entire casting preparation, are definitely campaign videos and commercials.
Video shooting for e-commerce and commercials
Videos and film material are not only needed for campaigns, but also in e-commerce and for advertisements on the Internet, from Web, app of social media, moving images are increasingly used. Even for individual products, small videos are increasingly being shot. As a casting agency, part of our work therefore also focuses on finding the right talent for such e-commerce and video shoots.
Everyone who has ever produced videos for the online store knows how complex it is for models to deliver exact performance on moving image. For example, because they have to run on a 360° rotating plate while the camera is fixed. A rotation should be performed and the smile should fit exactly.
Such jobs are a great challenge for models, especially when time pressure is still a factor, as it is with photo shootings for e-commerce. 15 outfits per day, 20 or even 25 must be photographed and filmed. A job for real professionals!
Commercial for TV and Web
The top class then are commercials and campaigns.
Here, huge production teams focus on a model, an actor or an influencer. Here it is not uncommon for the casting selection to be made worldwide.
Of course, the numerous advantages of a casting agency are immediately obvious here. The large network, the exclusive contacts, casting briefings, negotiations for daily fees and rights of use – with the services of a casting agency you can fully focus on planning, production and postproduction.
Contact: You have questions? Start casting
You still have questions about casting, costs, procedure and organization? Get in contact with our bookers, we are happy to help you with projects in:
USA (New York, Los Angeles, Miami and Las Vegas)
Germany (Berlin, Hamburg, Munich and Cologne)
United Kingdom (London)
France (Paris)
Italy (Milan)
Here you can find our contact persons: