Alexander McQueen – Life of the designer, Haute Couture & Lady Gaga
Alexander McQueen – The biggest British designer brand with international fame was founded in 1993 by the eponymous fashion designer Alexander McQueen. The latter was already very fashion-savvy as a child and tailored clothes for his three sisters at that time. At the age of 16, he began an apprenticeship as a men's tailor and then worked for "Angels The Costumiers" – a costume design company for theatres. The extravagance he tailored for theatrical purposes in his earlier years still characterizes his own fashion label today. Nevertheless, he also designs fashion for women and men that is wearable in everyday life. Annually, the brand showcases its artwork with eccentric fashion shows that are just as theatrical as the fashion pieces. You can check out the best fashion shows here.
Foundation & life of the designer
Lee Alexander McQueen was born in London in the 70s into a family of humble origins. From a young age he tailored clothes for his sisters. At 16, McQueen began an apprenticeship as a men's tailor with traditional London tailors. Even before he began his studies in fashion design, he worked in Milan in the theatre as a costume designer and assistant. He received his Master of Arts degree in 1992 with a legendary graduation collection, "Jack the Ripper," which was completely bought out by British Vogue stylist and fashion journalist Isabella Blow. Blow was a muse, trailblazer, mentor and, above all, a close friend to him.
In 1993, just one year after graduation, he founded his own label "Alexander McQueen", which constantly inspires with its high tailoring and artistic fashion shows. The brand continues to grow, for example in 2005 the youthful line McQ was founded. The portrayal of his designs shocked many during his lifetime. McQueen was considered provocative and eccentric by the public. In particular, he named his graduation project at London's Saint Martins College "Jack the Ripper Stalks his Victim," which is a reference to the famous British serial killer Jack the Ripper.
The life of McQueen at a glance:
1969: Birth in Lewisham, London
1985: Apprenticeship as a men's tailor
1989: Work as costume designer
1992: Master of Arts & successful graduation collection "Jack the Ripper".
1993: Foundation of his fashion brand "Alexander McQueen
1997-2000: Chief designer at Givenchy
2005: Boys' brand McQ
2006: Costumes for pop singer Lady Gaga
2010: Death in London
Dismissal at Givenchy
With the help of his close friend Isabella Blows, he was appointed haute couture designer at the Givenchy fashion house in 1997. Givenchy's aim in joining was to rejuvenate the brand's image. However, McQueens failed to create clear, unified lines and was therefore dismissed in 2000. At the same time, he continued his own brand as chief designer, but sold it to the Gucci Group with 51%.
Tip. Givenchy is considered one of the most talented fashion designers of the 20th century and has enjoyed great success worldwide with his eponymous fashion house. Read more about his fashion, accessories and perfume here:
Tragic death of the fashion designer
The British designer suffered from depression and anxiety for a long time. His outing as a homosexual was not easy for him at the time. He often got into the press negatively due to drug use. McQueen also did not have much success in his love life. When he married documentary filmmaker George Forsyth in Ibiza in 2000, they separated and divorced after just one year. His closest friend Isabella Blow took her own life back in 2007 and after his mother died of cancer in 2010 at the age of 75, a world came crashing down. A day before his mother's funeral, McQueen took his own life in his Mayfair flat, leaving behind a suicide note that read, "Look after my dogs. Sorry I love you.
Designer Sarah Burton as successor
The choice of his successor after the tragic death was easy, because the current head designer Sarah Burton was already McQueen's right hand and designer of the women's collection in 1996. The brand gained new international fame after Sarah Burton designed Kate Middleton's wedding dress and sister Philippa's bridesmaid dress.
Haute Couture: McQueen makes history in the fashion world
During his lifetime, the British fashion designer was known as the "bad boy" of haute couture. The designer often came under criticism for his extraordinary fashion shows in particular: for example, he had his models walk down the catwalk covered in blood or showed his bare bottom to journalists at the end of his fashion show in 1995. In memory of his extravagant haute couture designs, his collection "Savage Beauty" was exhibited in 2011 at the ,,New York Metropolitan Museum of Art" and set records with 650,000 visitors. In 2015, the collection, called "Savage Beauty", was presented at London's Victoria and Albert Museum and featured 200 pieces, from his first collection, at the end of his studies, to his latest autumn/winter collection. Lee McQueen has made history in the fashion world with his creations and fashion shows.
Clothing: Ready-to-Wear
Creative director Sarah Burton creates not only haute couture but also ready-to-wear clothing every year. The designer attaches importance to the fact that her collections are individual and special, but still wearable in everyday life.
Business wear with a twist
Straight-leg suit pants are a business-meeting classic. But when paired with tops like the ruffled green corsage top, McQueen adds a little something extra to any look.
Dresses
The McQueen dresses are all wearable in everyday life, but by no means boring! Each garment has a striking design that gives the wearer special prestige. The red dress inspires with sophisticated bow ties, open back and V-neck.
Shoes: Sneakers, boots and co.
Every outfit needs the right shoes. Designer Alexander McQueens thought so too and designs eye-catching shoes for men and women. The label offers a wide range of footwear for different seasons and occasions. From short or long boots for cold days to sandals and sneakers for summer, the brand's range offers a great choice for everyone. In particular, the "Oversized Sneaker" and the "Armadillo Boots" are among the most famous shoes of the brand.
Sneaker: Striking oversized sneaker
The sneaker trend, which originated from the USA, has also reached the British fashion designers. However, in the UK, the sneakers are referred to as trainers. McQueen's sneakers or trainers collection are as ingenious as the designer's clothes and fashion shows. For more color, there are white sneakers with color or pattern print laces and soles. The label's footwear can be admired not only on the streets but also on the gigantic catwalks.
Especially popular is the "Oversized Sneaker" for women and men. The shoe is made of smooth calfskin, an extra-large rubber sole and a suede application on the heel. This application is available in fiery red or subtle grey. On the sole of the shoe is the McQueen logo in combination with a rebellious tongue.
Armadillo Boot: inspired by superstar Lady Gaga
A shoe that probably every fashion enthusiast remembers and that helped Alexander McQueen and Lady Gaga to enormous fame: the Armadillo Boot. In keeping with his provocative and avant-garde style, McQueen also designed this shoe, inspired by the world-famous pop diva Lady Gaga. The absurdly high heels look almost alien and make the high heel an absolute statement shoe.
Accessories: Iconic skull design
To complete the ultimate McQueen outfit, the brand offers a variety of matching accessories. From jewellery, bags, purses to belts, the designer brand offers the right addition in high quality. Along with elegant jewellery designs, the brand also has signature accessories with skull designs.
Extravagant clip earrings
You want to complete the McQueen look with extraordinary accessories? The Jhumka earrings can be worn by everyone because they are attached to the ear like a clip. The pendant is reminiscent of the elegant feathers of a peacock and is studded with many rhinestones.
Skull Leather Bracelet
For men the luxury label designer designs masculine jewellery that appears very iron by the skull or spider applications. A particularly popular piece of jewellery is the leather bracelet with two skulls and the logo.
Oversize Skull on Skull Scarf
Not only in winter a scarf decorates, but also quite classic to throw over in the warm season. The brand has a wide range of different scarves that are embossed with the iconic skull, whether for men or women. The scarves from the women's collection have a very special contrast, because the hard skull prints are combined with a delicate pink.
Collaborations with Kate Moss and PUMA
Alexander McQueen not only has special clientele, but also collaborates with the world's most famous faces and brands. Here are the best collaborations with the most successful brands:
PUMA x Alexander McQueen (2005)
Damien Hirst & Alexander McQueen: The Collaboration (2013)
Kate Moss: Muse of the designer
Alexander McQueen had a very good relationship with the worldwide successful model Kate Moss before his death. This was for example not only present at his wedding in Ibiza, but also the maid of honor. And even after his death, she supported the successor Sarah Burton. For the autumn/winter collection 2019 Moss was the face of the campaign and Burton's designs in an old textile factory and in nature in scene.
Lady Gaga in McQueen costume
Besides McQueen's aristocratic clientele, the brand also has famous stars like pop singer Lady Gaga as a regular customer. The brand was responsible for her outlandish stage costumes for years and dressed the singer not only on stage, but also in music videos and red carpet appearances. After the death of the legendary designer, Lady Gaga appears at the most famous events in costumes of the brand.
Legendary Fashion Show: Plato's Atlantis
The last show McQueen completed before his death – "Platos Atlantis" is considered one of the most legendary, innovative and spectacular collections of the designer. Lady Gaga, in particular, loved his designs. As the name of the show suggests, the collection was also inspired by the ocean. Like sea creatures, the models strutted down the catwalk wearing artistic dresses as well as creative hair styles and make-up.
Alexander McQueen: An exceptional designer
Lee McQueen founded his own fashion company after completing his fashion design studies. In 1997 he was a designer for haute couture at the fashion house Givenchy, but was fired because they were not satisfied with his creation. With his scandalous and provocative presentation of his creation in his fashion shows, he made a name for himself worldwide, but also had many critics.
The designer label produces premium designs for their haute couture collections and ready-to-wear collections. Along the way, the luxury brand collaborates with great brands and faces like Kate Moss or Lady Gaga.
After the most important people in his life passed away, the Brit decided to take his own life. His successor since then is the designer Sarah Burton. With the design of the wedding dress for Kate Middleton, the international fame of the once again brand has risen.
Alexander McQueen videos: Haute couture and theatrical fashion shows
Alexander McQueen – The British brand is mainly known for its special fashion creations and fashion shows. Because these are, compared to other high fashion brands, also wearable in everyday life! McQueen creates wearable fashion such as clothing, shoes and bags. The label is one of the biggest British designer brands with international recognition. The brand is an icon in haute couture due to its intricate designs and individual tailoring. Since the death of fashion designer Alexander McQueen, the company has been run by designer Sarah Burton. Read the full article about Alexander McQueen here: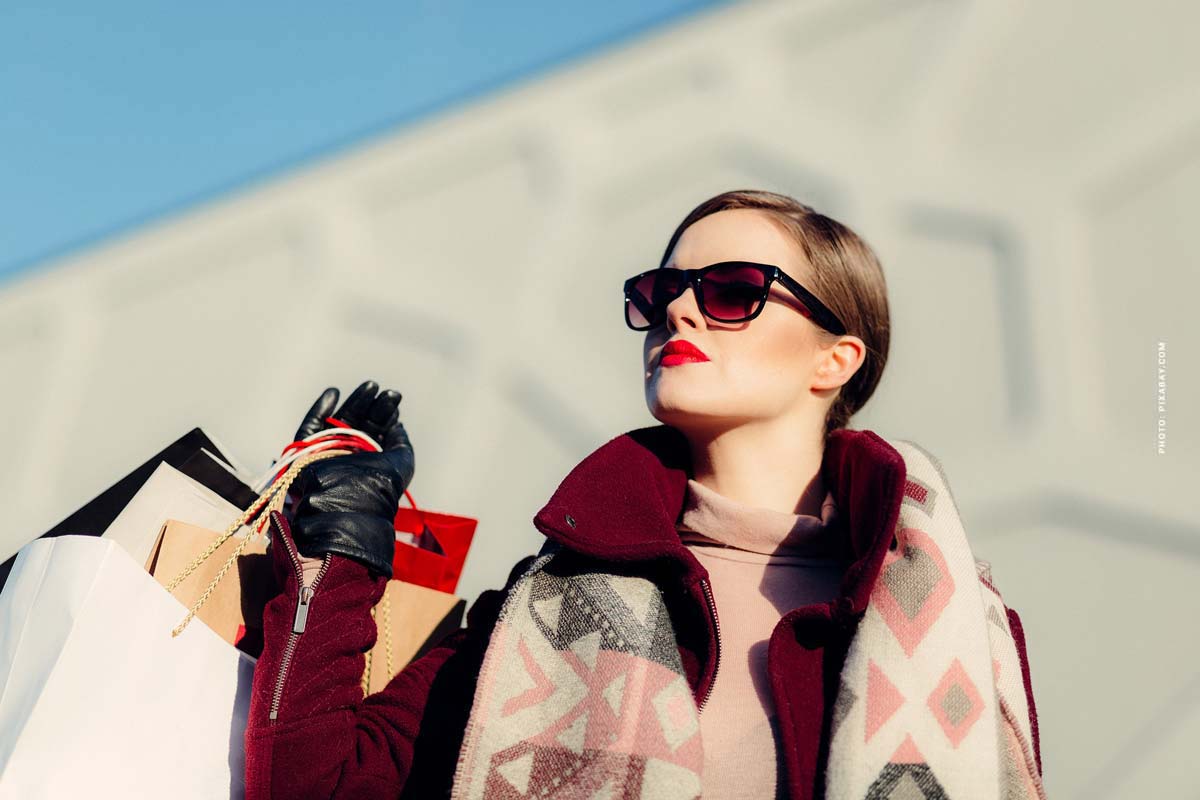 Fashion brands: List
Are you excited about McQueen and want to get to know more brands? Then take a look at our XXL Guide and get to know the top fashion brands in the world.
Extravagant haute couture. Refined prêt-à-porter. Fine sportswear and innovative accessories. The world's most luxurious fashion brands inspire millions of people and fashion lovers with their exquisite collections every year. They camp out in front of stores to snag limited edition specials, stand on the streets of Paris during the highly coveted Fashion Week, and sit wide-eyed in front of televisions to watch the latest and hippest runway shows. Here is the ultimate fashion brand guide.
Brands like McQueen: Yves Saint Laurent and Balenciaga
The designer McQueen designs haute couture fashion with French chic. The luxury houses Yves Saint Laurent and Balenciaga also specialize in extravagant fashion and are among the top global brands.
Yves Saint Laurent: bags, luxury boutiques and perfumes as a revolution
Bag, belt, shoes or even beauty products like perfume and lipstick, the name YSL stands for many exclusive and luxurious things. Yves Saint Laurent himself said, "I know that I have advanced fashion and opened a universe previously forbidden to women". With this quote from designer Yves Saint Laurent, many women will feel good about fashion and style.
Balenciaga: Shoes (Sneaker Arena), Bag & Perfume Florabotanica – Fashion Brand
Today especially the bags, shoes or sneakers by Balenciaga are popular, but the fashion brand once started with impressive haute couture looks. The label from Paris became so famous that it now even offers its women's and men's fashion in the KaDeWe in Berlin. Sale or not, today we especially love the Florabotanica perfume. Other Balenciaga classics like the "Arena" and "Speed" sneakers that almost look like boots, leather jackets and bracelets can be found here. We also explain the history of the 100-year-old brand and introduce you to other shoes, bags and perfumes.
https://cmmodels.com/wp-content/uploads/2021/07/alexander-mc-queen-fashion-show-catwalk-designer-model-modenschau-mode-fashion-haute-couture.jpg
800
1200
Patricia
/wp-content/uploads/2023/01/cm-models-logo-web-agency-modelagentur-influencer-management.svg
Patricia
2021-07-07 05:00:22
2022-04-19 00:37:31
Alexander McQueen – Life of the designer, Haute Couture & Lady Gaga