Givenchy: Latest luxury trends for women & men – fragrances, clothing, accessories + tutorials
Givenchy – known for glamorous dresses, bags and perfumes. The Parisian label was founded in 1952 by Hubert de Givenchy, who is regarded worldwide as one of the most talented fashion designers of the 20th century. The designer comes from a noble French family, which is also reflected in his fashion style: Elegant gowns and oversized hats that lend a royal anonymity à la haute couture. Not for nothing is he referred to as the "aristocrat of fashion." His relationship with Audrey Hepburn played a decisive role in the creation of his women's fashions. In 1961, for example, he created the legendary "little black dress" from the cult film "Breakfast at Tiffany's". In addition to exclusive fashion, the luxury brand also offers accessories, perfumes and high-quality cosmetic products for men and women. Tip. Check out the fashion shows, clothing and collaborations in action: Givenchy Videos
Givenchy – women's fashion with history
Hubert de Givenchy was born in 1927 in the northern French town of Beauvais. He was interested in fashion at a young age and therefore moved to Paris at the age of 17 to realize his dream as a fashion designer. He studied at the famous "École des Beaux Arts" and became artistic director of the Schiaparelli boutique in 1947.
Givenchy made early acquaintance with first-class fashion designers, such as Christian Dior or Jacques Fath. In 1952 he founded his own fashion studio of the same name in Paris and already made history with his first collection "Separates": The elegant blouses and light skirts combined simplicity with feminine elegance.
Foundation fashion house
Givenchy was founded in 1957 by Count Hubert de Givenchy. In addition to haute couture fashion for women, the fashion company also offers accessories, perfume, cosmetics and prêt-à-porter fashion, both for women and men. Count Hubert de Givenchy moved to Paris at the age of 17 to fulfill his dream of designing fashion.
Revulotuionary cuts: Interplay of narrow & wide
The house of Givenchy began its collection in 1952 with long, narrow pencil skirts and puff-sleeved blouses, taking revolutionary steps in women's fashion. To this day, Givenchy is known for designing luxurious fashion that is proudly worn by the rich and famous. Typical features of Givenchy fashion were intense, bright colors and high waist cuts with luxurious gowns. He designed these in extravagant fabrics with fancy floral patterns and combined them with oversized hats.
Fashion trends of the 1950s and 1960s
He was responsible for the fashion trends of the 1950s and 1960s and dressed everything from First Ladies, to actresses, to princesses! Total assets are currently estimated at around 917 million euros. The brand has been managed without the company's founder since 1988, and after his death placed special emphasis on the fragrance collections for him and her.
His muse: from Audrey Hepburn to men's fashion
His muse Audrey Hepburn inspired him to create a new standard of elegance and leave his mark on the fashion world. A close friendship developed between the designer and the actress, so that the two also collaborated in business: Audrey Hepburn became the first face of his perfume creation "L'Interdit" , which he dedicated to her. Our all-time favorite piece by the designer is the "little black dress" he made for Hepburn's 1961 film "Breakfast at Tiffany's." The dress has become a cult piece and was auctioned off for €600,000 in 2006.
Even though Hubert de Givenchy first established himself on the fashion market with women's fashion, he brought out his first men's collection "Givenchy Gentlemen" in 1969. After more than 40 years of a successful fashion career, during which the Givenchy brand also shaped the fashion style of the 1950s, the designer retired in 1995 and passed away in Paris in 2018 at the age of 91.
Today: Tisci & Social Media
Fashion brand Givenchy is one of the top 10 most popular luxury fashion labels in the world. The former head designer Tisci, drove the social media presence of the brand and thus ensured an enormous growth. In 2005, there were 7 boutiques, but by 2017, the number had reached 72 stores. Givenchy provided Madonna with outfits on her "Sticky and Sweet Tour" and was Kim Kardashian's first choice for the unique wedding dress in 2014.
In 2017, Claire Waight Keller, the former head designer of Chloé took his place and has been with the company ever since. She is the first female head designer at Givenchy and goes down in history.
Givenchy's history as a timeline
1927: Birth in Beauvais, France
1944: Studies at the "École des Beaux Arts" in Paris
1947: Artistic director Schiaparelli
1952: Foundation of Givenchy
1961: Legendary design of the "little black one
1969: First men's collection "Givenchy Gentlemen
1995: Retirement
2018: Death at 91 in Paris
Designers after Hubert de Givenchy (†): New ideas
After founder Hubert de Givenchy retired in 1995, he was succeeded by successful fashion designers. Clare Waight Keller, the first woman creative director at the traditional Parisian house, designed the wedding dress of Meghan Markle, who married Prince Harry, Duke of Sussex, in May 2018.
Since 2020, US designer Matthew M. Williams has been the creative director of Givenchy, ushering in a new era with his attention to detail, timeless designs with cultural accommodation and craftsmanship. Despite the many successors, the fashion house remains true to the clean, elegant lines in the romantic Gothic style of cult designer Hubert de Givenchy.
The designers of Givenchy at a glance:
1952-1995: Hubert de Givenchy
1995-1996: John Galliano
1996-2000: Alexander McQueen
2000-2005: Julien MacDonald
2005-2017: Ricardo Tisci
2017-2020: Clare Waight Keller
Since 2020: Matthew M. Williams
Tip. Alexander McQueen has become one of the most successful designers in the world, just like Givenchy after Dior. Read more about the story behind Alexander McQueen here.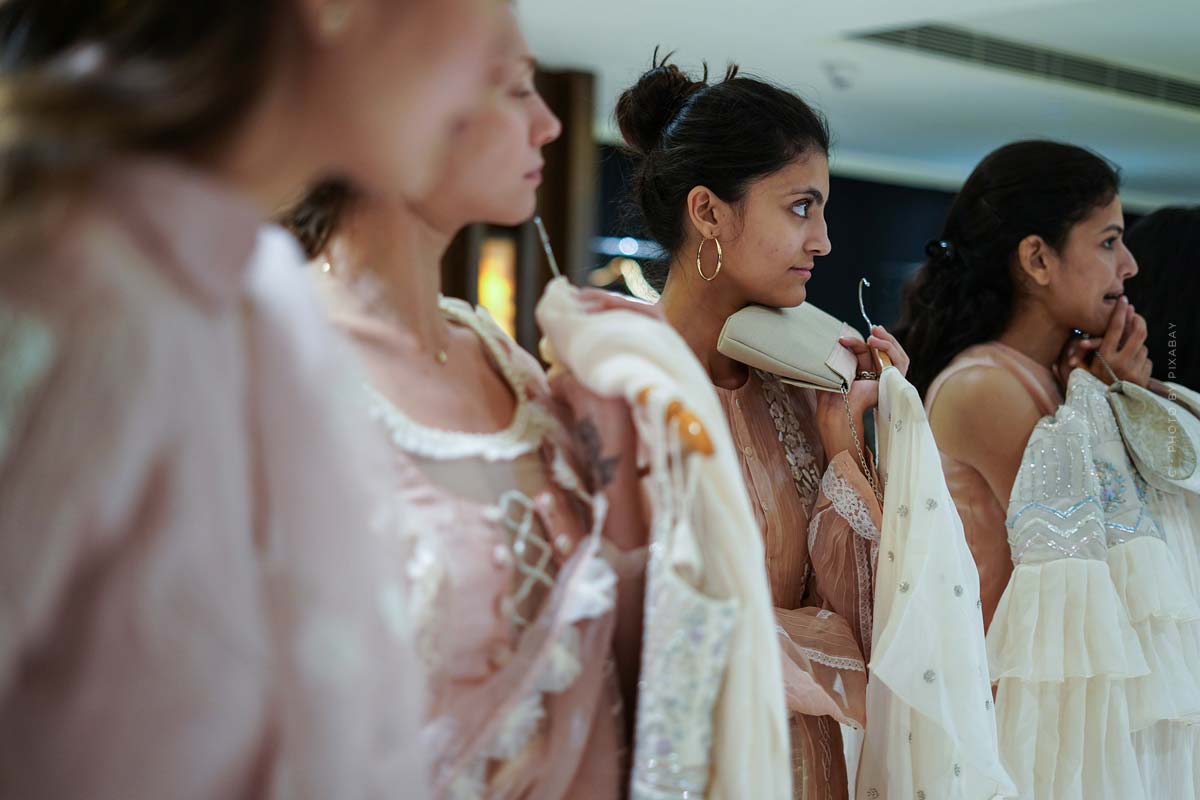 New sneaker trend from Givenchy
With Givenchy also the feet look stylish. Whether sneakers, mules or high heels, these shoes pick up the spirit of the times and in the trend you are these shoes on the feet in any case!
Givenchy sneakers – comfortable through everyday life!
Givenchy sneakers are particularly popular. The white sneakers are made of Portuguese leather with black logo. The black elastic band has the inscription "Givenchy Paris". Depending on the look, the stylish sneakers can be combined with jeans as well as with feminine dress.
Modern sneakers for the sporty-elegant appearance
Featuring distinctive Givenchy lettering, this urban sneaker is a signature look for the brand. White leather, the black elastic strap and the leather insole not only ensure a stylish appearance, but also comfortable wearing. Of course, there are also more colorful models in bright colors, such as yellow or red, or futuristic designs. The "Spectre Low-Top Runners" sneaker is not only sporty but also a real eye-catcher thanks to the transparent sole.
Givenchy mules – the summer shoe!
This summer, mules are still very much on trend. The brand's logo is embossed on the wide straps of the Givenchy mules. The overall look is completed by the logo embossing on the side. Comfort for summer strolls is lent by the pre-shaped footbed.
Givenchy Heels – aim high!
For those who want to make a statement, this Givenchy sandal is definitely the right thing! The shoe is defined by the wide strap with striking metal logo and is, no matter where an absolute eye-catcher. The block heel with layered look accentuates the silver-tone strap and textile-leather composition of the shoe. So what are you waiting for, here's your comfortable summer heel that goes with all occasions!
Givenchy accessories: handbags, shoes, belts and sunglasses
Initially unknown, Givenchy's Italian head designer Riccardo Tisci was in charge of the women's haute couture and prêt-à-porter collections from 2005 to 2017, refining them with his know-how. His collections were influenced by rock 'n' roll and gothic and inspired numerous other designers.
Nightingale handbag
Tisci also expanded the accessories collection and created the popular Nightingale handbag that every woman can only dream of! It's super practical and offers an extreme amount of storage space. In bold hues, like red in this case, you'll definitely make a statement and give your simple look an absolute colour boost!
Autumn collection: The Horizon bag
When Givenchy's Horizon bag launched in the Fall 2016 collection, everyone knew immediately that a new trend had been set and sealed with a stamp. The sleek, minimalist bag in a warm caramel brown is unquestionably a statement piece. Through geometric, clean lines and an elegant design, Riccardo Tisci explicitly aimed to deliver us something new when designing this particular Givenchy bag. The Nano version is particularly cute: ideal for dinner dates or cocktail parties! The Medium bag offers ideal storage space for everyday errands and the repertoire that every woman carries!
A statement: Givenchy belt
This statement belt is the perfect accessory for any occasion. Designer Clare Waight Keller has reinvigorated the Parisian fashion house with her dark, bold aesthetic. Drawing influence from Catholicism and eroticism to create stunning statement accessories such as this belt.
Givenchy Sunglasses – Swarovski Crystals and Pearls
These metal sunglasses studded with Swarovski crystals are a guaranteed highlight and suitable for bold, style-conscious women. This statement accessory by Givenchy definitely does not lack glamour. Great can combine this version with a simple outfit, so the focus is definitely on the glittery piece. But also to the elegant evening dress, or simply to the jeans makes the glasses really what! So to all fashionistas, what are you waiting for, start styling!
There is definitely no lack of glamour in Givenchy's accessories. In cooperation with Swarovski, the designers of the luxury brands have created sparkling jewellery for fashionistas. For bold and self-confident women, the metal sunglasses studded with Swarovski crystals are a must-have.
Wallet: GV3 LONG WALLET
Matching the handbag a wallet should not be missing! With the elegant and timeless GV3 Long Wallet by Givenchy you won't make a mistake – on the contrary, a real hit! The simple design is rounded off by the metallic buckle. The high-quality processed leather is ideal in the hand and completes the overall look of the stylish, young woman of today!
Perfumery à la Givenchy: men's and women's fragrances
Forbidden good aroma – L'Interdit
Casual chic, aristocratic elegance and unconditional femininity combine in the timeless world of Givenchy! Count Hubert de Givenchy found a way to balance finesse, discretion and elegance, ensuring that his designs rose to the top of the fashion world and played a key role in international fashion. In 1957, the designer created his first perfume, "L'Interdit" – a product of the legendary friendship between Hubert de Givenchy and the iconic Audrey Hepburn. Since then, Givenchy fragrances continue to cultivate elegance and boldness to enhance feminine beauty.
Fragrance Explosion: Live Irrésistible Rosy Crush
The scent of pink freshness and a confident explosion. Live Irrésistible Rosy Crush by Givenchy is a floral fragrance paired with goji berries, bergamot, lemon and orange. Like a bouquet of roses, the scent of Live Irrésistible Rosy Crush is a floral chypre composition that captures a youthful fresh vibrancy. A perfume that playfully and optimistically captures the facets of pink.
Givenchy meets the noble gentleman – Givenchy Gentleman for the man next door
In this list, the men can not be missing. Givenchy also has a lot to offer in terms of fragrances for the self-confident man. With this fragrance, Givenchy unveils a new version of masculine elegance. Through daring contrasts between woody-floral fougère and characterful patchouli and leather accord, Givenchy creates a total makeover. The heart note is the classic lavender sweep. Gentleman thus has many facets that, combined together, render a spirited seductiveness. The contrasts of the perfume are also reflected in the bottle. The white band with black inscription is delicate and at the same time imposing.

Women's fashion: elegant dresses, bags and accessories
Still looking for the right Givenchy piece? Let the romantic dresses and sporty jackets inspire you. Clean lines, high waists, feminine silhouettes and big hats define the brand's style.
Versatile dresses with feminine silhouette
Givenchy dresses are full of feminine elegance! The refined cuts are masterpieces that not only look stunning on the catwalk. The tight silhouettes of the dresses are gladly combined with wide extras. The red dress with a symmetrical cut is complemented with an oversized cape, reminiscent of Snow White. The characteristic waist-emphasizing dresses are often finished with a wide skirt.
Sporty jackets with feminine elegance
Givenchy offers a wide range of jackets and blousons that are both sporty and elegant. The brand remains true to the classic, straight lines and feminine designs. For example, even bomber jackets that have a more masculine shape are given a feminine touch with waist bands, shiny fabrics or delicate colours.
Farfech bag: a classic that every woman should own
First designed in 1952 and still contemporary, the black 'Farfetch' shoulder bag is undoubtedly a classic and premium accessory. The bag is characterized by its simple elegance, made from high-quality leather and gold chain. "The 4 Bag" was designed as an update of the classic bag by Matthew William and features an even straighter shape than its predecessor. The new model is also available in two different sizes – the Mini 4G bag is ideal for the smartphone thanks to its vertical shape.
Your outfit is ready? Continue with men's fashion to dress your boyfriend or the male sense stylishly!
Men's fashion: suits, bags and sneakers
Top, sneakers, bag, have you put together the perfect Givenchy outfit yet? Here's some inspiration on what creative designer Matthew M. William is currently creating for menswear.
Suit or hoodie? Givenchy dresses for every occasion
A suit is an investment that, in the best case scenario, can be worn for most of your life. The elegant models by Givenchy made of high-quality material are timeless despite their special twists and will not go out of fashion in a hurry. Just because of their subtle-extraordinary designs they give the man an extra portion of elegance.
Since 2020 at the latest, we've all been craving comfortable clothes that still look great. Givenchy's sweaters and hoodies satisfy that craving! The classic black tops are enhanced by brand name or sophisticated leather appliqué.
Backpack and belt bag are stylish companions
Have you found your favourite Givenchy pieces? Then you still need a stylish companion for your appearance!
Not only the simple backpack but also the trend comeback – the belt bag – belong to the Givenchy assortment. The models are not only functional bags but also accessories. The bags are characteristically black and marked by the eye-catching lettering with the brand name.
Perfume: L'Interdit, Irrestible and Pi
In 1957, the "aristocrat of fashion", appointed by the media and the fashion world, founded the perfume creation together with his brother. Jean Claude also took over the chairmanship and in the same year the first fragrance "L'Interdit" was created for Audrey Hepburn by Hubert de Givenchy. However, this fragrance was not launched on the market until a few years later. Since then, several fragrances, both for women, but also for men were designed and successfully sold around the world.
L'Interdit, the "forbidden" fragrance?
L'Interdit is the first perfume from the fashion house Givenchy. The "forbidden" fragrance consists of a blend of rose, iris and jasmine is rounded off with a sweet-aromatic note of tonka bean. This composition crosses all boundaries and is a seductive fragrance for the modern woman.
Irresistible – the floral classic
An irresistible classic with a lively character! The perfume is characterized by contrasts, because floral roses is combined with the subtle smell of musky wood. The fragrance is envelops the woman with femininity and charm.
Gentlemen, the fragrance for self-confident men
As the name suggests, this fragrance is masculine and plays with a spicy sweet note. Lavender and iris meet heavy vanilla aromas and mystical patchouli. This fragrance is for confident men who allow themselves to show their softer side. Do you dare?
Pi, more than the mathematical number of a circle
Pi – inspired by the mathematical constant, the fragrance stands for infinity. The fragrance gives a certain freshness through the citrus notes of lemon, mandarin and is intensely complemented by the herbal nuances of basil, rosemary and tarragon. And this exotic combination is based on a sweet base of neroli, geranium and lily of the valley. This perfume is fresh, gentle and optimal for day or evening. The fragrance has been further developed as "Pi Neo" and is even more oriental and mysterious thanks to the bergamot, toscanol and vanilla.
Jeremy Fragrance, the number 1 perfume Youtuber, answers all perfume questions and gives honest reviews about classics or even new fragrances. Check out his opinion about the popular perfume PI by Givenchy here.
Beauty: cosmetics that enhance beauty
Have you already chosen your outfit, fragrance and accessories? Then it's on to the make-up! Whether it's the complexion, eyes or lips, Givenchy offers a wide range of colours to envelope the personality and enhance the beauty.
Fashion shows: Inspiring looks and dynamic fashion
Still looking for inspiration on how to mix and match Givenchy pieces? Then let the fashion shows give you great impulses. The fashion shows are a highlight for all senses! Here you can see the 2022 summer collection "Resort" by creative designer Matthew M. William. The fashion is young, dynamic, mystical, rebellious and reminiscent of the rebellious 90s.
The Givenchy brand in brief: summary
The French luxury brand was founded in 1952 by Hubert de Givenchy, who is considered one of the most talented fashion designers of the 20th century. His haute couture fashion is elegant, straightforward and predominantly black. Nevertheless, the designer and his successors like to use bright colors for visual highlights. Hubert de Givenchy designed probably the most legendary film dress, "the little black dress", which was worn by his muse Audrey Hepburn in "Breakfast at Tiffany's" in 1961 and has shaped our understanding of fashion in the long term.
In addition to exclusive fashion, the luxury brand also offers accessories and perfumes for men and women. Meanwhile, the brand has its own cosmetics line and thus dresses not only body but also the face with high-quality products.
Luxury items like Givenchy for a small budget
The luxury products also have their price. For Givenchy lovers with a small purse, there is still the option to get great products online at comparatively low prices in the sale. You can browse through reduced goods on Farfetch, for example.
Givenchy Shop
Those who want the full selection can visit the Givenchy online store. There you can find everything from Givenchy perfumes to shoes and accessories to clothes and fashion.
Givenchy Vlogs: Bag, T-Shirt, Sweater & Co
Givenchy Paris
If you're out and about in Paris, you can find Givenchy products on almost every corner. Tamara Kalinic is in Givenchy heaven and guides us through the Parisian world of the fashion brand in her vlog.
Givenchy Mall, Dubai
This video offers an insight into the Givenchy store in Dubai. Hela takes us through the glamorous mall in Dubai.
Givenchy handbags
If you are interested in Givenchy handbags, you will get your money's worth at Handbagholics Video. It presents and compares the different models and sizes.
Videos: Fashion show, commercial and Ariana Grande
Want to get even more insights into Givenchy's collections or exclusive looks at collaborations, like with Ariana Grande? Then check out our article here:

From designer to label: Alexander McQueen
Alexander McQueen sought the double challenge and was surprisingly elected creative director of Givenchy in 1997, while at the same time perfecting his own designer brand. But who was the brilliant fashion designer Alexander McQueen? The British fashion designer was very fashion conscious as a child, tailoring clothes for his three sisters at the time. At the age of 16 he began an apprenticeship as a men's tailor and then worked for "Angels The Costumiers" – a costume design company for theatres. The extravagance he tailored for theatrical purposes in his earlier years still characterizes the fashion label he founded in 1993.
Learn more about the extraordinary fashion talent, his women's and men's fashion, as well as the eccentric fashion show:
Many other fashion brands: XXL List
Are you excited about Givenchy and want to get to know more brands? Then take a look at our XXL Guide and get to know the top fashion brands in the world.
Extravagant haute couture. Refined prêt-à-porter. Fine sportswear and innovative accessories. The world's most luxurious fashion brands inspire millions of people and fashion lovers with their exquisite collections every year. They camp out in front of stores to snag limited edition specials, stand on the streets of Paris during the highly coveted Fashion Week, and sit wide-eyed in front of televisions to watch the latest and hippest runway shows. Here is the ultimate fashion brand guide.
Brands like Givenchy: Yves Saint Laurent and Balenciaga
The Givenchy fashion house designs haute couture fashion with French chic. The luxury houses Yves Saint Laurent and Balenciaga also specialize in extravagant fashion and are among the top global brands.
Yves Saint Laurent: bags, luxury boutiques and perfumes as a revolution
Bag, belt, shoes or even beauty products like perfume and lipstick, the name YSL stands for many exclusive and luxurious things. Yves Saint Laurent himself said, "I know that I have advanced fashion and opened a universe previously forbidden to women". With this quote from designer Yves Saint Laurent, many women will feel good about fashion and style.
Balenciaga: Shoes (Sneaker Arena), Bag & Perfume Florabotanica – Fashion Brand
Today especially the bags, shoes or sneakers by Balenciaga are popular, but the fashion brand once started with impressive haute couture looks. The label from Paris became so famous that it now even offers its women's and men's fashion in the KaDeWe in Berlin. Sale or not, today we especially love the Florabotanica perfume. Other Balenciaga classics like the "Arena" and "Speed" sneakers that almost look like boots, leather jackets and bracelets can be found here. We also explain the history of the 100-year-old brand and introduce you to other shoes, bags and perfumes.

https://cmmodels.com/wp-content/uploads/2019/07/givenchy-taschen-handtaschen-tshirt-sweater-bags-antigona-designer-geschichte-herren-damen-models-modenschau-roter-teppich.jpg
600
1200
Laura
/wp-content/uploads/2023/01/cm-models-logo-web-agency-modelagentur-influencer-management.svg
Laura
2019-08-19 07:00:34
2022-04-18 21:44:25
Givenchy: Latest luxury trends for women & men – fragrances, clothing, accessories + tutorials