H&M: Mom jeans, satin dress & donut vase
H&M – H&M is one of the largest fashion chains in the world, along with clothing companies like Urban Outfitters and ASOS – the company is always setting trends with its clothes, which even stars and fashion bloggers love. The fashion brand H&M also wants to offer a population with a narrower purse the opportunity to dress fashionably. Here you can find the different collections of H&M, as well as the history of the fashion brand and interesting collaborations.
General information about the brand H&M
The name H&M is composed of the first letters of Hennes & Mauritz. The fashion company is an international fashion group that has more than 4,300 stores in over 60 countries. The brand includes several sub-brands that offer not only fashion, but also accessories, makeup, shoes and home accessories. With its low-priced fashion for teenagers, young women and men, H&M appeals to a wide audience. Unlike the designer labels, H&M does not have only one fixed collection per season, but almost daily extensions. Fashion & Co are created from a central design and purchasing department in Stockholm. Production does not take place in the company's own factories, but in cooperation with around 700 manufacturers in Europe and Asia.
History and foundation of the fashion brand
Erling Persson opened the first Hennes (Swedish for "theirs") boutique in Västerås, Sweden, in 1947. His goal was to offer affordable women's fashion. The store expanded in Scandinavia and Persson bought out hunting and fishing outfitter Mauritz Widforss in 1968 – Hennes & Mauritz, or H&M, was born. In the following decades, the chain experiences a permanent rise: stores open all over Europe and the assortment is expanded. In the early 2000s, the first stores are launched in America and Asia. In 2004, the label released its first collection with Karl Lagerfeld. Since then, new collaborations with world-famous designers such as Stella McCartney, Versace, Giambattista Valli, and most recently Simone Rocha have been created every year. The online stores are also offered in more and more countries.
Facts about H&M at a glance:
H&M openly opposes drug abuse and terminated top model Kate Moss her advertising contracts because the model had repeatedly used drugs
Although the stores are kept very uniform, they are also adapted to regional conditions: For example, there is less winter fashion in southern countries such as Spain
With the "Studio Collection" H&M is also represented on the catwalks
H&M makes a quarter of its total sales in Germany
How do you describe the style of H&M?
H&M's fashion appeals primarily to girls and younger women, but thanks to various sub-brands and collections it has a broader target group: in H&M stores you can find gaudy prints for teenagers, as well as the "Conscious Collection" for environmentally conscious shoppers and the "Premium Quality" fashion for more demanding customers. The prices are basically low, even the premium fashion is in the low price segment. In addition to plain basics, there are also eye-catching prints that, thanks to advertising and high sales figures, people usually identify with the brand after a short time. H&M is always oriented to current trends, even from the high-fashion sector. H&M's fashion is always based on the latest trends and has something for everyone. Thus, H&M allows even a population with a narrower purse to dress fashionably.
H&M promotes young talent: Design Award
Since 2012, the Swedish fashion company has presented the H&M Design Award to a young talent every year to support new designers in the fashion scene. The winner receives prize money of 25,000 euros and a paid internship at the H&M Head Office, which can also be paid out with another 25,000 euros. In 2020, Sabine Skarule, a graduate of the Royal Academy of Fine Arts in Antwerp, won the important fashion prize.
H&M assortment: diverse fashion, accessories and more
H&M offers fashion, accessories, cosmetics, shoes and now also home textiles for children, teenagers and adults for both sexes. The fashion segment is again divided into different sub-brands to cover all target groups and needs. The brand for the youngest customers is called Baby-Baby and dresses newborns. For children aged one to 13, there is the Childrens Department brand. Divided is aimed at teenagers. This sub-label stands out for its unusual cuts and patterns and bright colors, and always follows the latest trends. The women's collection offers everything from basics to feminine trend items. For men, you can see a clear difference between the inexpensive casual collection and the slightly more expensive business line. The lines are complemented by the oversize collection BIB, the maternity fashion brand Mama, the jeans collection , a sports collection and the extremely successful sub-brand L.O.G.G., which offers fashion made from sustainable materials.
Popular fashion from H&M: satin dress
In dresses from H&M you are perfectly dressed for every occasion. Whether long or short, patterned or plain: The cuts flatter every figure. This satin maxi dress in antique pink is a real classic.
Staple Piece: Mom Jeans
In H&M's wide range of women's jeans you'll find all styles and shapes: from low-rise to slim fit to bootcut. The popular mom jeans are a perennial favorite at H&M. Whether with ripped styles or fancy colors, you'll always find your perfect pair of jeans at H&M.
Fashion for small and large
Not only women's and men's fashion can be found at H&M. At H&M you will find a wide selection of clothes for newborns. With the baby clothes for girls and boys your little treasure is perfectly equipped. Discover T-shirts, rompers, pants and more.
Popular tops: Crop top
Bring summer to life with fashionable crop tops from H&M! With belly-free T-shirts and tops ladies make a stylish appearance. With the trend color light blue, this crop top is especially popular, from the Divided collection.
Chic interior design: H&M Home
Whether you've just moved or you're looking to breathe new life into your home, you'll find something for every room in the Home collection. Enhance your home with home accessories from H&M. Discover furniture, bedding, lighting, decor and more.
Ceramic donut vase
One of the most popular H&M Home products is definitely the Donut Vase. The beige ceramic vase is available in many sizes. Due to its special shape, this vase is not only useful, but is also a real eye-catcher!

H&M for men: menswear
Discover the men's styles and bring a breath of fresh air into your wardrobe. At H&M, you'll find everyday essentials like shirts and T-shirts, as well as suits for dressier occasions.
Stylish and chic suit
The suits and jackets for men from H&M are perfect for any event. Discover navy blue, black and more models. The suits for men provide a smart look. Elegant in a suit, business-suited with a jacket or unconventional in chic pants with a hoodie, at H&M you are guaranteed to find something suitable.
Designer Collaborations
They are regular best sellers and sell out after a very short time: The collections in collaboration with well-known design greats contribute their part to H&M's great popularity.
2004: Karl Lagerfeld x H&M
Karl Lagerfeld kicked things off when he became the first major designer to decide to collaborate with the Swedish label. After only two days, the limited edition pieces of his collection were already sold out, especially the T-shirts with the fashion tsar's likeness.
2011: Versace x H&M
The successful collaborative designers were joined by Versace the following year. The label's colorful sexy tops and studded dresses were such a hit that the collaboration continued the following year: in 2012 Versace's first Cruise collection of minidresses, bikinis and skinny pants was available exclusively in H&M's online stores.
More videos from H&M: commercials, fashion shows with Kendall Jenner & Gigi Hadid
The Swedish fashion chain Hennes and Mauritz – H&M for short – was founded in 1947 by Erling Persson in Västeras, Sweden. The textile trading company offers clothing, accessories and shoes for women, men and children via retail stores, as well as via the online store worldwide. The concept behind the brand is to produce constantly updated fashion at affordable prices. H&M belongs to one of the world's largest distribution groups in the fashion industry, Inditex and generates annual sales of $24.8 billion. The fashion brand H&M is increasingly focusing on developing in topics such as sustainability.
Frequently asked questions about H&M
Here you will find answers to the most frequently asked questions.
Where does H&M come from?
H&M fashion brand is a Swedish textile company.
What does H&M mean?
The name H&M H&M is a short form for Hennes & Mauritz.
What does H&M stand for?
H&M stands for stylish fashion. Because with the clothes of H&M you are always top styled, for every occasion!
Brands like H&M: Asos & Esprit
Here we have compiled some similar brands for you or you can take a look at our fashion brand list where you have all the big labels at a glance.
Asos: dress, fisherman hat & Nike Air Force
Is the UK's largest online mail order company and also one of the world's most popular websites to buy clothes online. The reason for its extreme popularity? Asos has both more expensive designer items and inexpensive alternatives – every kind of style is catered for here. For special occasions like Christmas, weddings or the festival season, there are also specially compiled recommendations. Asos also has its own collections, such as Asos Africa (African clothing style), Asos White (light clothing), as well as its own product lines, such as Asos Curve (large sizes for men and women) and Asos Tall (for large women).
Esprit: online store, edc & dresses – fashion brand
The online store of Esprit for men and women and the young fashion brand "edc" are probably familiar to you. But did you know what's behind it? And how did the famous "Esprit arena", a soccer stadium in Düsseldorf, come about? The story began in the USA. A married couple sold clothes out of the trunk of their car. Over the years, Esprit developed into a very common fashion brand. The basic idea from the beginning was fashion for everyone. To bring this to the public, they even advertised with the faces of their normal co-workers. You can read more about the background here.
Many other fashion brands: XXL List
You are enthusiastic about H&M and want to get to know more brands? Then check out our XXL Guide here and get to know the top fashion brands in the world.
Extravagant haute couture. Refined prêt-à-porter. Fine sportswear and innovative accessories. The world's most luxurious fashion brands inspire millions of people and fashion lovers with their exquisite collections every year. They camp out in front of stores to snag limited edition specials, stand on the streets of Paris during the highly coveted Fashion Week, and sit wide-eyed in front of TVs to watch the latest and hippest runway shows. Here's the ultimate fashion brand guide.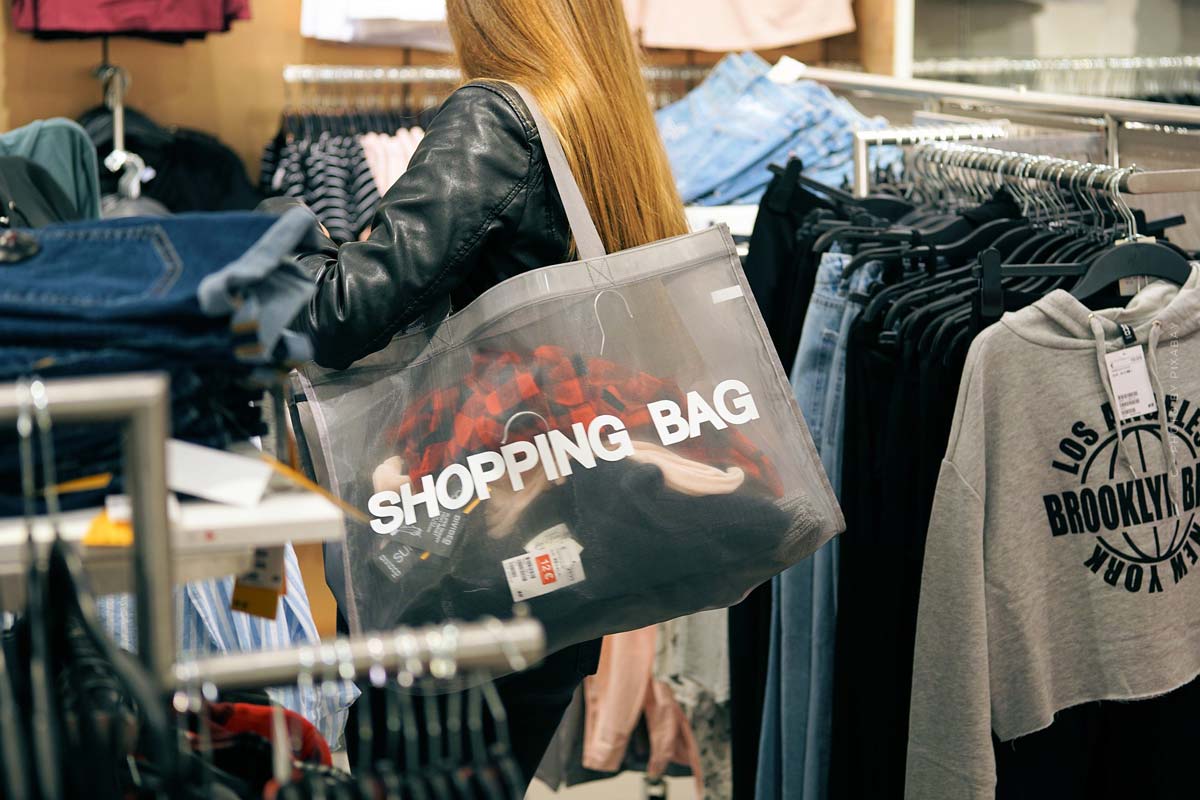 https://cmmodels.com/wp-content/uploads/2021/10/HM-modemarke-kleidertsange-kleidung-muster-blumen-bunt.jpg
800
1200
Stephan
/wp-content/uploads/2023/01/cm-models-logo-web-agency-modelagentur-influencer-management.svg
Stephan
2021-11-05 12:32:30
2022-04-19 01:12:52
H&M: Mom jeans, satin dress & donut vase