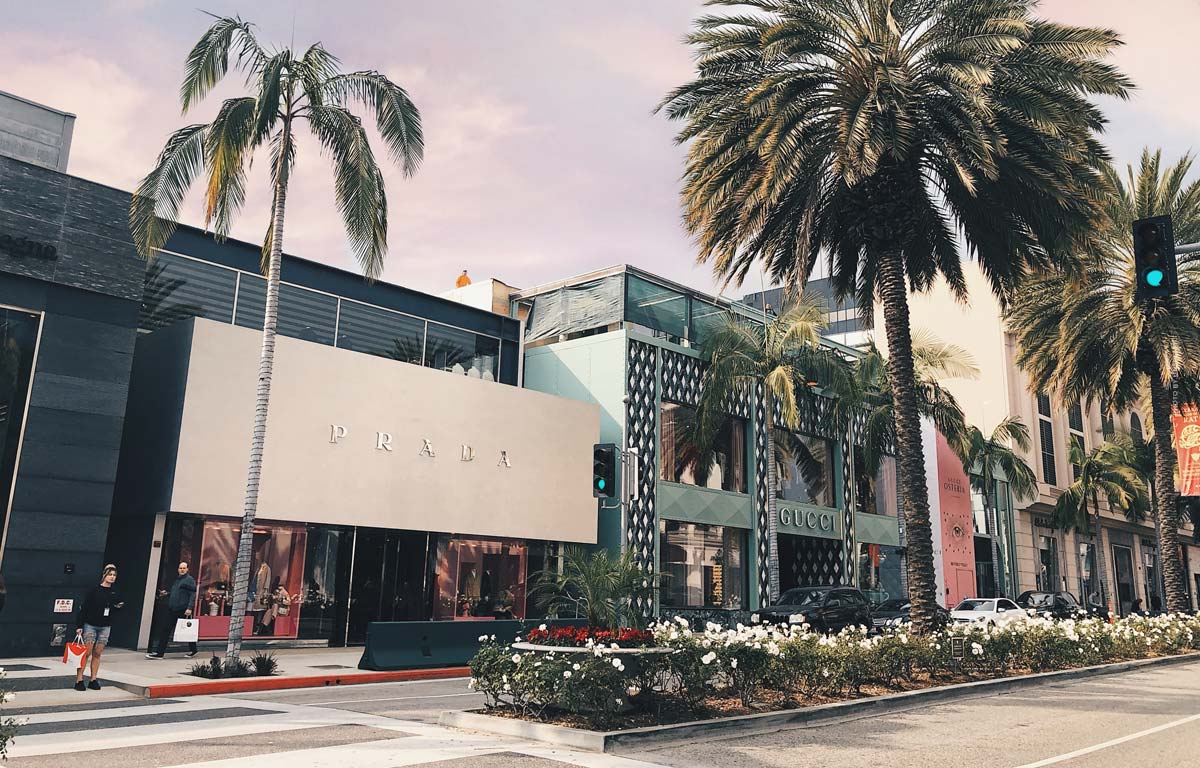 Shopping tips in Los Angeles: Rodeo Drive, The Grove & Co.
Modeling in Los Angeles – open air shopping malls, luxury malls with stores like Valentino, Michael Kors and Burberry, Rodeo Drive with its Louis Vuitton & MCM stores or the outlet shopping experience with brands like Calvin Klein, Levi's or Nike. You can find all this in the streets and neighborhoods of Los Angeles. If you want to know where to go for the best shopping day in L.A., read on.
Los Angeles: Tips for the perfect trip
Fashion is especially important as a model. It is a big part of every day and the basis of your profession. Of course, fashion is also a hobby for many people, especially when it comes to shopping. Of course we all know and love online shopping and also the great little boutiques that can be found in every city provide great sources of inspiration and places to go to be always dressed in the latest styles. But nothing beats the classic shopping experience of strolling down the street or through a department store with your bags full. We've put together some of the best shopping tips for Los Angeles to help you find what you're looking for.
We as a model agency in Los Angeles want of course that the other aspects of your trip are ideal for you. That's why we've put together some insider tips for your perfect stay. From hyped restaurants to the best universities you should check out.
The Grove: Nordstrom, Charlotte Tilbury, Topshop & Co.
The Grove is the most popular and best known mall in Los Angeles. In the cool open air atmosphere you will find entertainment options such as a cinema, but also good restaurants. But the most important thing is of course the fashion. In over 50 shops you have a huge selection.
4.6 / 5.0 (18,222 ratings on Google)
Address: 189 The Grove Dr, Los Angeles, CA 90036
Opening hours: Mon-Thu from 10:00-20:00, Fri & Sat from 10:00-21:00, Sun from 11:00-20:00.
Phone: +1 323-900-8080
Map and Street View of the mall
This is where you'll find The Grove:
Walk Through: explore the open air shopping experience!
Rodeo Drive: Hermès, Cartier, Louis Vuitton & more
The Rodeo Drive is the Königsallee. If you have a bigger budget and are into haute couture, you are most likely to find it here. The entire street is bursting with brand shops like Hermès, Cartier, Louis Vuitton, Dior or MCM and the most expensive cars stop at every corner.
4.6 / 5.0 (106 reviews on Google)
Address: Rodeo Dr, Beverly Hills, CA 90210
Maps & Walk Through Rodeo Drive
Rodeo Drive is located here:
Walk through Rodeo Drive and discover all the designer stores:
South Coast Plaza: Mac Cosmetics, Versace, Kiehl's & much more
More than 250 exclusive boutiques find their home here. A shopping mall where you can have a good dinner after spending a day in the huge shopping center. In the covered building, everyone who is into unique fashion will find what they are looking for. Stores like Dior, Fendi, Chanel, Mac Cosmetics, Versace, Kiehl's or Max Mara are lined up next to each other.
4.6 / 5.0 (11,488 ratings on Google)
Address: 3333 Bristol St, Costa Mesa, CA 92626
Opening hours: Mon-Sun 11:00-19:00
Phone: +1 800-782-8888
Map and view of the shopping center
You can find the South Coast Plaza here:
This is what the mall looks like from the inside:
Melrose Avenue: Restaurants, Shopping & Pink Wall
An impressive pedestrian zone where you can shop perfectly. A long street that leads from West Hollywood to Downtown and has everything from design centers to restaurants. One can enjoy a stroll there with great shopping opportunities. Melrose Avenue is also home to two famous selfie spots in LA.
Address: Melrose Ave, Los Angeles, CA 90046
Here you will find among other things the famous Pink Wall
Map – Melrose Avenue is located here:
The Commons at Calabasas: Shopping, Entertainment & Restaurants
Similar to The Grove, The Commons is built like a pedestrian zone, although it is actually a shopping mall. Here, too, the shopping experience is enriched with great entertainment options and restaurants to fortify yourself after shopping. The Commons is also a real celebrity hotspot.
4.5 / 5.0 (1,727 ratings on Google)
Address: 4799 Commons Way, Calabasas, CA 91302
Opening hours: Mon-Sat from 10:00-19:00, Sun from 11:00-19:00
Phone: +1 818-637-8922
This is The Commons at Calabasas:
West Third: popular boutiques
West Third is a neighborhood in Los Angeles that is known for its numerous shopping opportunities. Not only do the residents of the neighborhood have shopping stores in close proximity, but many boutiques and clothing chains have also made their way there, making West Third a real shopping district.
Address: West 3rd St, Los Angeles, CA 90036
Cute boutiques like Anine Bing, William B + Friends or Ragdoll.
West Third Street runs through here:
The Citadel Outlet: Levi's, Nike, Adidas
The Citadel is more than just a shopping mall. Of course, you have the perfect opportunity not only to shop but also to have a bite to eat in one of the many restaurants. The Citadel is an outlet mall. Here you can also find trendy fashion at low prices!
4.5 / 5.0 (21,704 ratings on Google)
Address: 100 Citadel Dr, Commerce, CA 90040
Opening hours: Mon-Sun from 10:00-20:00
Phone: +1 323-888-1724
You can find the Citadel Outlet here:
A perfect shopping day in Los Angeles
With these tips, you're guaranteed an unforgettable day in L.A. Whether it's a rainy day at the luxury mall or a sunny day wandering the shopping streets and open air malls, you can use multiple days to restock your wardrobe in Los Angeles.
https://cmmodels.com/wp-content/uploads/2020/11/rodeo-drive-stars-shopping-reich-designer-gucci-prada-palmen-versace-online-celebrities-strasse-los-angeles-amerika-kalifornien.jpg
768
1200
Stephan
/wp-content/uploads/2023/01/cm-models-logo-web-agency-modelagentur-influencer-management.svg
Stephan
2020-10-25 16:30:21
2022-04-18 22:53:24
Shopping tips in Los Angeles: Rodeo Drive, The Grove & Co.