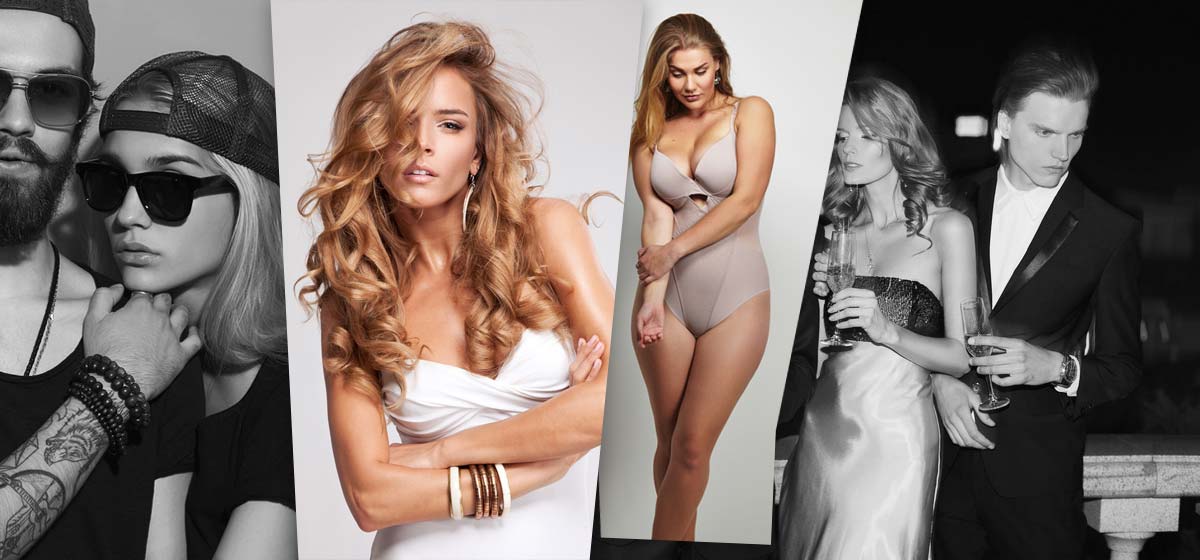 Interview in Stylebook on the new Asos campaign with Jordyn Woods, Joshua Williams and Thi Thuy.
Plus Size, Tattoos, Influencer – Bei Castings und Jobs lieben Modelagentur Booker und Kunden das berühmte "Never seen before". Muss man heutzutage noch zwingend der Norm entsprechen, dem klassischen Schönheitsideal? Im Interview für eine großen Nachrichtenagentur haben wir ein paar interessante Auszüge und Einblicke für euch zusammengetragen! Das Interview erscheint demnächst in kurzer Form in verschiedenen Magazinen und entstand in Zusammenarbeit mit unsere Social Media Agentur.
Here you can find the interview on Stylebook – The secret of success of the new model generation.
Models for campaigns: Size Zero vs Influencer, Plus Size and Tattoos
If you want to be a model these days, you don't necessarily have to conform to the norm of classic beauty. How did this upheaval come about?
Extraordinary people attract attention! Especially when everyone else around them subjectively looks the same. Brands become more individual, more multifaceted through models outside the norm. Influencers are also getting involved in this upheaval. Young people who often don't fit the typical ideal measurements but are super interesting for campaigns and brands due to millions of fans on Instagram and Snapchat – because people love them!
A few decades ago it was almost exclusively about the appearance of the model. Nowadays, with social media, it is possible to have a lot of success as a model even without the classic beauty ideal. Today, many young people make the leap to a professional modeling career as a curvy model, tattoo model or influencer, which would have been denied to them a few decades ago, without blogs and social media.
Example: ASOS campaign with Thi Thuy, Jordyn Woods and Joshua Williams
In the new Asos campaign it's Thi Thuy, Jordyn Woods and Joshua Williams! Three absolutely exceptional models. Thi Thuy loves to change her hair color and walks as an Asian model for real top brands. Jordyn Woods is successful as a curvy model in the USA and is under contract with Wilhelmina New York. As you can see, even the big names in the industry are focusing on plus size and new facets in models. Joshua Williams is a tattoo model from London and has a lot of interesting tattoos. Among others a small Batman bat under the right eye. A very exciting guy, especially for young brands!
It is also important for the classic young models to build up a large fan base in the social networks. Those who don't think about it or refuse social media and only concentrate on the catwalk and photo shoot will tend to fall by the wayside in the competition among models in the long run.
Instagram, Snapchat – Social Media is more important than ever for the model career
What role does social media (blogs, Instagram, etc.) or digitalization play in this?
Self-promotion on blogs and social networks plays a crucial role for models. For customers, of course, this is an incredible added value! Theoretically, you not only book a beautiful face for your own advertising campaign, but also directly a whole fan base.
Self-activity in social networks as well as Instagram and Snapchat are, if you will, the engine or drive for one's own career, in addition to model management. People have always loved to accompany other people in their lives. We know the same principle from actors and celebrities. Viewers want to experience the ups and downs. But they also get excited about new products their idol is wearing or using. Self-promotion in blogs and social networks plays a crucial role for models.
Many large and international agencies are making the switch from pure model agencies to plus size and influencers. On some model agency homepages, you can no longer just see the current model board, but also the strongest models on Instagram, directly at a glance. One model has four million followers, the next three million. For clients, this is of course an incredible added value! Theoretically, you not only book a beautiful face for your own advertising campaign, but also directly an entire fan base. With fans who really exist and actually accompany every step of their idol.
From there, yes digitalization and social media are also essential for modeling career nowadays.
The classic beauty ideal of the model
As a modeling agent, did you ever get tired of classic beauty?
Every person is individual. We look not only at the overall picture, but go as model agents one step closer. Even perfect people have small flaws that make them special. For us, small details make people just as special as extremes. One of the absolutely most successful models Cara Delevingne is a classic beauty. Her standout feature is her gorgeous, full eyebrows. How can you get enough of her?
Beauty is also always a very subjective impression. Therefore, we say in our model agency very gladly, interesting. Of course, many beautiful people apply to us. But that is not everything! As a model it depends on discipline, motivation and independence. In addition, there are the physical qualities. For many fashion designers, size plays a decisive role and the right clothing. In addition, there are characteristics such as full hair or clear skin. Ultimately, you are looking as a model agency not necessarily always the most beautiful person, it is also very much about trust and confidence.
As you have already correctly recognized above, the market has become much more complex. However, the classic ideal of beauty remains.
Plus-size models are also becoming more and more in demand in the scene. What role does size zero still play?
Plus Size Models play admittedly, at least medially, a bigger and bigger role. Of course, there are always a few promotions of major German magazines or brand new TV formats in which a jury is looking for curvy models. Nevertheless, no one will say goodbye to Size Zero!
It's not the figure either, my thesis is that people like the lifestyle. When we see models, we see people who lead a pretty healthy lifestyle, who see a lot of the world and who can take the time to take care of themselves, their body. They have time to get enough sleep, travel a lot and exercise. What we as humans want is not necessarily always the ideal of beauty but rather the lifestyle that models or the actors embody at that moment: joy, freedom, sense of style.
That is why plus size models are also very good advertisers from the customer's point of view. They are happy people who are satisfied and lead a good life and fulfilled, with all the culinary delicacies. This is actually a wonderful lifestyle that of course many in Germany's living rooms dream of. That's why extraordinary people, extraordinary stories and also plus size models work more and more.
However, always only in addition to the classical ideal of beauty.
The market wants what the market wants: Stories
Hand on heart: how much otherness is actually allowed?
All is fair in fashion and advertising! Let's look away from the classic advertising market and go to the haute couture and look in model agencies in New York, Milan and Paris. Especially in the fashion capitals, the classically beautiful people you mentioned are less in demand. Here agencies and clients like very striking types! It is allowed to be edgy. Especially the fashion world is always very open to new characters!
Just as we said at the beginning of the interview, influencers are playing an increasingly important role. A good example of the path from blogger to model is Riccardo Simonetti. I met him backstage at Germanys Next Topmodel when he was hosting for Red! He himself lives in Berlin, has super long hair and loves to wear a golden crown. He has made it from extroverted blogger to model for magazines and photo shoots. Even more, he is also booked for TV events and accompanies them backstage on his social media channels. He is the perfect role model for the new generation of models who not only sell the lifestyle but also their story. Striking guys who don't necessarily fit the ideal image but are still so interesting that people like them, like to see them and follow them, every day!
More about Riccardo? Continue reading on FIV, the interview with Riccardo Simonetti
https://cmmodels.com/wp-content/uploads/2016/09/size-zero-influencer-plus-size-tattoos-interview-models-zukunft-karriere-curvy-models.jpg
560
1200
Stephan
/wp-content/uploads/2023/01/cm-models-logo-web-agency-modelagentur-influencer-management.svg
Stephan
2016-10-28 14:36:05
2022-04-18 22:29:49
Interview in Stylebook on the new Asos campaign with Jordyn Woods, Joshua Williams and Thi Thuy.