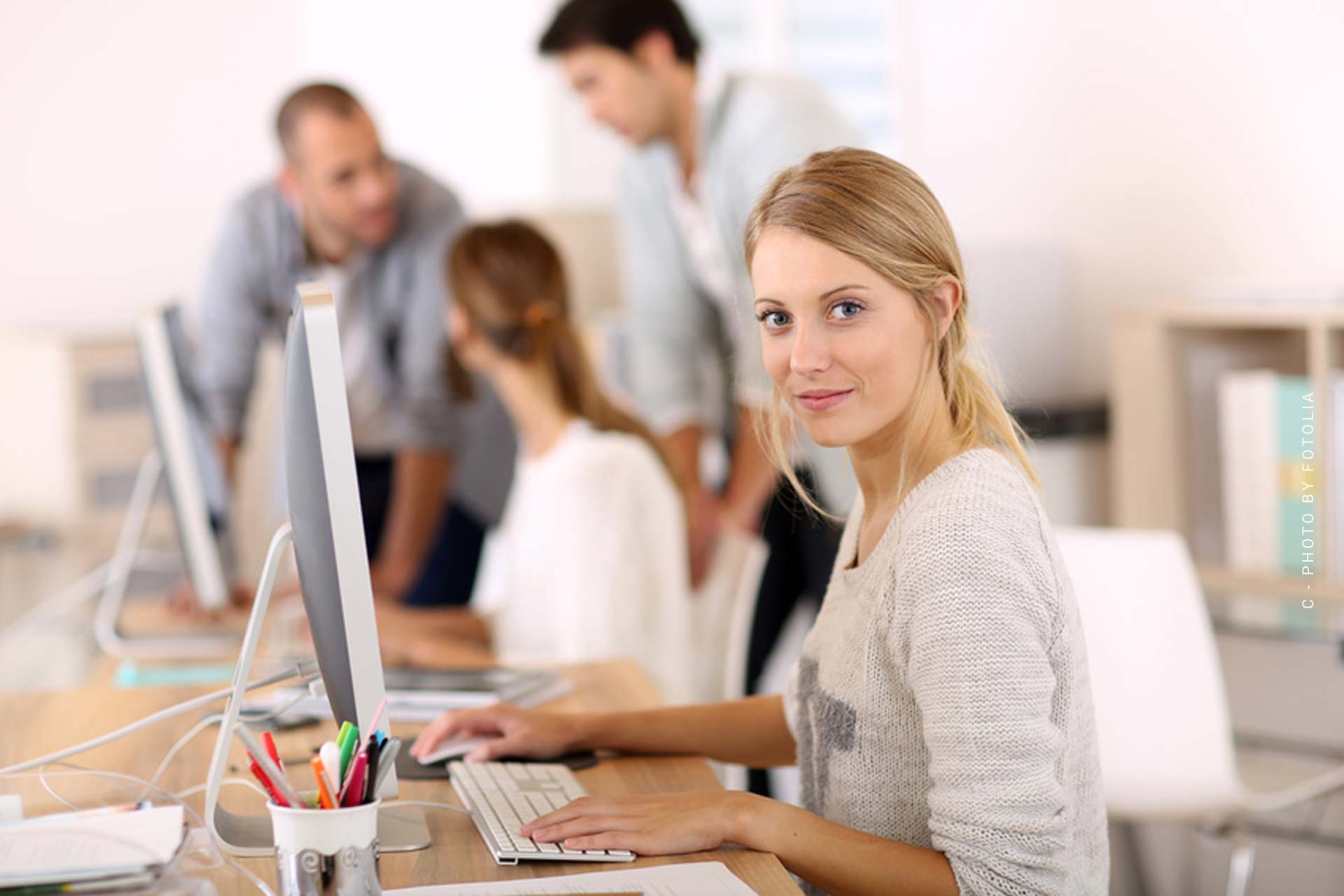 Marketing Internship: Online Marketing, Advertising and Fashion in Cologne
An internship is good for everyone to find out in which branch or even in which company you want to work. Whether you are just out of school or looking to study, an internship in an advertising agency is suitable for everyone! Because an advertising agency is much more than just advertising on television. No matter where you look, on the way to the bus, scrolling through Instagram, you'll find advertising everywhere! Would you like to learn more about advertising and get a taste of the air at one of the top advertising agencies?
Internship: Advertising Agency, Marketing and Fashion in Cologne
An internship in an advertising agency is very versatile, just like marketing itself. From customer service, goal setting, online marketing, content marketing to social media. With motivation and creativity, everyone can find their place here and can fully enjoy themselves!
I'll take you with me today and tell you about my six month internship at CM Models. I'll show you the areas of responsibility, which requirements you should bring along and last but not least my application tips.
Apply with us: Internship with CM
We look forward to your application:
My greatest learnings in marketing
Marketing is all about supporting customers in their strategic but also operative work in the media. All this with the big goal of reaching the right target group. Here I was able to gain my first insight. Planning, organizing but also being creative was a lot of fun.
The practical work is all about publishing! Creativity is required in all areas, whether it is the classic placement of advertisements, blog posts, posts by influencers or creative content for the social media account. There is no limit to your imagination and you can let your creativity run wild. Apart from that, it is also extremely important to work in a structured way and to be in constant communication with the client in order to coordinate my plans and ideas. This makes the exchange via e-mail, but also telephone calls or meetings particularly important.
Support for customers to reach the target group
Different media are conceivable: advertisements, blog posts, influencer marketing, etc.
Exchange and communication with the customer is our top priority
What's it about? Internship in a marketing agency
A marketing agency attracts clients from very different industries. Right from the start, we coordinate where the goal of the respective brand lies. Are there more visitors on the website? Should the turnover be increased? Should a certain number of followers be reached?
Each different goal, each customer needs his own strategy, his own concept and his own approach.
It is also important that not only the goal is defined correctly but also the target group. When defining the target group, it quickly becomes clear on which medium should publish and which is not particularly suitable. To address a target group of 40-55 year olds, for example, you won't find your voice heard on TikTok as on Facebook.
Define target group (example: how old are the brand's customers?)
Select publishing platform / medium
My internship: Model Agency, Content Marketing and Fashion Magazine
Not only do you learn a lot about marketing and social media, you also get extremely deep insights into search engine optimization. Depending on the focus of your internship, you can also get small insights into model booking, consulting and project management.
An internship at CM Models is very versatile, because CM Models is much more than just a model agency. CM Models has an exclusive fashion magazine, FIV Magazine, as well as its own Social Media Agency.
Creative teamwork and independent work
Through the different sections (models, magazine, social media) you get an amazing amount of insights into very different areas of the media world. Starting with research up to the independent conception and publication of articles. But you will also learn how to use the most important software. For example with Photoshop to create graphics. You'll learn how to do website analytics, evaluate customers and devise new strategies, and create creative content for social media.
There's something for everyone here and it's very important that every intern can take valuable content with them. Although this is an internship, working independently is essential. It's not just about working through the work, but about your creativity, your input and diligence.
6 months internship: Procedure
During my six-month internship at CM Models, I got to know an incredible number of different topics. I started by interviewing influencers for the fashion magazine. I learned so much in my first week: how to contact influencers, how to communicate with management, how to research the influencer and how to create the questionnaire. This was the perfect start for me. I learned how to write e-mails, keep in touch and communicate with management. I was shown how to approach the research so that I still stay within the time frame and get feedback on the questions. As soon as I had the first interviews back, I was shown directly how to embed everything in WordPress and create my own articles. Afterwards I was able to gain my first Photoshop experience when I created the article images. Et voilá – my first articles were already published. At that time it was very exciting when my articles were published, today it is part of my everyday life! It is nice to be heard and to live out your creativity. Gradually, different areas of responsibility were added, but content marketing is always in focus. After my six-month internship I was even taken on and have been working for CM for over 2 years now!
Consulting & Project Management
In addition to the marketing tasks, you also have the opportunity to get a taste of the topics and focuses of the model agency. During my internship I had the opportunity to work in the booking department after an extensive training in content marketing. Every day new clients are added here, who are planning a shooting, a campaign or a video shoot for the next commercial. For them you are the first contact person, whether by phone or e-mail. The fact that you are given so much responsibility is not a matter of course, especially during an internship, and it feels good! Of course, organisation and communication is the most important thing here and therefore you will always be accompanied and get help. Of course you should bring the first basics with you, the rest you will learn with us! Meanwhile I have participated in and organized many projects, from Fashion Week Shows to music video shoots.
Communication and organization are the be-all and end-all
Contact person for customers and models
Content marketing and top rankings in search engines
The focus of your internship will be on content and online marketing. This is about supporting customers with valuable content in the form of blog posts and thus ranking them high in search engines. In content marketing, I have written numerous articles on various topics. About some topics you already know and can hit the keys directly. But for some other topics you don't have the overview as a trainee who just finished school. This is no problem at all and almost the better! I like to do a lot of research for my articles so that they deliver the best possible content. This way I become a little expert in the field myself and can learn an incredible amount and acquire knowledge. When you deal with certain topics so intensively, it stays in your head for a while!
Content marketing is not only about writing simple texts. You want to impart knowledge so that everyone understands it but also every person who is already in the topic can acquire something new. With time, not only the speed and quantity of texts improves, but you also learn new terms and ways of expressing yourself. This is especially advantageous if you want to go on to study.
Support for customers in the form of blog posts
With content marketing you can achieve higher rankings in search engines
Writing articles in hand Expand his vocabulary, acquire knowledge and improve his fluency
Online marketing includes any form of marketing on the Internet. This can be e-mail marketing, content marketing, influencer marketing or social media marketing. As you can see, almost everything that is known from the advertising world belongs here. Why do so many companies rely on online marketing? Simply because you can reach most people via the internet. Even though the focus is mainly on content marketing, you will also get an insight into social media marketing during your internship. An online presence on social media platforms is elementary for every company. Also for us! We are always happy to take on board new ideas from creative minds and thus constantly improve our social media marketing.
Internship Application: Tips for your cover letter and CV
Tips for your cover letter and resume, your cover letter, your resume – what belongs in a good application?
Tips for your cover letter and resume
Lifestyle: Your most important skills
Testimonials
Certificates
Tips for your cover letter and resume
Applications always have the same pattern, as a rule, an application should include a CV, a cover letter, references and, if applicable, references or certificates. However, each company focuses on different details! Some pay special attention to the design, some to your work experience or school career, others mainly to your personal cover letter. But what is always important in all applications is spelling and grammar. Therefore, edit your application documents with extreme caution and always let a second person take a look at them! Inform yourself in advance about the company and its activities. What impression does the company make on you? Is it particularly young and dynamic or rather old-established and meticulous? Depending on this, you can always adapt and formulate your cover letter. However, it is important that wherever you apply, the recruiter can see that you are motivated and ready to learn new things. Always remember that first impressions count and decide whether you will be invited for an interview or not!
Applications always have the same structure:
Cover letter
Curriculum vitae
Testimonials
Certificates
Tip! If you want to apply for an internship with us, you don't need to attach extra certificates and references! Instead, write a motivated cover letter in which we see that you would like to work with media and in management!
Write a cover letter: The first look
The most important thing is that your cover letter gives a first impression of you and arouses interest in getting to know you! Express your motivation and show that you have already made yourself aware of the activities in the company. You don't need an endlessly long cover letter, one A4 page is enough! Make sure that you do not make any spelling mistakes. As you will spend most of your internship in the online editorial department, correct German spelling is extremely important. The best thing is to let your family or friends take a look at your application.
CV: Your most important skills
Your curriculum vitae includes your personal data as well as your full name, date of birth, address, etc. In addition, your telephone number and e-mail address are required so that you can be reached. Make sure that your full school education and all your professional experiences are included. Experience in working life is always an advantage, whether you have already done an internship in an advertising agency or just a temporary job in a café. If you have already gained knowledge or certificates that fit into the field of editing, fashion or marketing, you are welcome to add them! You speak several languages? Great! This is a great advantage especially for our multilingual online fashion magazine. Always mention all the languages you speak with the corresponding knowledge level.
Personal data
Contact options such as mobile phone number, e-mail address
School career
Professional experience
Languages
Hobbies
Motivation? Tell me about yourself
What I can tell you from my experience: Make it short and sweet and show that you really want the job. Because, the competition is fierce. Just don't make your cover letter too long. In the best case, it should only be half a DIN-A4 page, but no more than a whole page. It's not about long phrases, but about getting a picture of you and showing that you are really interested in the job.
Show that you really want the internship
Keep it short: Your cover letter should ideally be half a DIN-A4 page
Good luck with your application!
You are creative and full of ideas? You like to get involved and work in a team? You have an affinity to the fashion industry and want to be part of it? Then apply to our Head Office in Cologne. We are a young, committed team and are always looking forward to grow. Live out your creativity with us and apply now for an internship at CM Models. We are especially strong in the areas of fashion, lifestyle, real estate and travel and therefore it would be important that you have a certain connection to these topics. Does my experience report appeal to you? Then apply now!
Apply with us!
We look forward to your application:
https://cmmodels.com/wp-content/uploads/2020/04/office-buero-marketing-werbeagentur-praktikum-studium-lernen-modelagentur-medien.jpg
1280
1920
Laura
/wp-content/uploads/2023/01/cm-models-logo-web-agency-modelagentur-influencer-management.svg
Laura
2020-04-02 15:48:26
2022-04-18 21:59:36
Marketing Internship: Online Marketing, Advertising and Fashion in Cologne