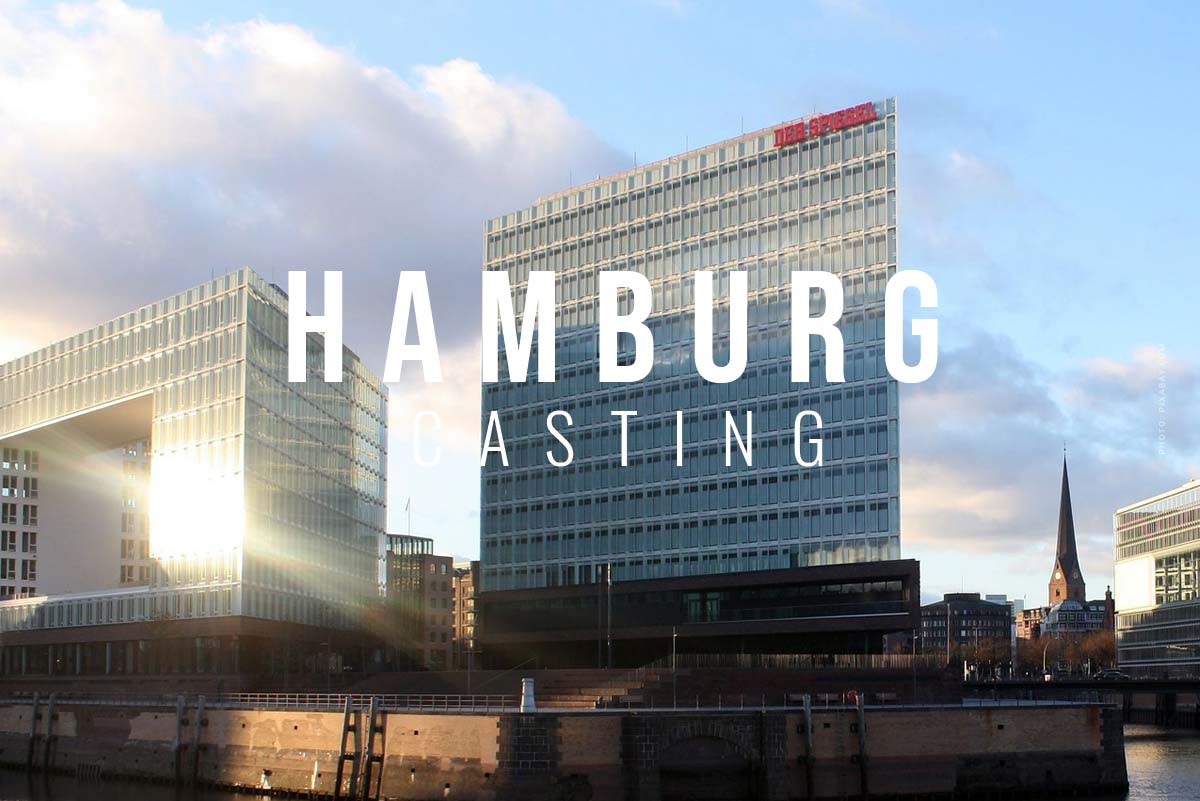 Hamburg Casting 24.10. – Apply now! @ Studio, CM Model Casting
Model Casting Hamburg – The first CM Casting Tour, after a long time and of course Hamburg is the first location for our scouts! You have always thought about becoming a model in Hamburg, in a good and international model agency? Then this is your chance this year! Also for young models from the Hamburg area, from Bremen to Rostock and Kiel. Your chance, apply now simply and online, for our casting on 24 October, in Hamburg.
Model Casting Hamburg: Register now!
Invitations and 3G rule – This year we don't want to organize open castings yet, but at least the first ones, with personal invitations! So that the casting takes place in a small circle, the exact address and the individual date will only be sent with an invitation, after a small pre-selection of our model scouts.
The first step, send us some information about yourself and a photo. The application is very simple, a little further down you will find the casting form, with contact details and photos. Our model scout takes a look at all applications in advance. Depending on how many applications are received, a small pre-selection will be made. After that, individual, personal invitations will be sent with an appointment.
As always, there are no restrictions on height and body measurements. Just send us your photos and your data.
Good luck and maybe see you soon in Hamburg!
Casting application: Apply in 1 minute!
You want to be part of the casting? Send us your application, all we need are your contact details and a few photos. Of course everything will be sent to us securely, with SSL encryption. We are looking forward to your application!
Your contact information
Natural photos (easy with the mobile phone)
Secure transmission (SSL encrypted)
Casting procedure: introduction, time and photos
Become a model in Hamburg – if you still have no idea how such a casting runs, or you have not yet had a Gosee (introduction model agency), here in short: Come to the model casting as natural as you are. No make-up, no styling, no prepared, memorized sentences. The atmosphere at Model Casting is always friendly and we take our time for you, especially now that there are no open castings, but casting by invitation!
Choose a simple outfit on the casting day, preferably monochrome in black. So nothing distracts from you and your natural beauty. Body size, striking facial features, curvy, with us all have a chance.
Presentation and photos
Castings are always relatively similar, you introduce yourself briefly, if you already have pictures, a brief look at your model portfolio is thrown. But it's important, you don't need professional photos from photographers to become a model. Our model scouts see your potential even without perfect pictures. Send us for your application therefore also only simple photos that you make with the mobile phone, with a friend, girlfriend or your parents.
Time and checklist for models
The casting itself takes between 5 -15, maximum 20 minutes, depending on whether you already have experience as a model or not(New Faces).
By the way – you will have such castings often as a model, either as e-casting or live casting in front of clients (marketing, advertising agencies, fashion designers, art directors, …) – so such a first live casting, in a model agency, is a very good training for you, your first training, maybe even for a career in the big fashion capitals and fashion weeks.
If you want more tips for your very first casting at a modeling agency, at the end of the casting news we have another interesting article for young models, 9 simple tips for your first model casting!
Our little CM model guideline for castings:
Natural appearance
No make-up
No styling (outfit, jewellery)
Simple outfit – black shirt / top, pants and shoes
Short introduction – name, place of residence, age, hobbies, languages, …
You already have experience? Show your model portfolio
Running – Small Catwalk
Polaroid – Natural photos from the model scout
Smalltalk
PS: Don't forget to smile!
Address and date: Invitations
We send the exact address to the individual applicants after the pre-selection. This way we can guarantee under the current regulations that not too many people are at the casting location. We wish you good luck for your application and maybe we will see you on October 24th in Hamburg.
Individual invitations to appointment
Address + time with invitation
Your first visit to Hamburg? Many want to become a model at the age of 15, 16 and maybe, you are the first time on the way to Hamburg. Welcome to the city!
Away from castings and jobs, Hamburg is so beautiful! Here you see the ultimate view, at the port of Hamburg.
Preparation: 9 simple tips
As promised in advance, here are nine simple tips for your casting preparation. Whether Hamburg or London, with a good preparation, you have even more confidence in the casting! From the preparation, to the introduction, to photos, make-up and styling. Learn everything you need to know for your first model agency casting:
https://cmmodels.com/wp-content/uploads/2021/10/hamburg-casting-model-werden-2021-fashion-week-adresse-anmeldung.jpg
801
1200
C_kinski
/wp-content/uploads/2023/01/cm-models-logo-web-agency-modelagentur-influencer-management.svg
C_kinski
2021-10-02 16:39:07
2022-04-19 00:30:07
Hamburg Casting 24.10. – Apply now! @ Studio, CM Model Casting