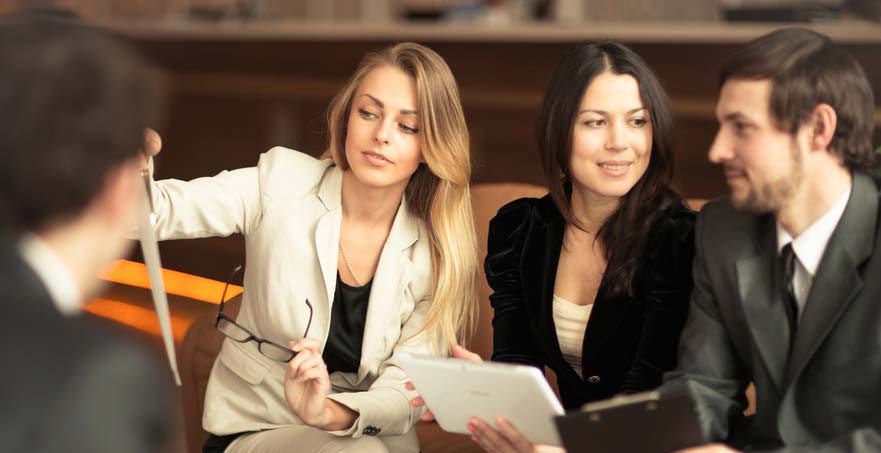 Fair model – small talk & presentation
Trade fair models are particularly sought after in the German fashion cities of Hamburg, Düsseldorf, Berlin and Munich, but also in media and trade fair cities such as Frankfurt, Cologne and Leipzig. Numerous ads for model jobs appear on the Internet for hairstyling and beauty fairs, cosmetics fairs, car fairs, fitness fairs and of course fashion fairs. But not all trade fair jobs are the same. Models should only accept jobs as a trade show model in the premium class, i.e. where the payment is appropriate and the models model in a high-quality environment, for reputable brands in the premium class and in a serious staging.
How do I find serious offers for a trade fair model job?
As many trade fairs there are in Germany, as many ads for trade fair model jobs are placed in the media. Especially new faces who are not yet familiar with the modeling industry should check the ads intensively for their seriousness! Because behind many, first harmless sounding model requests, hides one or the other black sheep. If you are represented by a model agency, discuss the job ad/job request with a booker, he/she will check it for its seriousness and quality. If you are not (yet) represented by a model agency, then check carefully yourself: Which products from which brand are involved? Who is behind the brand? How is the payment and what is expected of me? How is the location set up and how do I appear?
Helpful: Google the web, look for reviews and testimonials from other models. If you find more negative reviews: Don't! As a model you should take care of your image and not be associated with dubious jobs, products or services. If you come across a quality modeling job at a trade show from a reputable client, it will have a positive impact on your modeling career.
What exactly are trade fairs?
Basically, trade fairs are nothing more than strategically planned marketing events for manufacturers of products or service providers. These present their products or services to interested parties and potential customers (both buyers and dealers, the press, as well as end consumers) with the help of models.
Fair types
There are many different fairs, very popular in Germany are cosmetics fairs, beauty fairs, car fairs, fitness fairs, shoe fairs and fashion fairs. Since such events appeal to a large audience, the fairs tend to take place in large cities, such as Hamburg, Berlin, Munich, Düsseldorf, Leipzig, Frankfurt or Cologne.
What does a trade fair model have to do anyway?
Why are models so popular at trade fairs? The answer is simple: Beautiful and interesting people who reflect the company's philosophy and the message of the products/services attract more potential customers, i.e. a good model supports the company's reputation, image and ultimately its sales. Both experienced professional models and new faces are booked as models for trade fairs.
Tasks of a trade fair model
Basically, the tasks are very similar: The model presents the products and services in the sense of the manufacturer in front of an audience. The top priority is a friendly, open and well-groomed appearance. The models are the "face" of the respective company for the duration of the trade fair and they are usually in "direct" contact with the customer, which is why politeness and a positive aura are the be-all and end-all of a trade fair model.
As a classic trade fair model you usually welcome the guests and "take care" of them, this is more or less intensive depending on the wishes of the client. Either you as a model guide the guests with interest to a separate specialist staff or you inform the visitors about the product or the services. To support this, it is best to explain directly on the "object" itself, for example on a new cream or a new car model.
What are the job differences per show?
The tasks of a trade fair model vary depending on the trade fair. While you inform customers about the car model at the IAA in Frankfurt or present and "pitch" a new cosmetic product at Beauty Düsseldorf, you function more as a classic catwalk model at fashion and textile fairs, such as the Cdp in Düsseldorf or MMC Leipzig. Here, the fashion collections are presented by the models on the catwalk or in the form of a showroom.
Difference Catwalk & Showroom
A catwalk appearance is purely about the presentation of the fashion piece on the catwalk, in a showroom, on the other hand, the model can be asked questions about her respective outfit, i.e. you must be well informed about the fashion collection. To show the customer exactly what is special about the collection, you point out a clever seam with a hand movement, for example, or open the handbag to show how much space it offers.
Show & Order Fairs
Fashion Week in Berlin is also a huge fashion show-and-order fair, here you can admire models in casual looks, evening wear or swimwear on the runways, such as bread and butter, but buyers can also visit the so-called "order fairs", such as Panorama Berlin or Premium Messe, and reserve collection pieces from various brands.
Styling demonstration at hairdressing fairs
At a hairdressing trade fair, such as top hair international in Düsseldorf, models have their hair styled in front of the public, so the trade fair visitor sees directly live on site how good the service of the provider and the products used are. To support and also as an incentive for visiting such a hairdressing or beauty fair, the products are not infrequently also applied and demonstrated directly to the fair guest. Nothing convinces the end consumer more than a personal test – except of course a competent trade fair model.
https://cmmodels.com/wp-content/uploads/2016/03/messe-model-models-berlin-hamburg-muenchen-leipzig-frankfurt-hotess-vip.jpg
453
881
Stephan
/wp-content/uploads/2023/01/cm-models-logo-web-agency-modelagentur-influencer-management.svg
Stephan
2016-03-02 09:22:24
2022-04-18 22:24:40
Fair model – small talk & presentation