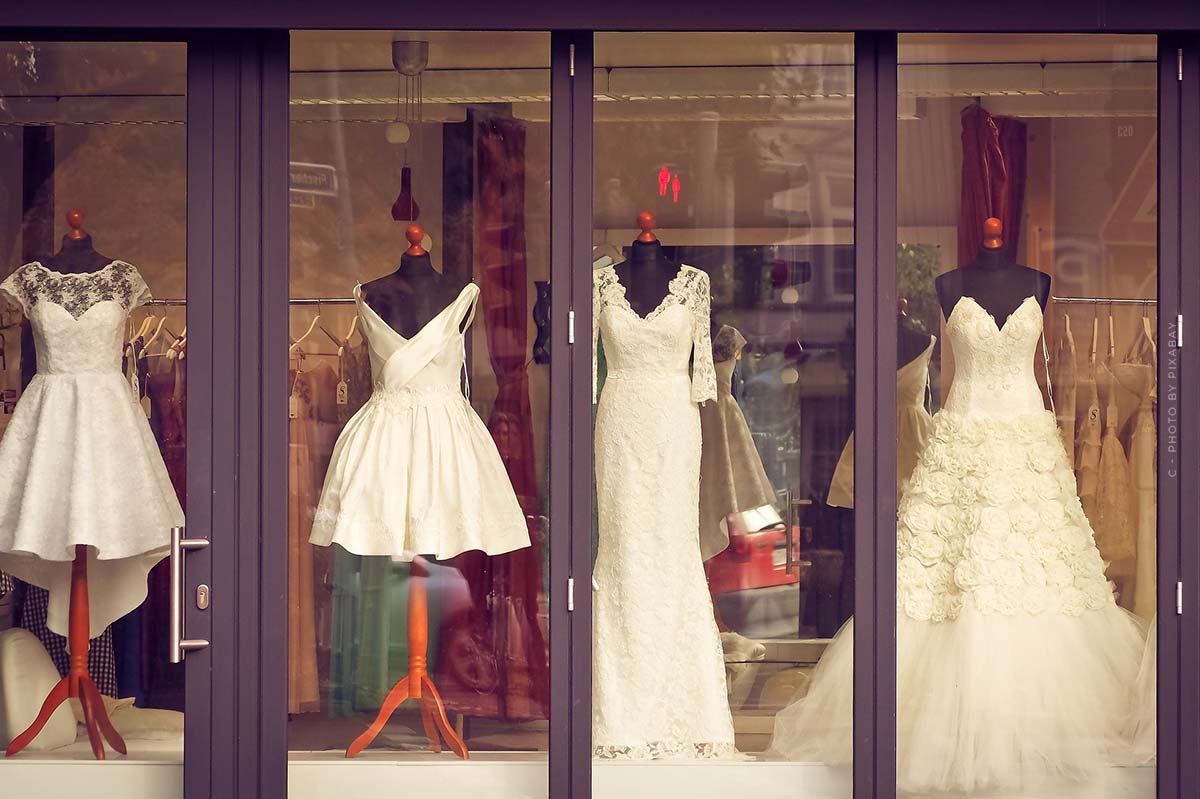 Vera Wang – Innovative bridal fashion, romantic fragrances & Co – at the age of 71 en vogue!
Vera Wang – a well-known high-fashion name in the world of brides, fragrances and wedding cakes. The name Wang stands for the perfect symbiosis of innovative rebellion and timeless elegance – obvious opposites that she skilfully combines with every collection. Since the 1990s, she has been breaking all the fashion taboos of bridal fashion and with black chiffon and pearl-white tulle, she is constantly setting new trends. All information about the success story of the 71-year-old fashion icon and her biggest collaborations we at CM Models have summarized here for you.
Vera Wang – Dazzling career of an ageless fashion icon
Vera Wang's career is unique. She is characterized by hard work, assertiveness and her idea to revolutionize the world of weddings and bridal fashion. Compared to other famous designers, Wang's international breakthrough was a long time coming.
A Chinese woman from Manhattan
The daughter of wealthy Chinese immigrants, Vera Wang was born in New York City on June 27, 1949. She spent her childhood mainly on the Upper East Side of Manhattan, where she attended the elite school Chapin as well as Sarah Lawrance College. Here she enrolled in art history after a failed career as a professional figure skater.
1949: Wang is born in New York City as the daughter of a Chinese couple
She went to Chaplin Ivy League School and Sarah Lawrence College…
Originally, Wang aspired to a career as a figure skater
From Vogue to Ralph Lauren
Her college degree was followed by a career as senior fashion editor of one of the most renowned fashion magazines of modern times: Vogue. After 15 years as a fashion journalist, she left the magazine to accept a position as design director with none other than Ralph Lauren.
After college, she worked for Vogue
After 15 years she worked as design director for Ralph Lauren
A business woman becomes a designer
After a short time, however, the then 41-year-old Wang decided to make another career change and opened her first own bridal fashion boutique in the upscale Carlyle Hotel on Madison Avenue in New York City. A year earlier, she had married her long-time friend Arthur Becker and found that the number of bridal fashions was simply too limited. In order to save other women from their own bridal fashion dilemma, Wang now offered couture dresses by a wide variety of designers in her boutique – from Guy Laroche to Christian Dior.
Over the years, not only her prominent clientele grew, but also her passion as a fashion designer, and so a few years later Wang published her first own bridal fashion collection. Characteristic here: Streamlined and sophisticated bridal gowns for every type of woman.
1990: Wang marries and opens her first own bridal boutique
She sells couture dresses by Guy Laroche and Christian Dior among others
Finally she designs her first own collection
Comet-like rise
In 1994 – four years after opening her boutique – Wang first attracted international attention when she designed a hand-beaded ensemble for the Olympic Games for figure skater Nancy Kerrigan. Shortly thereafter, her first collection of elegant evening wear followed. The name Vera Wang was no longer an unknown quantity and from now on adorned the front pages of various fashion magazines worldwide. Her love for wedding dresses remained the focus of attention.
1994: Wang designs the outfit for figure skater Nancy Kerrigan
The first collection of elegant evening wear follows
The name Wangs has now established itself in the Haute Couture
Established icon of fashion and pop culture
In 2002 Wang also conquered the world of perfumery and launched her first fragrance. Since then, she has expanded her business and now designs lingerie, jewelry, household products and even desserts. In 2006, in cooperation with the department store chain Kohl's, she released an affordable collection of everyday clothes called Simply Vera, which is still very popular today.
Wang is also always present on the red carpet. For years, her designs have adorned the bodies of Hollywood's cream-de-la-creme. Her dresses, which always combine modernity and tradition almost synoptically, are mainly worn at film premieres and award ceremonies. Her main clients include actresses such as Halley Berry, Charlize Theron and Meg Ryan.
2002: Wang's first perfume is released
2006: The Simply Vera collection is born
Today Wang is considered one of the greatest fashion icons of our time
Interview with the New York Times – Video
Vera Wang talks about the beginning of her career, the pressure in the fashion industry and her love for her profession. Watch her interview with the New York Times here.
Subversive wedding dresses, sweet scents and sparkling rings
Must Haves from Wangs: Vera Wang is known for her bridal fashion, but since her international breakthrough she has also designed rings, fragrances, lingerie and evening wear. Check out the highlights here.
Wedding dresses in a class of their own
When you think of Vera Wang, you think of one thing above all: wedding dresses. She is still considered a famous designer in her field and impresses wedding couples all over the world with each new collection. Her customers always enjoy dresses painstakingly created with the finest fabrics in the world and adorned with high-quality details such as bows and pearls.
What makes Wang's dresses special
Innovative, elegant and yet timeless: Wang knows about the needs of her customers and thus manages to revolutionize the world of bridal fashion every time. Her dresses are timeless, refined and yet simple, sometimes traditional in white and sometimes rebellious in red. Wang does not flinch from dark colours like grey or black. What was once considered unfit for the altar is now being made suitable for the altar. Her designs are sometimes minimalist with straight cuts and a touch of tulle and sometimes richly decorated with embroidery and deep necklines. Beauty, innovation and elegance always come first.
So the fashion icon is not afraid of unconventional methods when it comes to realizing her visions. The most famous example: To break the status quo of the pearly wedding dress, her design team dunked each dress into a bathtub full of tea for a year. The result? Another critically acclaimed collection from Wangs.
Bridal Collection – A fairytale magic
Vera Wang Spring Summer – Of course we do not want to withhold her latest bridal fashion collection from you. And what reflects spring and its well-known spring feelings better than flowers? This year, Vera Wang found them to be a great inspiration for her new designs. Handmade flower appliqués in a wide variety of materials adorn the sleeves, petticoats and corsages. Tulle is also increasingly used here to create an almost flower-like illusion. The dresses remind a little bit of Alice in Wonderland. They are romantic and enchanting. Slightly dreamy and yet sophisticated and elegant. Wang's aim here is not only to captivate the wearers of the dresses and their wedding guests. She is primarily interested in individuality and the expression of different personalities, which is why the dresses look different from every angle, as Wang explains in an interview with the American women's magazine Harpers Bazaar.
"No matter where you are – front, back, from the side – the dress contrasts in texture, tonality and proportions. It's not easy, but this collection still feels effortless." – V. Wang
Convince yourself here in the video of the magic Wang:
The prize of Haute Couture
Starting at 2,000 US dollars, it all starts: Whoever decides to enter into the bond of life in a masterpiece from the house of Wang not only chooses timeless haute couture, but also its proud price: Most of Vera Wang's dresses cost between 2,000 and 6,000 US dollars. They are sold in Wang's wedding dress boutique on Madison Avenue as well as in the fashion houses Barney's, Saks Fifth Avenue and Neiman Marcus. The dresses are also available online. If you are satisfied with a second hand wedding dress, you will also find it on ebay and Amazon.
Extravagant fragrances
From lotus blossom to champagne: since 2002, the name Vera Wang has stood not only for elegant wedding dresses and evening wear, but also for extravagant fragrances. Her first signature fragrance for women was launched in 2002 and immediately enjoyed great popularity. The male counterpart finally followed in 2004, and most of Wang's creations reflect her love of weddings and have inspired many a famous flâneur. Currently, the fashion icon is responsible for more than 29 fragrances – the top three of Wang's most popular fragrance creations: Princess, Be Jeweled and Lovestruck are all here for you.
Princess: Homage to the modern princess
The bestseller of Wangs fragrances more than lives up to its name. Princess by Vera Wang was launched in 2006 and has been a bestseller ever since. The oriental-floral fragrance was created by Ilias Ermenidis and Harry Fremont and is dedicated to all princesses of modern times. The royal menage of guava and tiare flower is accompanied by dark chocolate and sweetened with a touch of vanilla. All this is finally packed in an equally royal heart flacon with a crown as lid.
Top notes: Lady-Apple, water lily
Heart notes: Tiaré blossom, pink guava
Base note: chiffon-vanilla, sugar, dark chocolate
Be Jeweled: fragrance composition as elegant as jewels
Similarly popular is Vera Wang's fragrance Be Jeweled, a fragrance created by flâneur Yann Vasnier in 2013. True to her romantic sweetness, Wang combines the scent of fruity pomegranate and flirtatious passion fruit with warm sandalwood and pink granulated sugar. The fragrance composition is spirited and playful at the same time, giving its wearer a touch of young elegance and joie de vivre. The perfume is entitled because of its impressive flacon, which resembles a diamond, similar to the personality of the wearer herself.
Top notes: pomegranate, red currant, champagne
Heart notes: passion fruit, honeysuckle, pink peony
Base notes: pink granulated sugar, musk, Australian sandalwood
Lovestruck: The sweet smell of young love
Urban and seductive at the same time, the fragrance of Stephen Nelsen and Doreen Doreen Bollhofer has been turning heads in rows since 2011. The fragrance is floral; composed of fruity tropical scents with a hint of musky romance. The aroma is protected in a pink crystal flacon decorated with a romantic bow. Random Fact: The face of the campaign here was our Gossip Girl darling Leightoon Meester.
Top note: Tangerine, Pink Guava
Heart notes: lotus, tuberose
Base note: wood, musk
Romantic engagement rings from the house of Wangs
Sparkling diamonds and 14-carat white gold: Although brides all over the world have been walking down the aisle in Wang's fairytale creations for years, one of the most important symbols of the world's most beautiful promise has long remained untouched by Wang's magic: The engagement ring. Unique, timeless, innovative and iconic at the same time, Wang has now launched two collections and of course we at CM Models do not want to withhold these from you.
"Creating a line of beautiful diamond engagement rings and bridal jewelry is a natural extension of my passion for bridal fashion design" – V. Wang
The Love Collection: Sapphires as a sign of eternal love
In 2012, Vera Wang launched her first jewellery collection, which is still enjoying worldwide popularity today. In the old Vera Wang manner, these are not just any bracelets or necklaces, no – as always, these works of art from Wang make the hearts of all brides and those who want to become brides beat faster. The collection, originally released under the name "Vera Wang LOVE", contains a variety of engagement and wedding rings for the modern couple. Each piece of jewellery comes with a certificate of authenticity and has an exclusive Wang engraving on the inside. Just like her fairytale dresses and romantic scents, her rings underline the timeless elegance of the wearer.
Her designs are remarkable – most of her works of art are made in 14 carat white gold, and the innovative designer sometimes uses unconventional two-tone gold to meet the needs of risk-taking brides. The ribbons are always set with diamonds. At the centre of attention: a traditionally set diamond in a variety of cuts and shapes in the centre of the ring. Blue sapphire as a sign of fidelity and eternal love is also often used by Wang – an innovative break in style with great significance for the modern couple of modern times.
The Wish collection: playful rose gold
After the worldwide success of her first jewelry collection, it was only a matter of time before Wang decided to launch another ensemble of sparkling diamonds. So in 2019 she launched another collection of bridal jewelry. Compared to "Vera Wang LOVE", this one is only available at the American jeweller Jared and is entitled "Vera Wang WISH". Most of the rings are still made of 14 carat white gold, although this time Wang often chose romantic rose gold. Compared to the previous collection, the bands of the rings are more playful and diverse this time. Thus, besides the typical cuts and shapes, more unconventional diamond cuts in the form of hearts and flowers can be found.
Wang's biggest collaborations – everyday clothes and tuxedos
Over the decades, Wang has established herself not only as an innovative bridal fashion designer, but also as a popular collaborator. Thus, her creative ideas have also found favour in the world of sweets and tuxedos.
For the small purse
Kohl's x Vera Wang: The American clothing chain Kohl's and Vera Wang have been working together for over ten years now. Together they offer fashion that makes luxury accessible and at the same time brings elegance and style to everyday life. Starting with a few simple items of clothing for the small purse, the collection now also includes jewelry, shoes, handbags and accessories.
For dessert fanatics
Ladurée x Vera Wang: After clothing, jewellery and home textiles, in 2018 the innovator Vera Wang finally entered the world of vanilla sugar: in collaboration with the French patisserie Ladurée, the first desserts from the house of Wangs were created. Here too, she remained true to her unique aesthetic. Her macaroons and cakes are adorned with glittering sugar flowers and pink cascade bows. As always, breaks in style and conventions are capitalized here. Brides can enjoy both white and black wedding cakes and dessert fanatics will also get their money's worth with macaroons in the unconventional flavours of coconut cream and mango.
For the fashion-conscious groom
Men's Warehouse x Vera Wang: In times of feminism and equality, the male counterpart to the wedding dress must not be forgotten, of course. And so, in 2014, grooms could enjoy Wang's designs for the first time. Her tuxedo line BLACK by Vera Wang has since been available exclusively at the American tuxedo outfitter Men's Wearhouse and offers a fashionable alternative to the otherwise classically cut tuxedos of the modern age.
Watch the commercial Wangs here:
Catwalk Highlights – Dark lingerie and lots of tulle
The innovative spirit of Vera Wang can also be found in her ready to wear collections. Here are some highlights of her latest collections for you.
Royal frills with a touch of Edgyness
At the beginning of the year Vera Wang presented her current autumn/winter collection at the James B. Duke House in Manhattan. The young models strutted up and down the pompous foyer on large platform heels on a Chartreuse carpet personally laid out by Wang. This time their collection consisted mainly of wicked boudoir pieces, corsets and pleated tulle. Asymmetrical ruched shirts are also to be found more often. Always in Vera Wang's style, of course: Romantic with a bit of rebellion.
Romantic fragility and high heels
After a two-year break, the icon of bridal fashion is back with daring lingerie elements, transparent bra tops and loose chain mail. Loose and unlaced, tops and dresses were layered to dreamily wrap the models' timid silhouettes. Romantic. Timid. Almost fragile, the models floated through the darkness on high heels.
More about Vera Wang
The history of the Wangs company is colourful, loud and diverse. Here we have once again answered the most interesting questions about Vera Wang and her fashion empire.
Q&A: The most frequently asked questions
When was Vera Wang born? What is she known for and who has she dressed like this in the past?
How old is Vera Wang?
Vera Wang was born on June 27, 1949 in New York City.
What is the name Wang known for?
Vera Wang has been specializing in exquisite and innovative bridal fashion since 1990. Also known is her annual ready to wear collection, her evening gowns and her perfumes. Wang's eyewear, jewellery and tuxedos are also well known.
Which famous brides has Vera Wang already dressed?
Among Wang's most famous customers are Kaley Cuoco, Kim Kardashian, Chelsea Clinton, Alicia Keys, Ivanka Trump, Victoria Beckham and Mariah Carey.
Where is Vera Wang's bridal boutique located?
Since 1990, Vera Wang's bridal boutique has been located at the upscale Carlyle Hotel on Madison Avenue in New York City.
Where can I buy Vera Wang's dresses and perfumes?
Most of her dresses are available for purchase on her official website. Her sunglasses are available in the online shop of the operator farfetch, her perfumes and Simply Vera collection at the American department store chain Kohl's and her tuxedo collection for men at Men's Warehouse. Those interested in the unique jewellery from Wangs will find it at Jared.
https://cmmodels.com/wp-content/uploads/2020/06/Vera-Wang-Designer-Mode-Hochzeit-Brautkleider-Boutique-Abendkleider.jpg
799
1200
Laura
/wp-content/uploads/2023/01/cm-models-logo-web-agency-modelagentur-influencer-management.svg
Laura
2021-01-24 09:27:08
2022-04-18 22:02:38
Vera Wang – Innovative bridal fashion, romantic fragrances & Co – at the age of 71 en vogue!