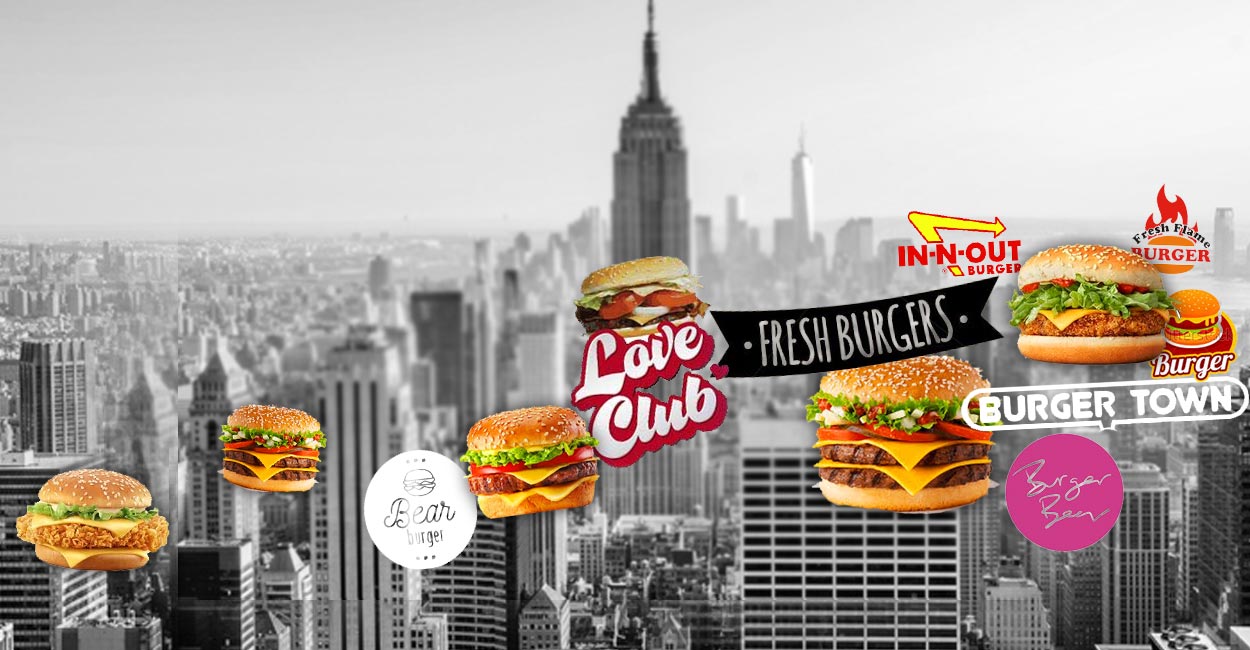 Foodguide: The Best Burgers in New York City!
If you are a Burger lover and in New York, no matter if you want to eat luxury burgers or a classic hamburger, in our New York food guideyou will find the right burger for your desires. NY does not let you down with your burger dreams, burgers in high-class rooftop bars or in a permanent kiosk in the park. Enjoy New York City's best burgers.
Burgers from Luxury Restaurants in Manhatten to Secret Spots in Brooklyn
Minetta Tavern
These burgers are one of the most decadent items you can place between a typical burger bread. Minetta Tavern serves different types of Burger, the Minetta Burger is a kind of luxury classic cheeseburger, while the Black Label Burger is the star of the Burgers here. You have to try it, to understand how good a burger can taste.
The NoMad Bar
The burger is a top secret tip and you will not get it all the time. Somedays you will find it on the menu and sometimes, you sadly have to choose something else. The burger is topped with white cheddar, a house sauce, and pickled red onions. Definitely a secret tip and one of the best Burgers in New York City.
The Polo Bar
The Polo Bar is Ralph Lauren's New York City restaurant and serves American classic dishes and all the waitresses are wearing jockey dresses. The classic Polo Bar Burger is stuffed with tomatoes, lettuce, onions, pickles, cheddar and crispy bacon with hand-Cut fries. A culinary delight! But if you want to enjoy the delicious burgers and other meals you have to reserve about 6 weeks before, since the restaurant is one of New Yorks hottest spots.
Burger Joint NY
The Burger Joint got many locals all over the world with the same concept: Burgers, plain and simple- cooked how you like it! (Shakes, fries, and brownies too!). In New York, you will find two Burger Joints, one in the center of New York and one in Brooklyn but no matter where you go you will find delicious Hamburgers, Cheeseburger and Double Burgers.
Five Guys
Even if delicious luxury burgers will let your food heart melt, every true burger lover need a real fast food burger and if you do not like the typical fast food restaurant, five guy is the right middle for fast food and luxury burger lovers. The offer of Five Guys is compared to other fast food restaurants kind of small, they offer hamburgers stuffed with different items and fries. The regular burger consists of a roll with two slices of fried ground beef, with cheese, bacon or both. There is only one disc in the "Little" version. It can be added without additional ingredients such as lettuce, tomato slices, ketchup, mayonnaise, onions, pepperoni, mustard, barbecue sauce, and mushrooms.
Burger and Barrel
Burger & Barrell is located in the heart of Soho and serves an award-winning burger and one of the best wines worldwide. The signature "Bash Burger has won New York Food & Wine Festivals Event five times and is called "one of the best burgers" in New York. Do not miss this.
Bareburger
Bareburger opened in Astoria, Queens in 2009 and are now selling their organic & all-natural burgers all over the world. Their vision was simple "let's make an awesome burger and use the best organic, all-natural and sustainable ingredients". And 8 years later they still do what they planned to do and it still tastes delicious, if not even better.
Shake Shake
Shake Shake serves delicious burgers and shakes since 2004, they started in a permanent kiosk in the park and now got restaurants all over the world and of course in New York. All their Burgers are made with 100% all-natural Angus beef. Their classic burgers are all cooked medium (unless you do not want it) then they add lettuce, tomato, pickle or onion. Of course, they also got burgers for all you veggie-lovers, the 'Shroom Burger which is made out of whole portobello mushroom which is roasted low and slow.

<h2id="jgmelon">JG Melon
JG Melon is the ultimate place to go for a no-fuss, no-frills burger experience. If you want to eat great burgers in a typical corner pub, this is the place for you. Loud and full of atmosphere. The owner writes down your name on a mini piece of paper and after a drink at the bar, there's a table and delicious burgers. Attentive service and a lot of flair from the almost pure New York audience.
5 Napkin Burger
If you go to 5 Napkin burger, you might need 5 napkins, the original 5 Napkin Burger consists of 10oz of 100% all natural Angus chuck from Aspen Ridge, griddled to the desired temperature, topped with gruyere cheese, caramelized onions and rosemary aioli on a soft white potato roll. Yummmy!
https://cmmodels.com/wp-content/uploads/2017/11/foodguide-the-best-burgers-in-new-york-city-tips-traveling-tourist-nyc-spots-beef-cheeseburger-chickenburg.jpg
650
1250
Laura
/wp-content/uploads/2023/01/cm-models-logo-web-agency-modelagentur-influencer-management.svg
Laura
2018-02-27 13:46:28
2022-04-18 20:44:41
Foodguide: The Best Burgers in New York City!