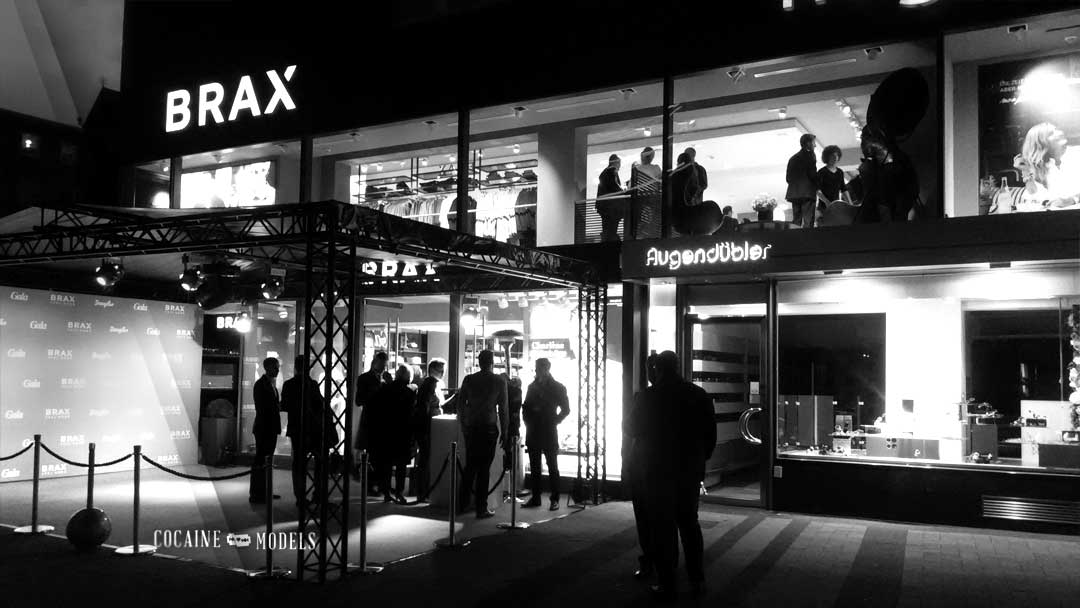 BRAX Store Opening – Fashion Highlights with Gala, Douglas & Co.
Can I get you another snack? Small delicacies and creative invitations: We were guests at the BRAX Store Opening in Cologne, presented by Douglas and Gala. Among others Frauke Ludowig from RTL Exclusiv and we, CM Models were there. The little who's who of the Cologne fashion and media world. Here is our Recap for the BRAX Opening in Cologne:
BRAX Store Opening
Isn't it true that it's far too rare to get letters? About two weeks ago we had a really nice invitation in the mailbox. With fancy stationery and a personal invitation. Slightly glossy paper, modern packaged in a semi-transparent cover and with beautiful handwriting. So much trouble, then still in Cologne, one says gladly yes! That's why we were particularly pleased about the elegant invitation to the store opening right from the start.
Fashion Highlights for Men & Buffet
Around 5 p.m. we locked all the doors in the office, smoothed our hair once more and set off. After a short stop at the Asian's, we continued directly on the way to the city centre (Breite Straße 1). Even from a distance, the large structure could be seen in the Breite Straße. Even in front of the store were large headlights, flash systems and various photographers. Of course, behind the red carpet there was also the obligatory photo screen with all important sponsors of the evening, including Douglas and the gala. After the friendly security man let us on the red carpet, we were also intercepted directly by the BRAX manager: Photos! Let's go… a few poses for the gala and pure 200 square meters of fashion for ladies & gentlemen.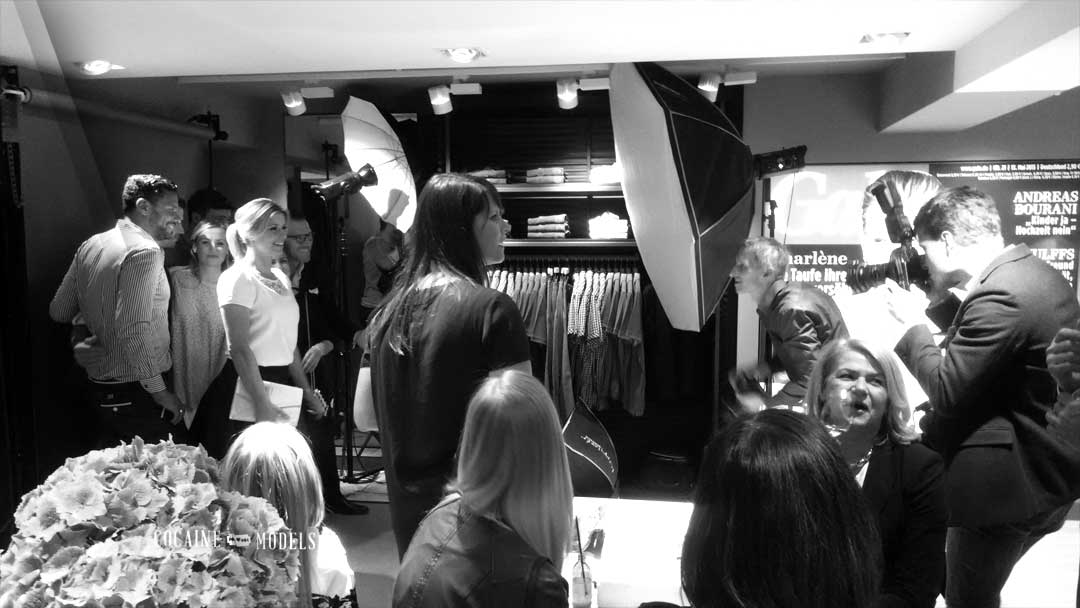 The Location
So after we posted well and passed the start with flying colours, nothing could go wrong anymore. Closing time. Network. Red wine. We quickly went on to the BRAX Store. Since there were already some people there, it was relatively full. Nevertheless, one thing immediately catches the eye: chic, elegant and stylishly furnished – was my first thought! About 60 invited guests gathered on the first and second floors of the new fashion store. Below is a DJ house and relaxed lounge music, behind him are shirts and polo shirts neatly sorted on the shelves. Women in colourful cocktail dresses are also entertaining themselves. Most male guests are in suits, classic, grey/black. To the left and right of us are small snacks, aperitifs and wine. Everything that belongs to a good shop opening. After a hard day's work, everyone here is happy to relax a little, chat with colleagues and stroll comfortably through the new store.
The Highlights
BRAX has really come up with a lot, from high-quality letterhead with individual invitation lettering to your own Gala Magazine cover. Snacks for the guests (… and we all know that love goes through the stomach). Of course not only we from CM Models were there, but also a few other people from radio and media. Among other things, Cologne actors were present and of course one thing should not be missing at fashion events in Cologne: The RTL Exclusiv Team. And so Frauke Ludowig and Kena Amoa were guests in the evening. The collections in the store are well chosen and mature. Just as beautifully draped for a first glance – so close to opening.
On the second floor there was a very special highlight…
Photo shooting with the gala
So that every guest at the BRAX Opening can take something special home – of course also in their own model or advertising agency – a special highlight was placed on the second floor of the store! An extra photographer with canvas, flash systems & Co. The highlight: Each team could pose once for a gala cover. In only two minutes the covers were edited, cut and printed. Presented with a chic folder it was a really great idea! There was also a Douglas "refreshment stand" where you could try out all the new fragrances, from Hugo Boss to Gucci. We teamed up with some actors from the TV series "Alles was zählt" (RTL) and tried and found some great new perfume creations (but we don't want to advertise here).
Only a few minutes later we took our Gala Magazine cover in hand and returned to the first floor of the store. Also here there was a lot to see, besides the DJ of course countless outfits, trousers, shirts and ties for the coming season. Isn't it said, pictures say more than a thousand words? So here are a few impressions from the big store opening in Cologne:
BRAX – now in Cologne
There is now fashion for men and women on two floors with the latest trends and styles. BRAX in Cologne is easy to find, only a few minutes' walk from the main station or from the nearby Appellhofplatz underground station. It is located in the centre of Cologne and can be easily reached by foot or subway. We wish you much success and thank BRAX for the cordial invitation.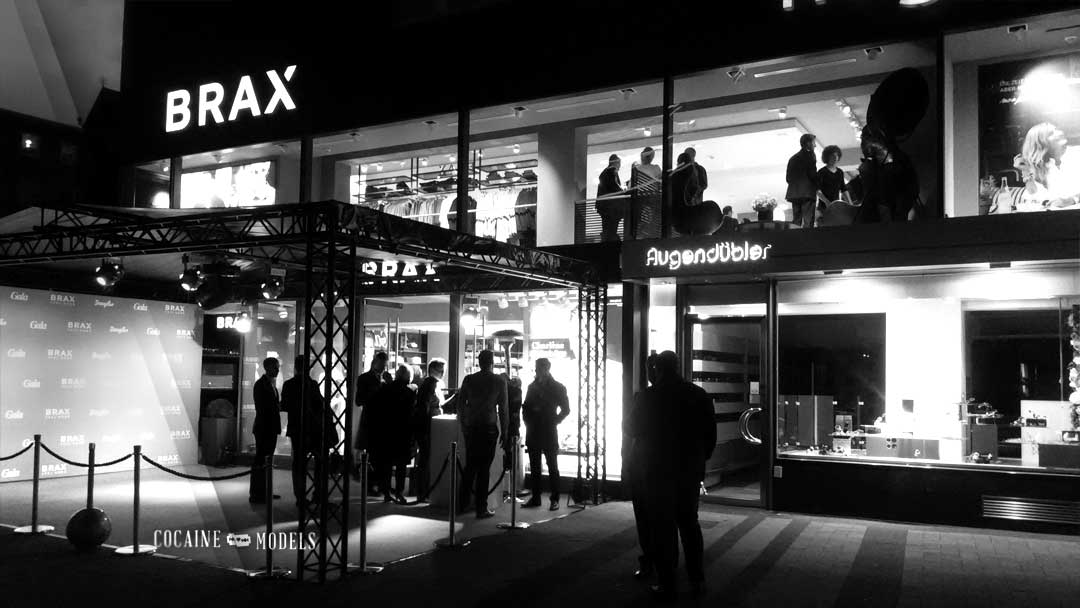 The next date has already been set. Friday we go to Frankfurt am Main to see the Escada summer / autumn collection for the year 2015. Of course we will also take some pictures at the Escada fashion show!
https://cmmodels.com/wp-content/uploads/2015/05/store-cologne-bwstore-breite-strasse-brax-shoperoeffnung-2015-koeln-mitte.jpg
608
1080
Laura
/wp-content/uploads/2023/01/cm-models-logo-web-agency-modelagentur-influencer-management.svg
Laura
2018-07-18 16:58:36
2022-04-18 21:11:23
BRAX Store Opening – Fashion Highlights with Gala, Douglas & Co.