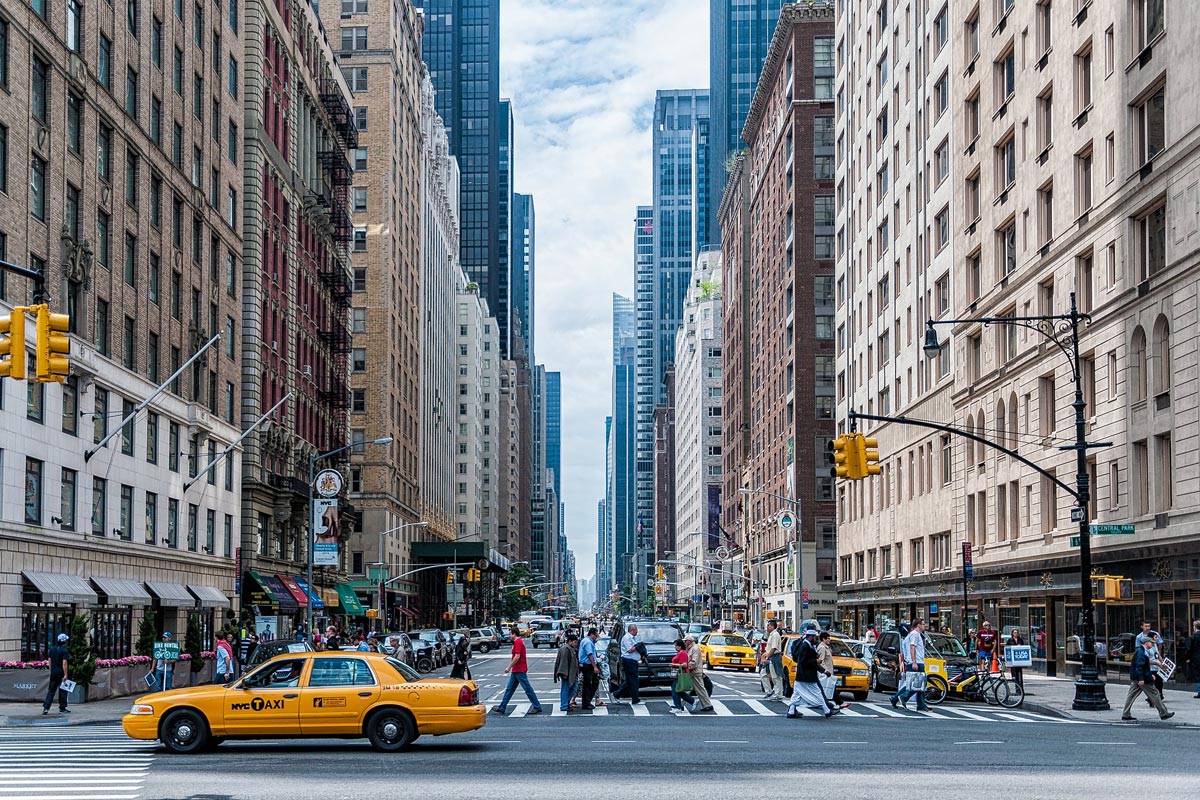 Becoming a Model in New York: Application, Casting & Jobs
If you want to make it to the top, you should have a goal as a model. You should work abroad sooner or later! Although you already have many options in Germany and already live in a big market for advertising and fashion, there are even bigger jobs and campaigns abroad. You already know the "Big Four" from Fashion Weeks all over the world. For models abroad, however, there are many more interesting markets. Besides Milan and Paris, New York is the hotspot for young models!
New York Trip: Modeling Abroad
You have built your book so far? Your model agency gives you the unique opportunity to fly abroad and work from there? Then you should not miss the experience. To work successfully as a model abroad is the supreme discipline! Besides the beautiful sights and people in New York, you have the chance to go to castings and get important jobs there. With CM Models as your management, you have the opportunity to have an unforgettable time in New York.
If you are not a model yet, live in America and want to apply, here are the first important tips:
Becoming a model: Requirements in New York
For models there are many requirements, for example, in height, weight, as well as in the resulting proportions. Los Angeles also has strict measurements when it comes to international fashion clients, commercials and fashion shows. Of course there are always exceptions, the spirit of the times changes the fashion world, the media but also advertising. What we as a model agency, also our model scouts pay special attention to, for example, are small, extra highlights, such as freckles or tooth gaps. So there is no perfect model, not even in LA. But as a model you come very close to the ideal of beauty. As described, you can not summarize it all together have e.g. give a few guidelines.
Requirements to become a model:
For female models, the ideal case is
Body size women 174 to 180 cm
Beautiful and / or striking face
Slim proportions
For men models is the ideal case:
Body size from 184 to circa 192 cm
Slim and athletic proportions
Muscle build must not be too extreme
Cutie or striking
Online application with Polaroids
Free of charge and fast, the application is also online. You can upload your footage on our website and provide the most important contact information. This way our scout gets a first impression of you.
If you are shortlisted, you will be notified and invited to the office or to the call.
Become a model in New York
Entering your contact information is very simple, for this there is a ready-made application form. In it you only have to enter a few data, for example, your name, your place of residence, your contact details such as phone and email address and your height. You also have to send two photos. Ideally a portrait and a full body photo.
Open model agency casting
Likewise, we offer open casting a few times a year. Since we have also set our foothold in America and represent models there, know designers, photographers and clients, we would be happy if you are also at our next open casting.
How does such an open model casting actually work? Basically, the agency wants to get to know as many people as possible in a short time. Getting to know someone live is still something different than judging someone through photos or videos. Such open model castings are relatively costly for model agencies to organize. You need a location, the right and important people, as well as bookers and scouts must have time. Nevertheless, it is worthwhile to organize such live castings, because as described, you call the people thereby know much better!
Queue – at open castings a bigger queue often forms when 50 or 100 models are there at the same time. It's best to relax, find a comfortable spot and distract yourself with your smartphone. Waiting times and patience are definitely part of a model's job.
If you're wondering what kind of jobs await you in New York: starting with fittings and showrooms, for fashion retailers and buyers, to fashion shows, with something more perfect. But typical model jobs in our agency are also social media shoots, e.g. for Instagram, as well as e-commerce shoots for new collections and campaigns. Once you've mastered all these levels, it's on to campaigns, photo shoots and commercials. With broadcast, on national TV, streaming providers on an international level, in the cinema, as well as on your smartphone, in apps or in the browser.
Here again a small overview, to the different model jobs:
Showroom
Fashion show
Social Media
E-commerce
Campaigns
Commercials for TV and web
Our models who have already worked abroad and had the experience of exploring the fashion world as a young model:
Working in New York:

On Stay Procedure
When you are under contract with us at the agency, you will always get emails from our bookers. They will help you to coordinate and not to miss any casting. But first of all, as a model, you must actively decide to try your hand abroad. The active decision is important because you will be dealing with big agencies and clients at a young age. For example, if you say that you would like to go abroad, your agency will invest time in finding a good agency for you. Contracts are signed and maybe airline tickets are booked. If you break off a few days beforehand, this will not have a positive effect on your career, as trust will be lost. It is also important for you to have thought everything through in advance. You will be in a foreign country and also living with strangers for sixty to ninety days. If you are still young, talk to your parents about your plans right at the beginning. They have a lot of life experience and can always give you good advice on your way. In addition, you always have a contact person in your agency from the beginning.
Many models ask me at the beginning, how does such an "On Stay" work? Does it cost me money? With a good model agency behind you, your stay abroad is just as well planned as a package vacation. Contracts are signed weeks or even months before the start of the trip. So you know very early when you will travel, where you will live, who your local contact person is and much more.
An On Stay never costs you money as a model. Good agencies always work on the principle that you as a model have no investment. The partner agency abroad takes over all your expenses in advance. This includes the flight tickets, the accommodation but also services on site such as gyms, drivers or "pocket money". In the end, the costs will be deducted from your income. If you end up with a negative amount, the agency will cover the costs. This is what we call "minus balance." In any case, you gain experience, certainly footage and it doesn't cost you a cent. Good model agencies invest in their models. If you are proposed for an on stay, the agency believes in you and the success you could have abroad. Also the local partner agency believes in your success, otherwise they would not invest time and money to fly you in for two to three months.
Most models are automatically drawn to the "Big Four", of course. However, many also go for a few months to cities that are not associated with fashion at first, but which are a microcosm all of their own. These include cities like Istanbul, Mumbai and Hong Kong. Here, products are produced for the whole world. Not only fashion, but also electronics and toys. Many producers are interested in doing photo shoots and video shoots directly on location. Here the productions are much cheaper. Thus, the teams are larger, the shootings sets more elaborate.
Elephant, helicopter or dreamlike South Seas beaches? No problem! These countries are a real Eldorado for building up your own book, because you directly get extremely many different jobs. In addition, there are large brands that produce photos for dealers and buyers directly here. So you can also quickly get international brands. What is the catch? Of course there is a catch, the payment. While you can earn four-figure sums as a model in Germany even as a New Face, here it's only a few hundred euros. While German agencies also pay strict attention to usage rights, subsequent remuneration is often not so certain. The A&O here is a large agency that has been working with the local agency for a long time and has had good experiences.
Guaranteed income and great jobs
Models who have made it far, had many clients and an absolutely fantastic book will gradually get their first "Garantuee Contracts". Then you even get a guaranteed minimum income from the agencies. They do that when you are so good as a model that in theory you don't need to travel abroad anymore. Or, you already travel so much that other agencies have to convince you to come to them. If you've made it here, congratulations.
At some point, you'll just be traveling. No longer for sixty to ninety days, but for days and weeks, from country to country, from production to production. Because at some point your network will have grown so much that your management will completely take over the management of your time. You get requests all the time and you have to plan your life and all your trips exactly.
New York City
How great would it be if you could spend your next year there and experience the New York fashion world?
Tips for travelers in NY
As a model agency, we have picked out the best hotspots in New York for you. We have tested for you and want you as a model can also make your free time beautiful.
Whether you are in Brooklyn, Soho, or Manhattan, we will help you find a spot where you can dine according to your taste. Of course, when it comes to superfood, we're totally on board and have a few food spots on the list. So, what are you waiting for, try it out and convince yourself of the multifaceted New York! Likewise, you're sure to find a cool food spot for your taste in our list. Remember, tasty food or snacks don't have to be unhealthy to taste good! Superfoods, take a big place in our top 10 list! So feel free to grab one of our recommendations and snack on one of these delicious bowls!
https://cmmodels.com/wp-content/uploads/2020/12/new-york-ny-model-shooting-casting-working-travelling-jobs.jpg
800
1200
Laura
/wp-content/uploads/2023/01/cm-models-logo-web-agency-modelagentur-influencer-management.svg
Laura
2020-12-19 17:00:12
2022-04-18 22:08:43
Becoming a Model in New York: Application, Casting & Jobs