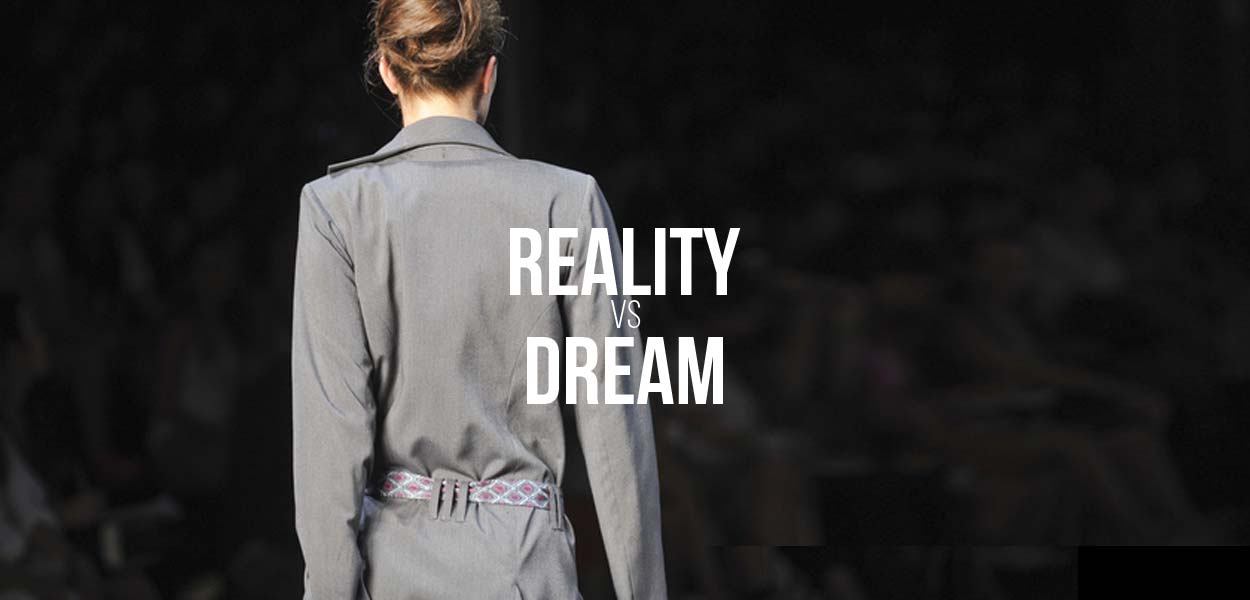 Modeling: Reality vs dream in New York, Paris and worldwide
It is the dream of many young girls, women, boys and men all over the world: to become a model! Living the glamorous life, wearing expensive designer clothes, travelling to the most beautiful places of the world, knowing important people and looking extremely beautiful.
Become a model: Who would not want that?
But a modelling career is so much more than just being "pretty". As a model you are also a businesswoman or businessman. There will be a time when you will have to think about accounting, buyouts, travel expenses and organising your schedule as well. Of course there is a chapter for that, in which you will learn how to register as a self-employed model and how to do your accounting and taxes. But let's get back to the basics again! As in any other profession, it is the same in modelling – ninety per cent work, and ten percent looks and talent. Luck? Well, the famous timing and luck will evolve from your commitment. The more you offer and work, the more you will get back from it. Nothing will just come by itself. Nobody was born as a model (we are excluding children and celebrities from this statement). In the end, modelling is a full-time job, hard work, requiring discipline and passion. At best, a portion of cleverness and being smart. But most of all, a great body and steady improvement. Between the dream of being a model and reality of being a model, there are many years of hard work, but you get the chance of adding glamour to your life!
Which requirements do you need to fulfill as a model?
Those are the questions, which I will answer in the first chapter of this book in a very detailed way. For you, it is important to know which agencies suit your requirements and where you will fit in. By choosing the right agency, you will be able to find the right clients for you with your book. On your way to becoming a model, it is mainly about your mental skills, body requirements, knowledge about the different modelling agencies, the perfect application, high quality images, castings, jobs, fashion and much more. Now you will learn how to properly assess yourself.
What do you have to be in order to be successful?
Inner strength and belief will be vital on your journey. As a model, it is important to be strong and self-confident, even though you had a long flight the day before and checked in late at your hotel last night. Tiredness, stress, time pressure? Nobody should notice all these things when you are at a casting.
Yes – modeling is a job that demands lots of commitment and self-confidence. Motivation and ambition will define you as model for clients and agencies. You have to be communicative, be able to organize all your appointments, take care of yourself (your look and body), be able to be versatile at photo shoots, timely flexible and be able to take last minute jobs. Your character is as important as your physical appearance – both will define your success.
A model always has to show discipline, strength and persistence. Jobs are quite often exhausting and long. Even when not all scenes are done by the end of the day and you will have to stay longer. Tiredness and stress should not be noticed when you are a professional model. If you are able to prove all these skills, many more agencies and clients will continue to book you for jobs. Continuous bookings are important for the model and agency if you want to entirely focus on your job.
Models are under constant pressure regarding their competition. At live or at e-castings, competition is right there. Usually more than one hundred models are being casted. If you are committed and make it to the fashion capitals of Europe, the US and Asia, you will be sent to castings on a daily basis. You will get your list in the morning for the entire day, and in the evening you will have to work out in a fitness studio and get to sleep, living in a model apartment. You will be tired in the evening. If everything goes well for you, you will not only attend important castings, but also walk some fashion shows. As I already said – all this demands you trusting your skills and a lot of energy!
If you are starting as a model in Europe, United States or worldwide, good for you because you are already in one of the best countries for modeling at the beginning for your career. Everything is highly regulated and clear. Working hours are set between clients and agencies, and are often limited. You will not only get paid for the working hours, but also for any overtime you do. Your payment is quite high from the very beginning, because they are set by the agency. Additionally, you will receive buyouts. Buyouts are extra payments for usage rights, for example, if a commercial is shown for more than a year on TV or in other countries. A lot of booking details are in your favor if you are staring your career in Germany. Luxury in our country is also at the set you are working at. Production teams are very friendly and usually take care of the models and make you feel comfortable. It starts with friendly greetings throughout to healthy and great catering. You will experience a very regulated and nice atmosphere.
Modeling worldwide: USA to Europe and Asia
As a model: Be thankful for that all the time!
If you are working as a model in Asian cities, many agencies will charge a higher commission (in Germany it is usually twenty percent, in Asia fifty), which is almost three times more than in Germany. The same goes for fashion capitals including Istanbul, where the conditions are worse at the beginning. Jobs are not paid that well, working hours might be ten to twelve hours, and instead of taking pictures of thirty looks, you will have to change into ninety different outfits.
Mental strength and charisma in major cities like New York
Clients want to sell their products and services via commercials to their customers, and in doing so they are using models. It is a mix of perfect portraying of emotions and the range of the commercial and the model itself. Emotions come to life by the charisma of the model. Therefore, it is important that you arrive at a set self-confident. It will show in your charisma. By loving what you are doing, the respective result will be achieved. Hence, for modeling agencies and agents, it is important that female and male models feel well in their skin. As a model, you have to be able to switch roles at sets in order to sell the customer the product or service. Read more about New York:
Keeping it real and natural are the two magic words. These will attract the customers and the concept will be successful. Models "sell" commercials better. Therefore, jobs within commercials are very versatile: billboards, cinema spots, image films, online shops or social networks. All media comes alive because of models. Classic print media like magazines, image brochures, or interior design of stores in cities also take advantage of models and their attractive appearance. For all these media, it is vital that you are versatile likewise: facial expressions, gestures and your entire appearance. In short: clients and partners of the modeling agencies will look for an expressive face, convincing looks, great posture and coordination.
Self-confidence, reliability and being able to switch roles are three important skills for you to make your way into the fashion industry. Same applies to online shops, where you will have to smile constantly, or very demanding clients who expect perfection and pay for it. Especially with high fashion labels!
Self-confidence and strength
Many models start when they are young. Whilst others go shopping in the city after school, as a model, you will be at photo shoots, planning your next journey and have a lot of responsibility. You will see that later in your book. On set, you are working with different people, characters, and languages. You will travel a lot; have to find your way in foreign cities and most of the time, you will be by yourself.
Commitment and initiative
You will be asked a lot, and that is exactly the reason why you have to show initiative. It does not matter if it's a job or a test shoot with a photographer. You have to bring commitment when planning your shoot, working on your book, doing your homework, meeting friends and engaging on social media. Test shoots and photo shoots will be done alongside with photographers and makeup artists in order to build your portfolio. They are unpaid and all people involved profit from the results.
Discipline and ambition
This actually includes a lot: regular sleep, no parties before important jobs/shoots, being on time and body care. You will also have to do a number of workouts regularly and maintain a healthy diet.
Charisma and effect
Your charisma is what makes you "unique". People like you just for who you are. Be positive and open towards people, engage them at set with your energy and communicative manners just when the timing is right. As Buddha says: "Start each day with a smile!" This total package of measurements, looks, motivation and ambition will form the charisma of a model. Charisma will make you successful in the long run. Agencies, agents and clients will not only remember you for that beautiful smile, but also because you were friendly, sweet, easy going and were able to motivate the entire production team at the job. Charisma will always be your great help and make people love you, as well as add that extra spark to your pictures and videos. In a nutshell – your "daily business" as a professional model.
Why does advertising need models?
How many commercials do you see each day?
Advertisement always reinvents itself in order to stay interesting. Fashion, trends and ideas change every day. New ideas, new networks conquer the world via social networks like Facebook, Snapchat and Instagram. Faster than ever! Hence, advertisement has to redefine itself because with all this amount of information it has to stand out. With every new collection, new season and technical innovations, new products will be shot, lookbooks printed, commercials produced, and campaigns done. Productions and producers need fresh faces for the presentation of creations. Even products that have been on the market for decades get a new commercial, new designs and new features each year. Therefore, as a successful model, having worked for a while now, you have to know what you are doing and be great at it. If it goes well for you, you will make it from new face to full-time professional model.
https://cmmodels.com/wp-content/uploads/2017/09/modeling-reality-vs-dream-in-new-york-paris-and-worldwide.jpg
600
1250
Laura
/wp-content/uploads/2023/01/cm-models-logo-web-agency-modelagentur-influencer-management.svg
Laura
2017-09-20 22:47:10
2022-04-18 20:42:27
Modeling: Reality vs dream in New York, Paris and worldwide