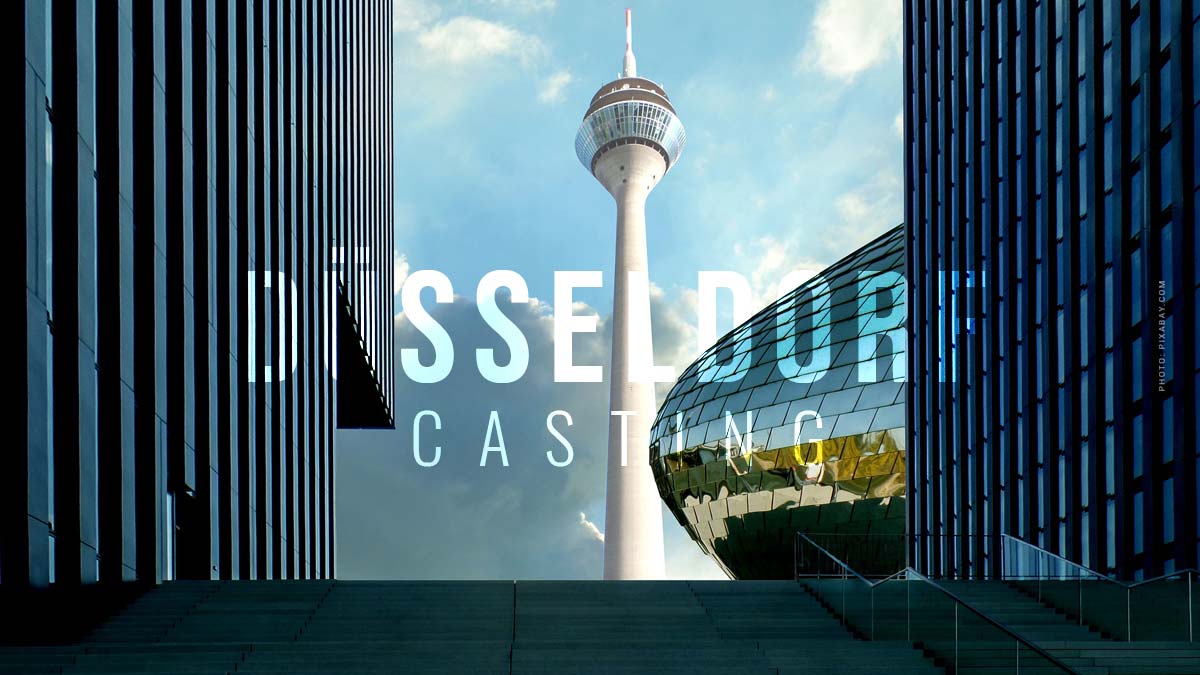 Düsseldorf / Cologne Casting 29.10. – @ NRW, Studio CM Model Casting: Apply!
Our CM Model Casting Tour stops in Düsseldorf, Germany, at one of our favorite photo studios! With one of our favorite photographers! Photo studio, photographer, only our model scout and maybe you are missing! The casting for models in Düsseldorf and Cologne! If you have been thinking about becoming a model for a while, no matter if in Düsseldorf or in other cities of NRW like Dortmund, Bochum or Cologne, this could be your chance this year. Everything about the casting, the application, the invitation and tips for your casting preparation, you can find here. Maybe we will see each other on 29 October in Düsseldorf.
Model Casting Düsseldorf: Register now!
Model Casting Düsseldorf – We are back! The first CM Casting Tour after a long time and of course Düsseldorf / Cologne are part of it! After 18 months, finally again the chance for young models to present themselves live, in front of our model agency. Modeling at 15 years, 16 years, 17 years, the perfect start to prepare you for life as a model in addition to school. Because in an international model agency, you work not only at home, but also in many other cities. With the right qualifications, even internationally in cities like Paris, Milan and London and at Fashion Weeks.
The first step? Your application! To make everything easy, you can apply here directly online, with a few information, a few photos and of course everything securely sent to our model scout. We are looking forward to your application, maybe even an invitation and getting to know you. Your chance for a live casting, after 18 months, in Düsseldorf!
Invitations and 3G rule – So that 20, 30 or even 50 people do not suddenly come together, we will make a small preselection. So invitations are sent, with individual dates. #staysafe
Casting application
Your casting application is very simple, all we need from you is some contact details, information and natural photos of you, without styling or make-up. That's right, you don't need professional photos! We find it best to take simple cell phone photos with a friend or your parents. Make sure it's daylight and be natural. That way you'll have the best chance of getting a job at a client casting later on.
We are looking forward to your application!
Your contact information
Natural photos (easy with the mobile phone)
Secure transmission (SSL encrypted)
Casting procedure in Düsseldorf
Become a model in Düsseldorf – You want to go from Düsseldorf to the big catwalks and shootings of this world, in Berlin, Paris and London? Then the very first step is the introduction in the model agency! Also in later E-Castings & Live Castings, no matter photo shoot, commercial or fashion show, it depends on the performance. Also here is of course the very first, naturalness. After your application, a small preselection is made for this casting, so that only a few people are on site at the same time.
Duration
Your casting itself will take between 5 and 15 minutes, depending on how much previous experience you have as a model, how old you are and what opportunities are currently open to you (such as school, studies, training, just graduated,…). Because, in an international model agency, it is not only about jobs in Düsseldorf, but of course also about jobs in other cities, from Hamburg to Paris. Accordingly, a lot is planned and also calculated a little more time my Orden Casting.
The casting itself is relatively fast! You don't have to plan a whole day for a model casting.
Presentation, dimensions and Polaroids
As soon as we start, you will introduce yourself, tell us about yourself, what you are doing right now, maybe your hobbies, languages and after that we will have some small talk with you. In addition, your measurements will be taken and one or two photos will be taken, directly by our model scout. After 15, maximum 20 minutes, you are done with your casting. That's how easy it is to introduce yourself to CM Models. If you feel like applying, just apply and wait for the feedback!
Tip. At the end we have 9 simple tips on how you can perfectly prepare for your model casting.
Our little CM model guideline for castings:
Natural appearance
No make-up
No styling (outfit, jewellery)
Simple outfit – black shirt / top, pants and shoes
Short introduction – name, place of residence, age, hobbies, languages, …
You already have experience? Show your model portfolio
Running – Small Catwalk
Polaroid – Natural photos from the model scout
Smalltalk
PS: Don't forget to smile!
Address and date: Invitations
The individual dates and the exact address we send, due to the current situation, isolated to the selected models. So we can ensure that all have the greatest possible security and not too many people are on site at the same time.
Individual invitations to appointment
Address + time with invitation
Your first visit to Düsseldorf? Many want to become a model at the age of 15, 16 and maybe, you are the first time on the way to Düsseldorf. Welcome to the city!
Away from castings and jobs, that's how beautiful Düsseldorf is!
9 simple tips for preparation
As promised, here are nine simple tips that will help you prepare for your audition. From the outfit to the goal: naturalness and self-confidence. Whether Düsseldorf or London, with a good preparation, you have even more confidence in the casting!
https://cmmodels.com/wp-content/uploads/2021/10/duesseldorf-koeln-medienhafen-casting-models-2021-adresse-termin-bewerbung-model-werden.jpg
675
1200
C_kinski
/wp-content/uploads/2023/01/cm-models-logo-web-agency-modelagentur-influencer-management.svg
C_kinski
2021-10-02 16:39:15
2022-04-19 00:29:56
Düsseldorf / Cologne Casting 29.10. – @ NRW, Studio CM Model Casting: Apply!