Berlin Fashion Week 2016 – Model Manager: Behind the scenes
Twice a year the fashion industry is drawn to the capital for Berlin Fashion Week. While visitors and the media are mainly interested in shows, buyers and managers from various stores and fashion houses meet at Berlin's fashion fairs. They all take place parallel to the different fashion shows. In 2016, public events focused primarily on two locations: The "Runway", beautifully located at the Brandenburg Gate and the "Stage", Berlin Mitte and easily accessible by shuttle bus from the "Runway". From Monday to Saturday the motto was: Fashion! Over ten shows, various side events and aftershow parties every day. There was something for everyone. Highlights this year included Marc Cain, Guido Maria Kretschmar, Anne Gorke, and many more. The absolute highlight, however, was the "Candy Fashion", Key Looks by FashionID (Peek & Cloppenburg) with numerous looks from Esprit to comma; A hall full of cotton candy, sweets and style – but later more about the
Fashion Week Model Management – Preparations, Emails and Networking
For us as managers, Fashion Week naturally starts weeks before – in December. Work starts about six weeks before Fashion Week. In addition to the notebook, the smartphone is a constant companion. The first show packages will be released by the designers. A show package contains among other things the models' sedcards, but also Polaroids and walking videos. Major modeling agencies are already making special efforts to get the coveted invitations – some even create special sedcards for this event. Why? Fashion Week represents the who is who of the fashion world. Those who can afford it are present here. Therefore it is important to start work early enough. The better the planning in advance, the smoother the castings, fittings and shows run!
While an agency is already rushing into travel plans, overnight stays and the organisation of appointments, the invitations to the castings are gradually coming in. As mentioned above, about fifty individual shows will take place during Fashion Week. This means that there are almost as many model casings in Berlin in advance. A real job.
Models, catwalk training, print sedcards – preparation is half the battle
For us there were almost thirty interesting casting dates this season. We had 10 of our New Faces & catwalk models on site. Just arrived, the rented AirBnB apartment is already being converted into an office for the team. Notebooks, smartphones, casting lists – so that we can work and coordinate perfectly in Berlin, directly from Potsdamer Platz. Advantage: Digital company! We can work anytime and anywhere, so we like to accompany our models on shows and shootings.
We have four days! From notebook to reflex camera, we have everything in our luggage. Monday starts Fashion Week and a few days before, the castings. Most of the Berlin Fashion Week castings take place in the hotels, Berlin Mitte. Anyone who has ever been to a casting knows that many models are coming. Mostly there are even hundreds from all over Germany and partly Europe. Each casting takes place in separate floors and rooms. Immediately after the entrance the first beats form in front of the rooms – from now on it's time to wait until you can stand in front of the jury. Suddenly the huge hotel lobby is full of people, small suitcases and waiting looks.
Day 1: Arrival and the first casting plans for the shows
Friday 15.01.2015: The Berlin Fashion Week AW 2016 always consists of two parts, the castings and the shows. For spectators often only the important days with the big shows count. For models, however, the days before are crucial. Here, before Fashion Week, model castings for shows and fashion shows take place throughout the city centre. Hundreds of models gather in the capital's large hotels, but also in showrooms, Ateiliers and agencies. All major agencies are present here. Fashion Week does not only mean prestige, you can make excellent contacts and get to know a lot of new things. The Berlin flair also gives the Fashion Week its unique character. Many models book into the hotels around the city centre. This makes the castings easier to reach and also in the evening there is some time to have a drink with friends or new acquaintances.
Day 2: casting, casting, casting
Saturday 16.01.2015: For four days models and fashion agents speed through the city centre. Everyone is looking for the best jobs and the biggest shows. In the bag are only the most important things, the smartphone is always ready to hand and from morning to evening it goes from casting to casting. While there is a lot of walking during the day, the evening is decisive for the planning of the next day. Which casting should you attend first and which last? Where to find good food quickly and easily? Besides, you have small talk with other models, get more castings. Four days is all about seeing and being seen!
Who knows Castings of Germanys Next Topmodel will be surprised. There is no big stage, no spotlights and only rarely cameras. As a model you have hardly any time, not ten minutes, maximum thirty seconds. Who convinces spontaneously, is often still briefly measured or sent directly to a fast fitting. The jury consists of three or four people who have to evaluate hundreds of people according to purely external criteria within a few hours. As a result, castings often seem impersonal, but this is purely due to time.
The castings usually take place in large city centre hotels, with large rooms and plenty of space for hundreds of models waiting for their Gosee. Small groups are always forming in the waiting rooms, everyone is waiting for the casting call, then the show starts. With the model book and sedcard, the jury is made up mostly of designers, marketing people or other media and production people. Usually there are three or four people. The model walks up to the jury and introduces himself, often with very little time, many only seconds. Many models see here for the first time how big and how strong the competition is in their own and in other model agencies.
Those who have convinced often get a call from their model agent the same evening with the confirmation. Especially good models are also quickly booked so that they are still available for their own fashion show. So the best Mdoels have their success experiences already early – if they did not have first a Direct Booking.
The time in the casting requires a lot of commitment, organisational talent and willpower from the models. Even after the sixth performance on one day you still have to laugh and enjoy your job – even if there were six cancellations before. With this know-how, however, models can learn a lot for jobs and also strengthen their own self-confidence as well as their own perception. The short, but very intense situation with hundreds of other models, shows many a realistic picture and spurs them on to do even more.
The first castings for the shows start Thursday/Friday and then run until Monday evening. Occasionally, however, castings are also carried out before and even during the current Fashion Week. So if you are thinking of joining us as a model, you should plan ten days off.
Castings you get almost only with a large, serious model agency or an experienced model agent
Show castings go from Thursday to Monday
Berlin Fashion Week from Tuesday to Saturday
So as a model you should plan on 10 days
At least Thursday to Tuesday
Fashion Week Castings and decision of fashion designers
Many designers or agencies usually make their decision on the same day. They will then contact you via all channels to secure the best models. Because every fashion show includes a fitting and calltime. During fitting, clothes are tried on the models, which is usually very quick and only takes thirty minutes. The call time is then, so to speak, the start of work on the show day. All models, brand-up artists and stylists gather at calltime. All models get their assigned clothes as well as their styling. The calltime is therefore often a few hours before the show so that all models are guaranteed to be ready and the show can start on time.
Big competition: hundreds of great models meet each other
Often there is little time left for individual castings
Don't forget your sedcard
The Fashion Week is much more than castings and shows. At Berlin Fashion Week, thousands of buyers from all over Germany come together in the various order fairs, less spectacularly and media-wise. Whether Panorama, Preium or Seek. Outside the shows there is also a lot to experience for people from the fashion industry.
Order and Fair – the heart of Fashion Week
For many outsiders, Fashion Week means above all shows! Fashion shows are held daily at various locations. In 2016 (Autumn/Winter) everything will focus on the collections of the coming Spring/Summer season. While snow still lies outside in the streets of Berlin, buyers jump from fair to fair to cover themselves with the latest trends.
One of the major order fairs is the international fashion fair "Premium". At hundreds of stands, merchants crowd together large and well-known brands. Buyers can view and order the latest samples directly here. The fair is only open to trade visitors, so fortunately you have enough space to concentrate on different looks, cuts and colours. While strolling from hall to hall on the Premium, there are small delicacies, coffee and also small and large highlights of the exhibitors all along the edge. Not only fashion, but also accessories and jewellery. At the "Premium", the manufacturers even fill their own hall. Further fashion fairs can be found all over Berlin. Among other things, there are still the "Seek" and "Panorama", all only a few underground or suburban train stations apart.
PREMIUM Berlin Fall/Winter 2014/15 from Premium Berlin on Vimeo
Fittings for the big fashion shows at the runway
For model agents and model agencies, the final phase is now underway. It takes less than an hour to recharge your phone. While Desigenr's assistants call to request models, models request the first fitting and call times and in parallel the first confirmations must be sent via e-mail. The phone doesn't stop for three days and as a manager it's hard to get away from the notebook. Therefore the show list fills up, confirmation for confirmation. Models receive asap their information and designers the booking confirmation. Even on Monday evening, plans are still being made for the coming morning – and off we go: It's Fashion Week!
Shows and events at Fashion Week
From Tuesday to Saturday there are now possible shows and aftershow parties of the designers. Ten designers will kick off on Tuesday. Already on the first day it became clear that there would only be a free minute again at the end of Fashion Week. Our first show this year was "Ivanman" on the "Stage" in the me Collectors Room. Early in the morning, 11 o'clock. Already last season Ivanman made a top start. Oh, this year. Immediately afterwards we went on with "Nobi Talai" in Berlin's Kronprinzenpalai with our Yulha. Followed by a very floral show by the designer "Lena Hoschek", perfectly arranged in one line from the place card to the stage. After that jump to the greenshowroom in the Postbahnhof, where our Alex had his first show, parallel Anne and David ran for Odeur at the "Runway" Brandenburger Tor. And the day was only half over – show after show it went on for the next four days.
Fortunately, we were not only allowed to run on the first show, also on Friday two of our models, Helena and Lisa, on the final show of "Ioana Ciolacu". With creative make-up and strong pictures afterwards.
The big finale: Candy Fashion – KEY LOOKS Show by FashionID
The biggest highlight of the current fashion week took place on Saturday in a "small" circle of people. Top models, stars, agency and media representatives met at the KEY LOOKS Show from "FashionID" by "Peek & Cloppenburg". The motto was "Candy Fashion". The entire lobby of Fashion Week at the Brandenburg Gate was transformed into candy and cotton candy land – everything looked like a Katy Perry video. Really great staged by the set designer. Between cotton candy and human-sized lollipops there were cool, refined drinks at various bars, a great DJ and many little surprises and snacks. Almost two hundred people gathered left and right around the catwalk, which in turn was decorated with cotton candy at the entrance up to the ceiling, pink light and lollipops made the picture of "Candy Fashion" perfect.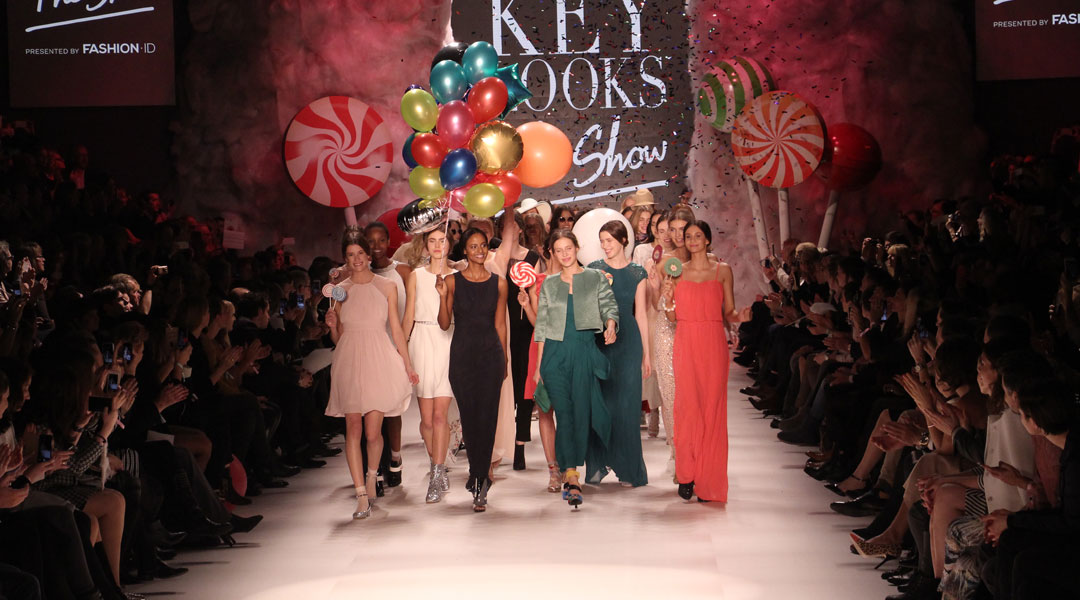 At the beginning, eight models from a classic cotton candy wagon stood across the catwalk with sweet sugar threads. That put a smile on almost everyone's face! Shortly thereafter, Showtime, the keylooks of the coming season, was available in all Peek & Cloppenburg stores and online on FashionID. With fashion by Esprit, Marc Cain and Max&Co. Moderated by Annemarie Carpendale (Red and Taff on ProSieben). Each collection got its own music, its own staging for the audience. Our Johanna also attended and showed a total of three looks for the spring/summer season 2016, culminating in creative outsfits for the fashion magazines – each editorial team put together their favourite pieces from the new collections and combined them with accessories and other pieces. Thus, new creations and looks for 2016 were immediately lost.
/wp-content/uploads/2023/01/cm-models-logo-web-agency-modelagentur-influencer-management.svg
0
0
Laura
/wp-content/uploads/2023/01/cm-models-logo-web-agency-modelagentur-influencer-management.svg
Laura
2018-07-19 14:50:37
2022-04-18 21:14:40
Berlin Fashion Week 2016 – Model Manager: Behind the scenes