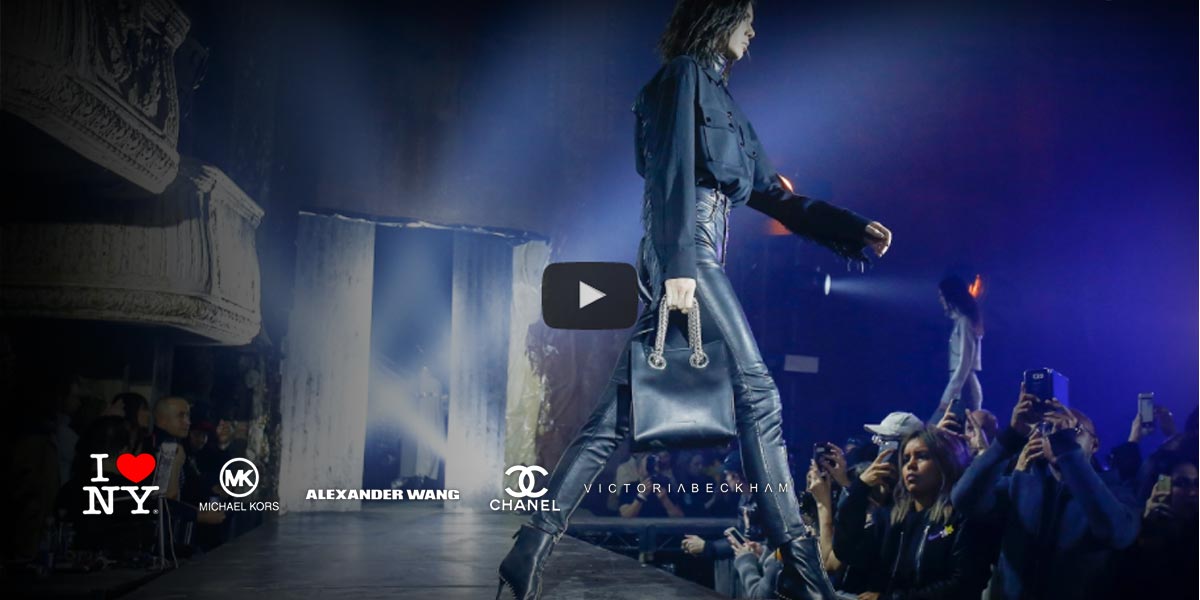 Top Fashion Shows New York: Autumn / Winter 2017
Soon it's time again! The big meeting of designers, new collections and a lot of press. From the 9th of September the fashion world in New York is upside down again. The first Fashion Week took place in New York in 1943 and was initiated by fashion journalist Eleanor Lambert. Thus, Fashion Week has been a long tradition for decades. Many fashion designers come and go with this tradition. Which designers have really shone last season and what makes them special here.
Best Shows Fashion Week New York: Autumn / Winter 2017
From classics like Chanel to newcomers like Victoria Beckham. Each designer has his own style. Whether sporty-chic, classic or extravagant. At Fashion Week New York Fall / Winter 2017 everything was back. Here are our favorites:
Alexander Wang – Chief Designer at Balenciaga
For American fashion designer Alexander Wang, one fashion show is more dramatic than the other. In his fall / winter collection 2017 he achieves a captivating mood through techno and a dark collection. Alexander Wang's garments are known for their mix of grunge chic, minimalism and street style. Although the fashion designer started his career only since 2005, he can not be thought away from Fashion Weeks alongside Chanel and Gucci. In addition, Alexander Wang has also been chief designer at Balenciaga since 2008, which is why we assume that we can look forward to his pieces for a while!
Michael Kors – career since childhood
Since 1998, many women dream of owning a Michael Kors handbag. If it is not a bag, then it will be shoes, jewelry or watches. But beware, there are also men's fashion! His collections, whether men or women, are characterized by a mixture of sportiness and elegance, the so-called "jet-set attitude" is the keyword here. Michael Kors himself has not only been seen on the scene since his fashion career, because even as a small child, the top designer was seen in several TV spots, such as for a cornflake brand. From show business to internationally recognized fashion designer!
Chanel with world-renowned chief designer Karl Lagerfeld
The eternal classic in fashion heaven. It all started in 1921 with the best-selling perfume "Chanel No. 5" to date. The little black girl was born 5 years later. With Karl Lagerfeld at the top of the team, new, timeless fashion is still being created from season to season. Many people even invest more in Chanel bags than in real estate, as their value increases every year. Particularly popular for this is the model "Flap Bag 2.55".
Victoria Beckham with fashion for the modern woman
From music, to acting, to modeling and now also a designer. A true all-rounder! In her collections she tries to design fashion for every everyday situation – "Fashion has to be comfortable" is her motto. At the New York Fashion Week Fall / Winter 2017, she presented fashion for the modern woman. With a mix of classical music and techno she thrilled her audience with garments that also combine classic and modern elements. Victoria Beckham herself exchanged her Higheels for white sneakers, as they are much better suited for their stressful everyday lives with 4 children. A statement to all women!
Highlights of Fashion Week
If you want to see all the highlights of New York Fashion Week Fall / Winter: Check out our playlist here!
The next Fashion Weeks in New York, Milan and Paris
September 2017
New York Fashion Week (Women's)
September 7 – 14, 2017
London Fashion Week (Women's)
September 15 – 19, 2017
Milan Fashion Week (Women's)
September 20 – 26, 2017
Paris Fashion Week (Women's)
September 26 – October 3, 2017
October 2017
Nyfw: Bridal (Cfda)
October 4 – 9, 2017
November 2017
New York Pre-fall
Throughout November and December
January 2018
Milan Men's
January 13 – 16, 2018
Pitti (Menswear Tradeshow in Florence)
June 16 – 19, 2018
Paris Men's
January 17 – 21, 2018
Paris Haute Couture
January 22 – 25, 2018
February 2018
New York Fashion Week (Men's)
February 5 – 8, 2018
New York Fashion Week (Women's)
February 8 – 16, 2018
London Fashion Week (Women's)
February 16 – 20, 2018
Milan Fashion Week (Women's)
February 21 – 27, 2018
Paris Fashion Week (Women's)
February 27 – March 6, 2018
April 2018
Bridal Shows
June 2018
Paris Fashion Week (Men's)
June 20 – 24, 2018
July 2018
Paris Haute Couture
July 1 – 5, 2018
September 2018
New York Fashion Week (Women's)
September 6 – 14, 2018
London Fashion Week (Women's)
September 14 – 18, 2018
Milan Fashion Week (Women's)
September 19 – 25, 2018
Paris Fashion Week (Women's)
September 25 – October 5, 2018
https://cmmodels.com/wp-content/uploads/2017/08/fashion-week-new-york-nyc-fall-winter-2017-shows-highlights-models-designer-vips-events-usa-trends.jpg
600
1200
Laura
/wp-content/uploads/2023/01/cm-models-logo-web-agency-modelagentur-influencer-management.svg
Laura
2017-08-17 15:58:00
2022-04-18 20:59:35
Top Fashion Shows New York: Autumn / Winter 2017